Today there is a big birthday party going on in Norway! Blogging about Norway, our culture, history and traditions without mentioning it would of course have been a disgrace and of course Queen Sonja is worth it too – so know my American friends know why there is all this fireworks on tonight LoL
A bit history first: HM The Queen is a commoner, the daughter of Karl August Haraldsen and his wife, née Dagny Ulrichsen, she became engaged to then Crown Prince Harald in March 1968. They had been dating for nine years, although this had been kept secret because of opposition to her non-royal status. After the Crown Prince threatened to give up his rights to the throne unless he could marry her, the Crown Prince's father, Olav V consulted the government for advice. The result was that the couple were wed on August 29, 1968, in Oslo.
As you might now, HM King Harald turned 70 21st of February this year and you can read more about the celebration on my post here!
Todays celebrations takes place in the west coast city of Stavanger, beginning with a thanksgiving service at the Stavanger Cathedral. Following the service, the Royal Family will take part in a walk through the city centre. During the walk, the Queen will be entertained by dancers, artists and displays. Here is a pic from today taken from Wikipedia: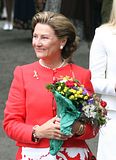 Royal guests from all over Europe will arrive in Stavanger on Wednesday, and the City of Stavanger is hosting a lunch for the Queen and her guests.
The birthday celebrations end with a private dinner, before the Royal family and guests board the Norwegian and Danish royal yachts "Norge" and "Danebrog", to begin a cruise along the south coast, back to the Oslofjord.
Long live The Queen:-)