My new Terella
First of all, thank you for all your comments and compliments on my new blog home. I'm honored and feel flattered of course and even if I felt a bit shaky about moving into a new home, I am pleased and well settled. I can tell most of my blog friends have updated their blogrolls and I'm even listed at new once – thank you! I'm glad so many people around the world wants to know more about Norway and the Nordic countries, our culture, traditions, habits and food for that matter:-)
Happy 4th of July
To family and all American friends: Happy Independence Day – May your day and night sparkle:-)
As you know, equivalent to your special day is the Norwegian 17th of May, our constitutional day. For those who likes to read about our Day and see the similarity and differences, check my post from this year celebration in Oslo, Norway.
Spare Ribs
As my regular readers know, my wife Diane is from NY, US. That gives me an unique position in sharing and understanding traditions from other parts of the world. It spice up and enriches the life you know. So on the table on a day like this we have Spare Ribs of course. This year we have my parents visiting in our summer home as well, so this was really a great family feast gathering. Let me invite you to sit in before I go on:

We bought the pork ribs fresh at the butcher of course and Diane make the most lovely BBQ sauce to marinade it before it's steamed in the oven. Then we gives it the final touch on the grill before it is served. This year we had corn as well (what we in Norway calls maize, course that's what it is:-), boiled potatoes and a fresh summer salad. For Norwegians or people all around in Scandinavia, it's a habit to have aquavit with pork, so that and beer was on the menu as well. Here is the dish: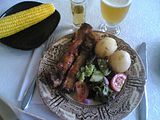 I asked my wife why you call it Spare Ribs and she wasn't sure, so I searched on the net for more information. No special luck as this was what I found: 'It's in the etymology of the term rather than any butcher-speak location on the critter. Unlike short ribs (beef) or country-style ribs (pork), spareribs comes from 'ribbesper', Low German for pickled pork ribs done on a spit. The word has that diacritical macron over the last e.'
So does any other of my readers know and want to enlighten us in a comment?