The title of this article might strike you as a bit strange. It's not as much an exaggeration as an interpretation. You see, the mini golf course my bonus child and I played on today is a copy or miniature model of our vacation town, Mariestad in Sweden. Each golf hole represents a place or a building from the local area, and you feel like golfing through the streets and the history of the town. We had great fun, both in the competitive spirit, but played in a jolly good and friendly atmosphere with plenty of others who wanted to use this day of sunshine to relax and enjoy since most of us have started our vacation.
Even from breakfast time – Kyle made me an egg sandwich today – we talked about going out to play miniature golf. I of course had to tease him by reminding him that I am a golfer and much older than him, so he should look to me to see how its done. He was just smiling and I could see the eagerness to get to the golf course in his eyes.
We took our time picking the right clubs – not to long or short and with a perfect grip for our fingers. He was to pick the color of the ball first – which is important of course – and he picked yellow so I got the blue. We got the score card and he was the score keeper.
I had my Nokia mobile phone on hand of course and sometimes pictures say more than a thousand words, so let me take you through the course with pics and the explanations of where in Mariestad we are (click the pics to enlarge):

Mariestad Cathedral (the steeple of the original is in the back over the person in blue!)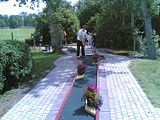 Mariestad Garden Center
Gøta Canal – see the locks in yellow!
The Mayor Residential house – 'hosts Royal family when visiting'
The bridge to Torsö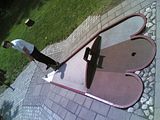 Ice Cream Shop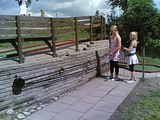 The rail way – use your imagination! :-)
So how did this friendly but exciting competition ends you might ask? Well Kyle won by totally 42 strokes to 47 – congrats! I had one more hole in won than he did though, so we both deserved a nice treat. This place also has a wonderful bakery, so we gave ourself a free choice: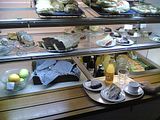 Brownies for Kyle of course and cream cake for me
My regular readers knows this is my new blog home powered by WordPress and I love to experiment. I use Photobucket for the pics so it doesn't overload my domain site and make the blog to heavy to load. Playing with it tonight, I found this features for making slide shows of the pics, so just for fun, I'll share it with you:
Click and move your mouse over to see the pics in details!