My regular readers, especially Lifecruisers – A-Team Cruisers, know we have an honorary guest in our vacation home these days. My colleague from The Norwegian Computer Society and also a good blogger friend TorAA and his wife came to Mariestad, Sweden today. We've been looking forward to this for weeks and finally they are here, landing safe and sound after a 5 hour drive from Oslo, Norway. They are a great couple, open minded and easy going – to make it short: a perfect chemistry match.
The first thing we experienced when they were settled in was lack of power outlets for our laptops (right now there are 5 wireless computers in the house!), so we had to go to the hardware store. For those of you who have read about Tor and me shopping (here is one from last year we where together in Mariestad), you know we love to go crazy and have fun – so we did:

Then Tor found that he had forgotten his sandals, so we had to go to another shop – and then more fun, as I got a bit kinky:
When we got home, it was time for dinner. We wanted to serve something special for our guests of course and we know they love sea food, so shrimp and craw fish was on the menu. Here you see the table set, please sit in if you like: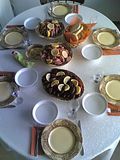 Actually before we sat down to dinner, Tor opened a bottle of champagne to commemorate the gathering and have a toast with us: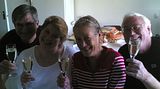 Is there anything better than sitting around the table with good food, wine (yeah we had a lot of white wine too!), good friends and conversation? The discussion in itself is an intellectual, gastronomic mind trip as one subjects lead to another – everyone contributes with their thoughts, ideas and knowledge. You talk and listen and learn and experience ultimate examples of story telling.
After dinner I made coffee in the press -can with avec of course; some wanted brandy, some baileys – the girls sitting out on our balcony and the boys in the living room, blogging :-) Life couldn't be better, especially after Tor offered a cigar – we are living life to the fullest!
Talking about bloging connecting people. Tomorrow two of our blog friends: Claudie and Mar will meet in Marseilles – we hope they'll keep us posted as well!
Update 12th of July:
Tor have posted about our second day together – read our exciting adventures by clicking here!