Vacation is over and we're back home in Norway. Everyone – well meant – says: Welcome back, how was your summer? I always oppose and say 'hey, the vacation might be over, but the summer isn't – even in Norway!'. We had a great vacation (just you scroll down and read the last four or five posts!), but the weather statistics in Scandinavia – at least in the south part – has been strange and kind of extreme weather. I always like to give some facts and information to my readers , so let me give some from the southern parts of Norway and Sweden – and to make it short: this year we've had three times the average precipitation and 4 degrees lower than normal for July In Oslo: median temperature of 16C (60F) while last year it was 20C (68F) and 185mm (7.3in) of precipitation, as opposed to the normal 80mm (3.14in).
So Tuesday it was like winning the lottery when we had full day of sunshine, and a good colleague invited us for a cook out. The Valdmanis family lives in the neighborhoods so we walked down and I was wearing only shorts and a summer shirt, an unusual occurrence this summer. Mr. Edgar Valdmanis is Marketing Director at The Norwegian Computer Society and a network evangelist just like me. Click to check his LinkedIn profile (more than 1500 contacts all over the world and always welcome more:-).
Invited to the terrace behind the house we had a Martguerita as an aperitif. Then we sat down to a lovely BBQ of home made hamburgers and well marinaded and grilled pork chops along with roasted potatoes and a great salad mixture. They have had two weeks vacation in California and ours was in Sweden, so we had more to talk about than the weather too. Here you see us around the table in a picture which really emphasizes the rays of sunshine (taken with my Nokia mobile phone):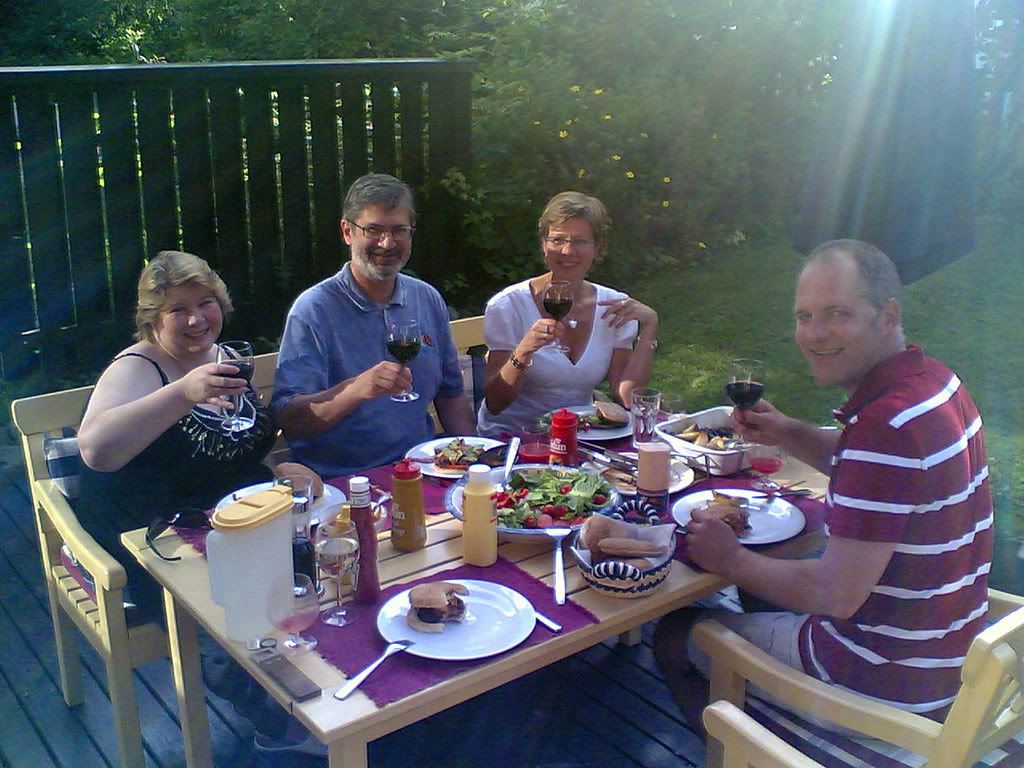 Their son was chef of the evening, and he did an excellent job as the burgers and pork chops were very tasty!!!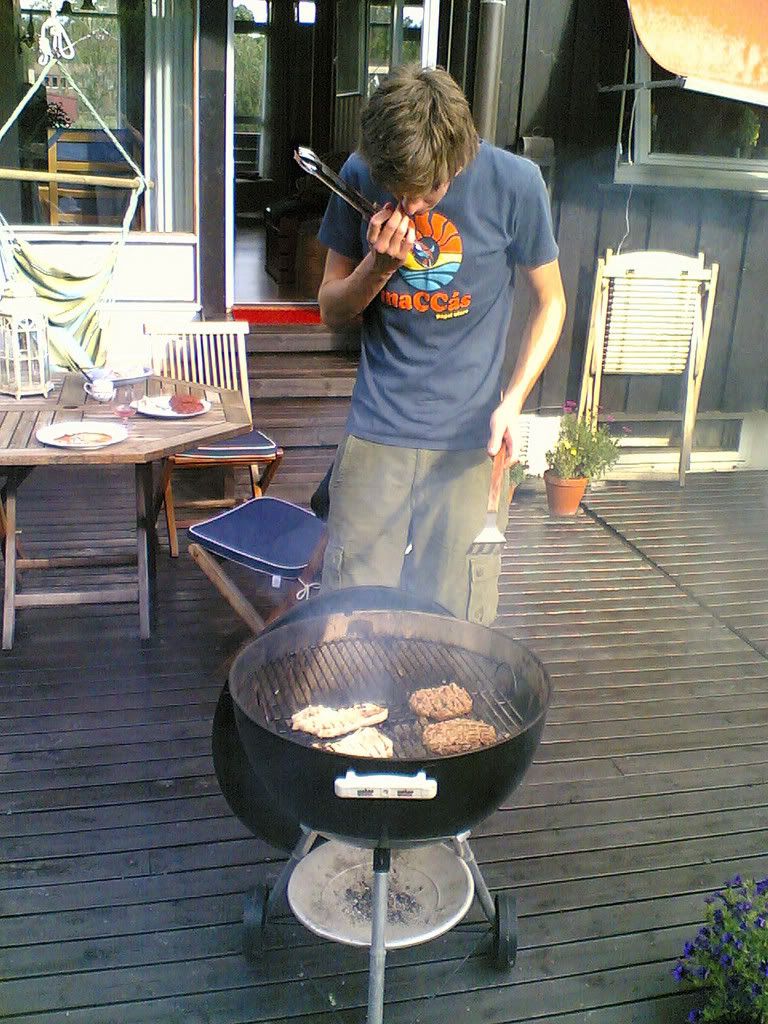 For dessert we had a long danish cake filled with vanilla cream and coffee (espresso) avec. Mrs. and Mrs. Valdmanis always serve with style, so of course, since I was the guest, the type of cognac was the one you see in the picture below (do at least my regular readers take the hint? LoL):
It was a perfect summer evening together with good friends enjoying our company and sharing our vacation adventures. The sun went down around 9 and we walked home around 10:30PM, even then in dusk. Another quality time to remember in the long winter when the sun goes down around 3PM!