Today is the start of Lifecruiser's Halloween celebration for all bloggers where we're partying until a big crescendo at the 31st of October. Click on the scary poster to see the schedule and play along: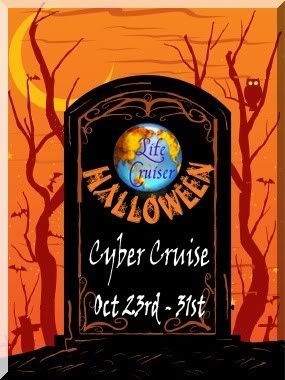 Today we're suppose to share a oddly ghost story and that is a big challenge to me as I don't believe in ghosts :-) I have therefore been thinking of how I could contribute and finally found it in the inner of the Norwegian soul – as I always have to do it my way: The Troll of course:
This pic is borrowed from Wikipedia – click to read and see more about Norwegian Troll: '
Nordic literature, art and music from the romantic era and onwards has adapted trolls in various manners – often in the form of an aboriginal race, endowed with oversized ears and noses. From here, as well as from Scandinavian fairy tales such as Three Billy Goats Gruff, trolls have achieved international recognition, and in modern fantasy literature and role-playing games, trolls are featured to the extent of being stock characters.
'
My scariest Troll experience was with the one who lived in a small lake in our neighborhood. I never saw the whole body, but the head was big and looked like an old, rotten stump or root. Rotten branches was it's hair, it had only one big eye (could easily see in the dark and especially small children!) and just a few but big rotten teeth. Some also call it
Nix or Neck
– to me it was from the same family and scary just the same. One of my grandfathers uncle had even painted the head of the Troll and it hang on the wall in the bathroom at his farm by the lake. When I was little, granny had to sit outside the door if i very seldom had to go there :-)
Some may say it was damnably or ugly of the adults to make up this story. Looking back now, I can laugh about it and actually see the reason why. I was a very rebellion child and how else could they prevent me to go to the lake alone and drown? You see, I was never afraid to go to the lake holding an adults hand!
The Southern Cross Award
And when I'm at it – about things that are good in life I mean and nice things to share among bloggers: I felt so honored when getting
this award
from
laketrees at PoeRTica
the other day. I pass it on in a special way, to all my blogger friends on
my blogroll
as its hard to chose and I actually think they all deserve some link love too :-)
Update
:
I've got this award from
Colin Richards
too. Please read his
post here
!