My blog is mainly about Norway, our culture and tradition. Taking part of Lifecruiser's Halloween Blog Party – which I really enjoy – is a bit of a challenge when it comes to telling about the phenomena here, as we have no Halloween tradition. So please don't think I'm trying to spoil the fun – I just love Cyber Parties – but as always I want to do it may way:
I know the trick and treat traditions of Halloween are steadily spreading around the world. But while neighbors Sweden enjoy the holiday, some Norwegians even want it banned. Living with Americans, I've heard them and other US friends trying to explain the point: "The celebration of Halloween in Norway is so misunderstood. It is more and more about the frightening and less about the cute and strange". They also say we despair a bit about how wrong the focus on Halloween has become. The "trick or treat" tradition, going from door to door and "threatening" pranks if you don't get candy, is really cute and charming. It has nothing to do with frightening people out of their wits or vandalism! The problem here is that some children really do play tricks on people who don't understand the trick or treat concept, while in most places in the US if a neighbor doesn't have candy the children just move on to the next house.
The first time I experienced Halloween was when my oldest boy was in the 7th grade. One of his friend's came back from four years in the US and they wanted to share the tradition. As very responsible they invited all parents to a meeting to explain what would be going on and how important it was for the parents to participate to see to the children's safety (see my point above). Costumes were made of bed sheets and their mother's makeup and to make it short: we had the loveliest evening: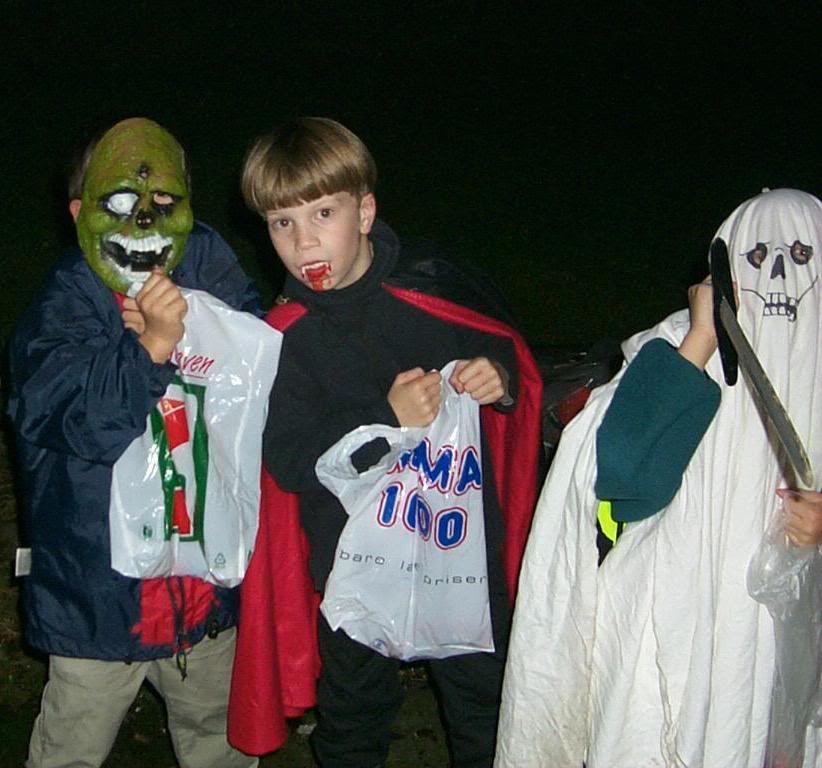 After the trick and treat tour, we ended up in this families house for a children and parents gathering where they served witch bowl with bobbling green soda water and ice cream.
Since there is little tradition for trick or treating here, my wife always threw a Halloween party when her kids were small so they wouldnt miss out on the tradition and the Norwegian boys could join in the fun :-)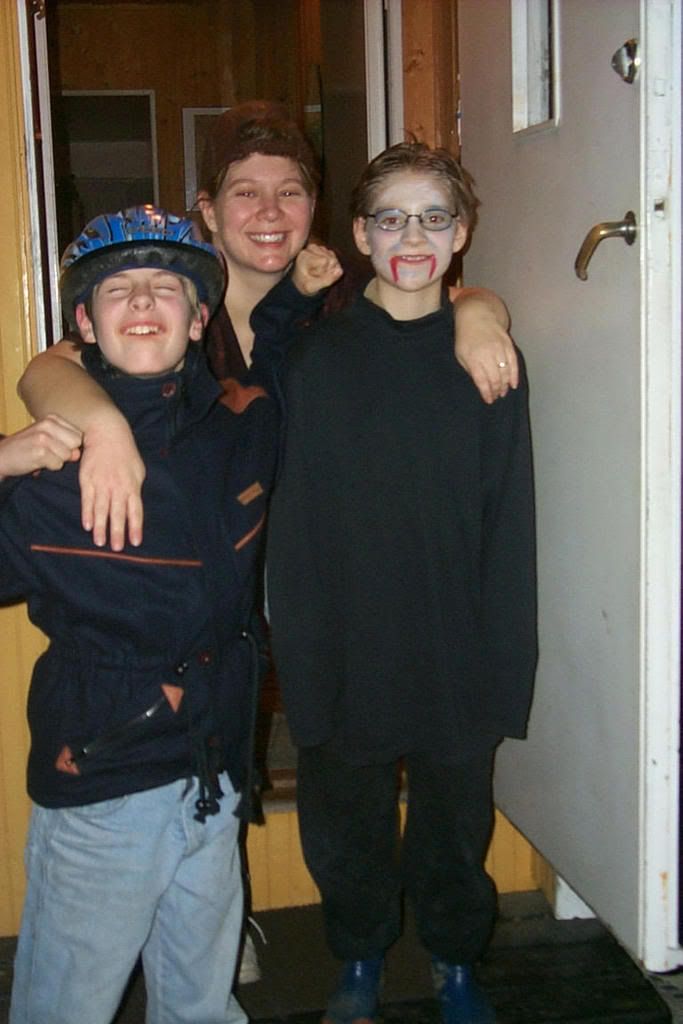 The
Yule Goat
What this actually reminds me the most of this tradition is one of the oldest Scandinavian and Northern European Yule and Christmas symbols. Its origins might go as far back as to pre-Christian days, where goats where connected to the god Thor, who rode the sky in a wagon drawn by a pair of goats. The function of the Yule Goat has differed throughout the ages. As far as until the 19th century, youths would go from house to house during Christmas time to perform small plays or sing Yule Goat songs, with one of the in the group dressed up as the Yule Goat. During the 19th century its role shifted towards becoming the giver of Christmas gifts with one of the men in the family dressing up as the Yule Goat. This tradition would have the goat replaced with the Julenisse (Santa Claus) at the end of the century, and the tradition of the man-sized goat disappeared.
Writing about this Yule Gost traditions, really takes me down the memory lane. We did it the days after Christmas Eve and wooooowwwww; did I have butterflies in my stomach! The anticipation – how important it was to dress up so that the neighbors did not recognize you and to change your voice so that they could not hear it was you – and what treat would we get? Yes we got treats, but not sweets bought from a candy store. All houses where full of Christmas cakes and biscuits (I'll tell you about the necessary at least seven sorts they had to bake later) so they where actually glad that someone could come and eat them :-)
So by this, according to my blogs theme, I wanted to tell you about Halloween from a Norwegian's perspective. Doing it otherwise would be a fraud. But times have changes, the world is smaller and even a Norwegian can come along and play (picking the best part of the tradition) you know. So let's go on along with
Lifecruiser's Halloween Party
for bloggers! This weekend I've been invited to my great colleague and blog friend
Tor and his wife Anna
's house and we are celebrating together. You just have to visit him too to get into the right mood! This party is to be updated on Tor's blog, during this hilarious Halloween Weekend – so stay tuned!!