Nominated as The Best European Blog
My blog is in the final for The 2007 Weblog Awards. This year it were 4000 nominations so it's a great honor to be one of them! The poll closed the 8th of November:

Update Nov. 10th #1
:
I'm happy to announce RennyBA's Terella as the winner of the bronze medal in The 2007 Weblog Awards in category Best European Blog (Non UK). A few minutes ago, I received my third-place winner badge as you can see on the sidebar.
This is just a short not to confirm and I want to thank you all; good old and brand new blog friends for all your support and casted votes. I've just landed from my trip to Milan and it's almost two hours after midnight in Norway, so please come back tomorrow and I'll tell you about this whole Weblog Awards week of mine. Here is the list for the 10 finalist: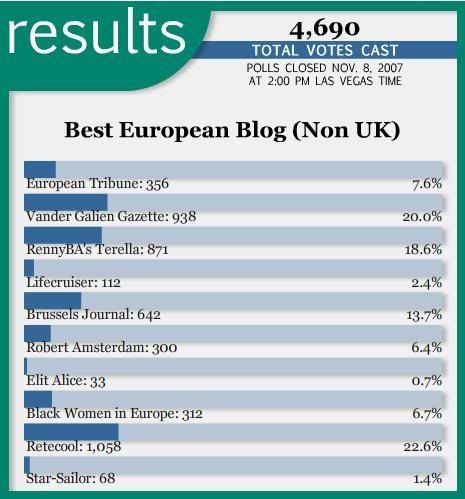 ————————————————————
Update Nov. 9th #1
:
The poll is now closed and they are checking as a quality assurance. So fare my blog is on the third place and I am very happy. I take it they will announce the winner later on today and I will of course keep you posted either from Milan, Italy where I am right now (10AM GMT) or when I am home in Oslo, Norway late in the evening :-)
————————————————————
Update Nov. 8th at noon European time:
This is really close race. Right now RennyBA's Terella is on top (a snap shot of the score card at 11:50AM):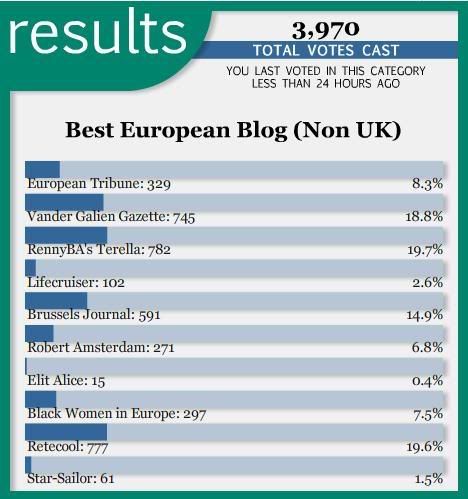 I am in Milan, Italy on a business trip and meeting fellows from Computer Societies around the whole Europe who are running the EUCIP IT-Professional Certification Program. So please don't expect me to update regularly – its just that it is lunch brake right now LoL