After all this celebrations (click to see my Anniversary and the TOP 3 European Blog post), its about time to get back to the main theme of my blog: Norway, our culture, traditions and habits. This one will mostly be about how to prepare your car for the winter season:
Although we consider November the last month in autumn, the winter is sneaking up on us. In the mountains and up north, the first snow normally comes at this time. On the south east around Oslo, you will have frost at least at night. So then you put your summer clothes into storage and dig out your long johns, scarfs, hats and mittens from your closets (remember my saying about no such thing as bad weather only bad clothes?). In your house you start the central heating or you hear the electrical thermostat heaters starts ticking. You also store away your lawn mover and try to find the snow shovel from deep inside of your garage. Of course the winter boots are found too, but thats not enough; you have to prepare your car for the winter as well: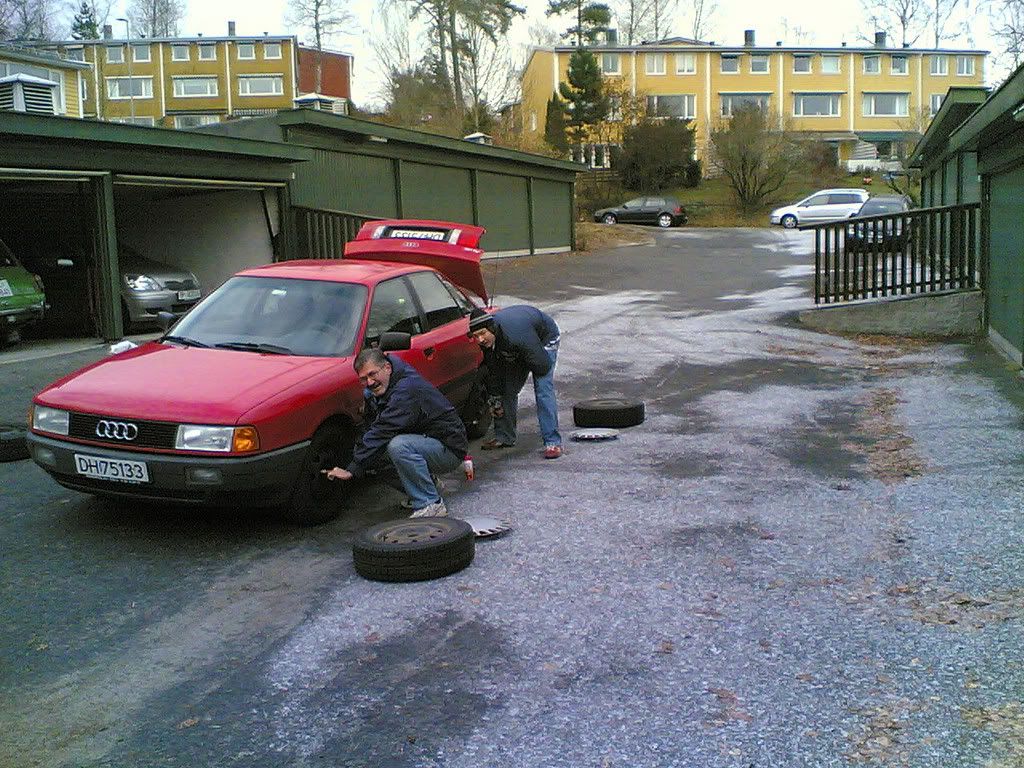 There is a regulation saying that must have proper equipment for the weather condition and from the first of November until the weekend after Easter, that means you must have winter tires. In earlier days most everyone had tires with studs, but in the last 5 to 10 years, stud free winter tires have become more popular, at least in the south of Norway and in the urban arias. In Oslo, the capital, you even have to pay extra tax (I think its about 1500 NOK (280$ or 180€) for the season if you use tires with studs. The reason why is that studs wear out the concrete and create air pollution (there are more and more awareness of that of course!).
As you can see, I normally do the change of the tires myself and get great help from one of my bonus children. You can have it done in a garage of course and often organizations like Lions club change tires as a fund raiser. Thats actually a good thing I think, but I'm too cheap :-)
The picture was taken last week and if you look carefully, you might see a tiny layer of snow on the concrete at the right side of the car. The first real snow fall hasn't come to Oslo yet, but we are now ready for it. There has been quite a lot of frost though, so the snow canons has been running in the ski resorts and with this artificial snow, some of them are to be opened this weekend. Does anyone wanna come over for down hill skiing or snowboarding?
I'm still in the US since my MIL passed away last Friday (please bear with me if I don't visit and comments that much!), but we'll be home again on Monday and are then ready to enjoy the lovely winter season.