My regular readers knows my American wife some times share about Norway from her prospectives. So again I proudly say: The floor is yours my dear:
Diane here, giving her unusual slant on life in Norway for the rest of the world. Sunday I enjoyed one of my annual traditions with my girlfriends. Each year in early December we make our annual trip to Løiten distillery for a one of a kind shopping extravaganza!! As true shopping connoisseurs our trip to this historic place is one of our favorite rituals. The trip by car takes a little over two hours, and we always bring along coffee in a thermos and stop on the way to pick up fresh backed Scandinavian sweet rolls called 'boller'. The trip gives us time to catch up on what is going on in everybody's life, the family, the kids, and of course a bit of gossip ;-) But let's get on with the tour, shall we!
From as early as 1856 Løiten Distillery produced high quality aquavit. The word Aquavit (Aqua Vite) was borrowed from Medieval Latin aqua vītae, highly distilled spirits: Latin aqua, water; see aqua + Latin vītae, genitive of vīta, life. Aquavit, like vodka, is distilled from either potato or grain. It is flavored with herbs such as caraway seeds, anise, dill, fennel, coriander, and grains of paradise. The recipe and flavors differ between brands, and is top secret for each producer, but typically caraway is the dominating flavor. Aquavit usually has a yellowish hue, but can vary from clear to light brown, depending on how long it has been aged in oak casks. This drink is traditional to have along side Christmas foods and heavy meals, especially including pork or lamb.
Modern technology has resulted in much of the production being moved to new buildings with more modern distillery equipment, but the old buildings have been well preserved in all their grace and charm and used to now house Norway's largest candle factory.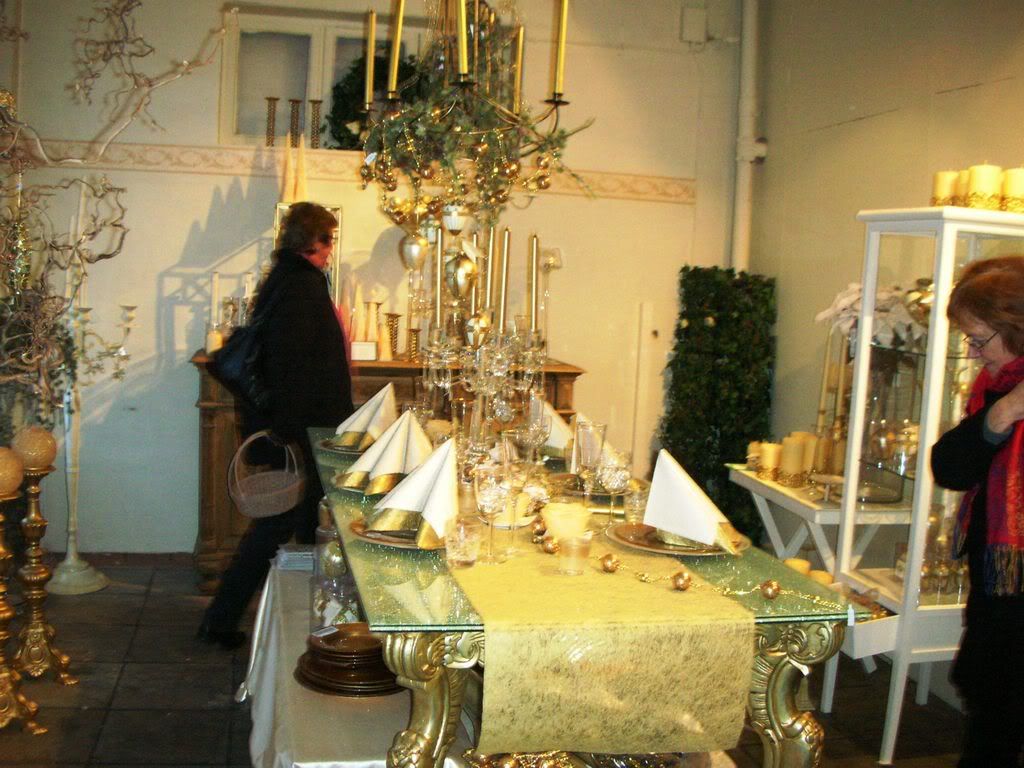 Løiten Candles
have a display room covering almost 3000 m² with stylish displays you won't soon forget. They are set up by a team of interior designers and have us all ooohing and aaaahing the whole day through, one room more fabulous than the other. They produce high quality candles with long burning time in the most incredible forms and colors, and stock a breathtaking collection of candle holders, home decoration, and at Christmas time, the most incredible and imaginative ornaments you will ever see. We always fill up our wicker baskets (instead of wagons) with candles and decoration to our homes and to give away as gifts.
I took a lot of pics and Renny made a movee again, to give you an idea of what we saw:
When we are good and tired we take our annual Christmas lunch at the traditional Norwegian Christmas buffet while we empty our baskets and admire each others selections. We never make our final purchase before this important ritual, because after we are rested and our tummies are full we go back and make changes and new selections before paying our bill.
Happy and all shopped out we take another coffee before heading home, talking about our purchases and looking forward to Christmas when we will deck our tables with the finest of style and our families will oooohhh and ahhh and think;
we have the best mom in the whole wide world
…. Or at least that's how our dreams usually go :-) Reality may be a bit different! But it will definitely be pretty!!