As a network evangelist from Norway (hehehehe yea; my trustful readers know this is one of my favourite quotation), I just love to make friends all over the world. Its a Givers Gain since the more I share about our culture, traditions and habits – and of course visit and read about yours – the more I get and learn and observe and experience (travelling around here is even for free!). And since I'm at it: 'Blogging connecting people' as it build down cultural, religious and other barriers – that's why I say: 'Make Blogs, not Wars'!
Tonight I've worked on my Award page (please click and check!) and its wonderful to walk down the BlogSphere memory lane. So many wonderful people I've met and so many compliments and honourable words I've received. You're all dear to me and have proved that all the efforts (trying to give you something special from my posts) and all the time spend with you (visiting and commenting) – is worth it!
This reminds me of Jim Croce's song: 'If I could save time in a bottle…'. But its as impossible as to mention you all in one post! Never the less, I've tried to collect the most of it on my Award page. Please tell me if I've left out one of yours!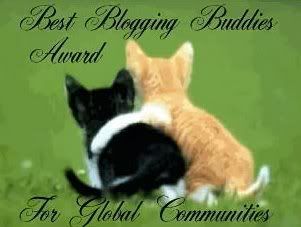 Despite the fact that its hard to select, let me end this post with a great example of Link Love: A new friend of mine, Colin, first gave me this Best Blogging Buddies Award. Since then I've been tagged by: Hanna, Hawk, jess8t8, Speedcat Hollydale, mighty, Ev Nucci, Kim at PoeARTica. Then hi gave another Link Love with a Christmas Card.
Its good to be loved and even if your not linked in this post (please find my regular readers in my BlogRoll); I do appreciate your visit and comment – and most of all; your friendship :D
Update:
An example of Colins Linke Love from his Christmas greetings post: