It's Yuletide and there is a lot of anticipation for the Holidays in Oslo's crisp, fresh air. Everyone is talking about where to go, what to eat and what to do at Xmas and New Years Eve. Most Norwegian will start the holidays from Friday and quite a lot take vacation until the 2nd of January. With 5 weeks vacation it's quite convenient, especially if you are travelling to visit the family or seeking the sun in The Canary Islands or Far East (very popular at this time of the year). Who could blame them, with -10 C (14 F) and less than 6 hours of daylight? Well, I don't complain! My regular readers know my saying: 'There is no such thing as bad weather, only bad clothes'. Besides, in 6 months, we'll have almost 19 hours and 20C (+ there is LoL) – I just love the significant four seasons!
One of my faithful readers – EastCoastLife – asked earlier (when I told about the duration of day): 'Do most of the Norwegians go home earlier, from work and school?' No we don't :-) and since then I've been taking some pics with my Nokia mobile phone back and forth to work, to show how perfectly well we are doing from 9 to 5 evening at Dusk and Dawn. Lets start with a picture from the farmers or flower square: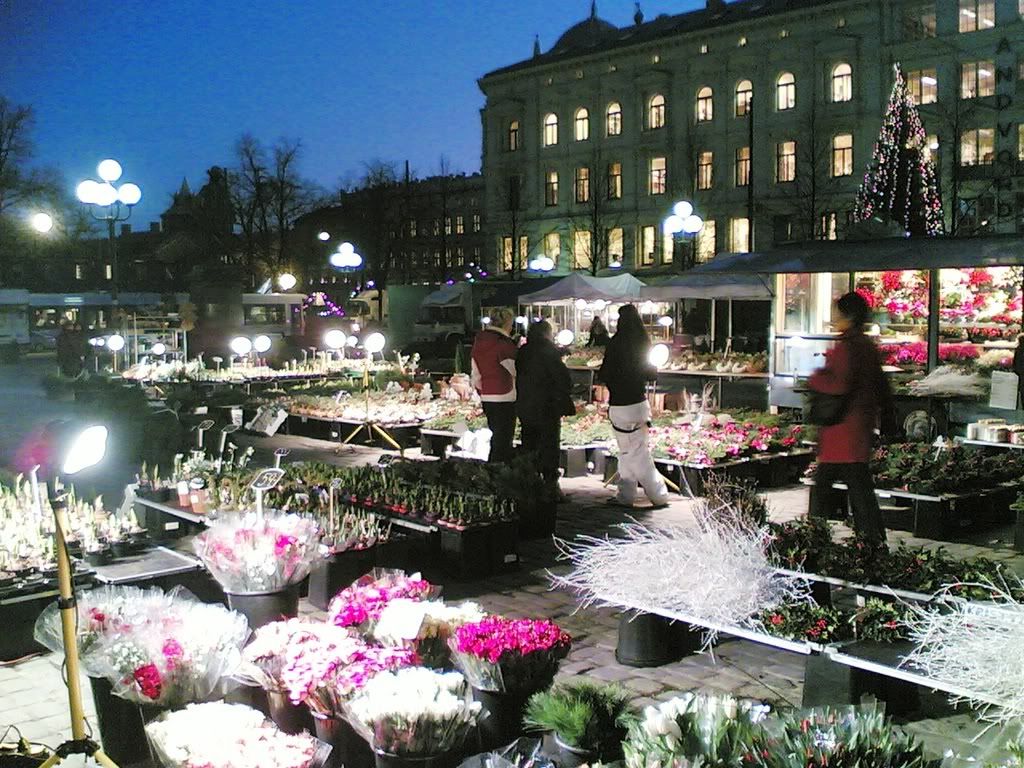 It's taken 4PM and as you can see, it helps with some spot lights. Since well dressed, both the salesclerk and custumers are doing fine. Even the flowers and Xmas decorations survive in -10 (I have forgotten to ask how they manage that LoL).
Inspired by the question are the Norwegians only at home when it's dark in the winter time, I took some more pictures of shopping streets and landmarks in Oslo. The Parliament, Grand Hotel and even Glassmagasinet (the oldest 'mall' from the 18th century). I've told you before why I love Oslo: 'The City with the big Heart'. The capital of Norway isn't big, but it's cosy and charming without being too overcrowded or stressful and very few malls to suck the money right out of your wallet. Without further description, I've made a movee so that you can see for yourself (the pics are taken either around 9AM when I go to work – or 4PM when I go home):

Part of building up the anticipation for the Holiday season or
winter solstice celebrations
, is all the Christmas Parties going on in December. I told you about '
A feast of Caribbean cuisine
' last year, with colleagues from The Norwegian Computer Society. We're having another one tomorrow night.
TorAa
, my good blog friend will be there too: So stay tuned – in both channels!