So this is Christmas time and as my regular readers know I call it Yuletide as its the time to celebrate the return of the sun – the winter Solstice ( we have been doing so for thousands of years). This means a lot of family gatherings with traditional ceremonies, parties and food & drinks. I mean, its the darkest and coldest part of the year – so we need a break: frozen and starving as we are at this time – so don't blame us Norse for getting a bit wild when we know the sun returns and is slowly warming up us Vikings again.
This blog is after all about Norway and the Nordic countries; our culture, traditions and habits (including food), so this time I'll share with you a very special and traditional Swedish Yule dish. I've been travelling around in the world quite a lot and eaten everything from chicken to kangaroo (or snakes or moose), but never what I assume is the most special Swedish Yule dish you could ask for: Janssons Frestelser (Mr. Pelle Janzon, 1844-1889, Temptations). So let me tell you the story as I invite you to sit in at our Xmas table in our vacation house in Sweden:

While driving here today – as always: we stopped at a grocery store in Karlstad (one of the advantages is that they are open in Sweden at the second day of Xmas – not so in Norway) to bring home dinner. In the freezer section I saw this dish – pre made – and since I've never made it myself, and wanted to try it: I gave in :-)
Well, as we always do, we want something special for an appetiser, we bought fried Calamari, so you might see that as well: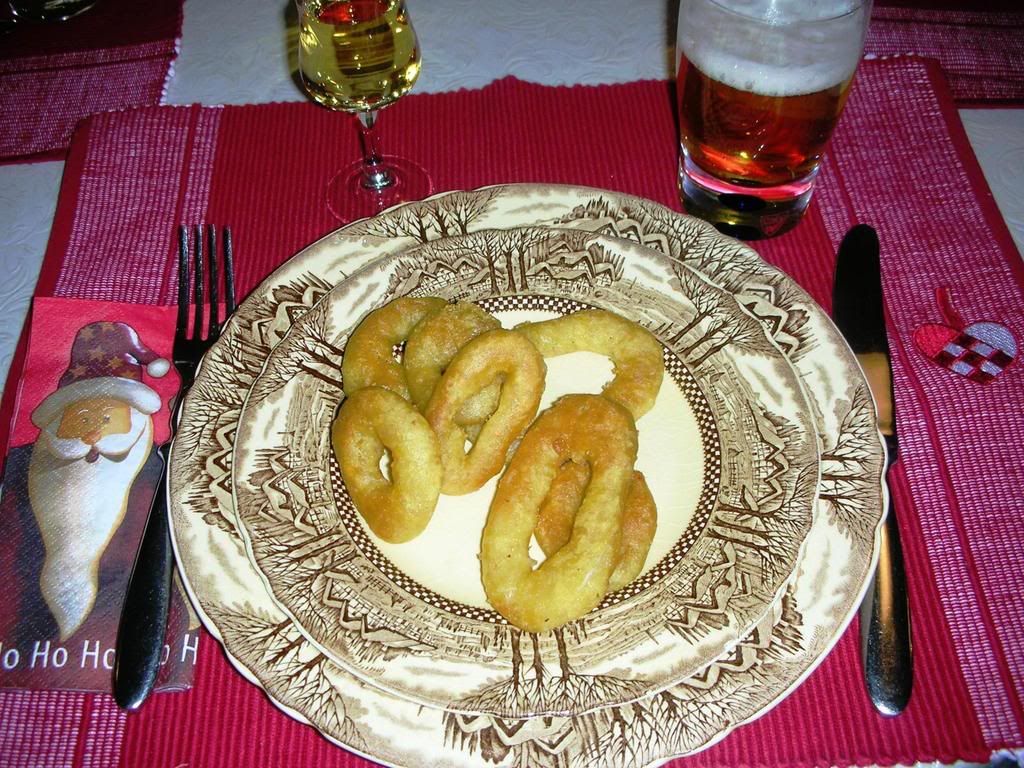 To make the rest of the story of this wonderful dish short: We read the recipe, put it in the own for 40 minutes and had a feast: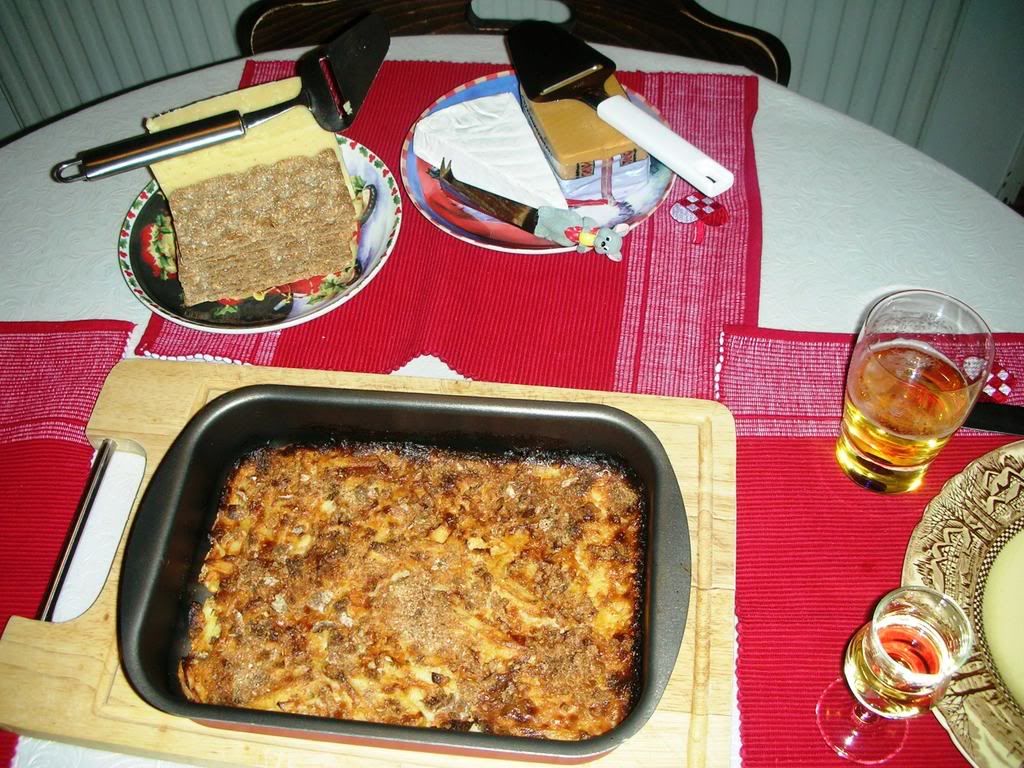 We've also heard that cracker bread and cheese goes well with it and we had the Norwegian goat cheese and the French brie. Beer and Aquavit is a must to be drink with it as well of course: after all we are Scandinavians :-)
To make it up for treating with pre made frozen, I'll provide you with the recipe:
For 4 portions you need:
8 – 10 large potatoes
2 medium onions
20 anchovy filets (2 cans, 100 g each)
3 dl whipping cream; bread crumbs
1 – 2 tablespoons of butter or margarine.

Preparing: Set the oven for 200 – 225°C. Peel the potatoes and the onions. Slice the onions thinly and the potatoes into thin sticks, roughly 0,5 cm x 0,5 cm. (a food processor can be a handy help here!) Wash the potato strips in cold water and let them drain. Grease a large oven proof dish. Place a few layers of potato strips at the bottom of the dish. Next a layer of onion slices followed by a layer of anchovy. Keep layering until all the potatoes, onions and anshovy have been used up. Finish off with a potato layer. Pour over half of the cream. Spread bread crumbs evenly on the surface. If you want to, you can put a few pats of butter on the top. Bake in the middle of the oven for about 45 minutes, until the potatoes have become soft. Pour over the remaining cream towards the end of the baking time. The Jansons's should now have a rich golden brown colour.
My dear blog friend: Capt'n of our Lifecruise (from Sweden of course), will tell more about their Xmas traditions tomorrow. I text messages her tonight and she told me food and this dish will be included. So
go over
and read about the real thing!
lifecruiser
Food
Yuletide