It's Diane's birthday today and a lot of my blog friends know her well from guest posts about her adventures as an American immigrant to Norway. So what's more natural today than to say: My dear wife, the floor is yours:
First I would like to thank TorAa for a very sweet birthday greeting from some good friends. It was a lovely surprise this morning and I have tried to get in and thank everyone who left their good wishes!
To celebrate my day we decided to make Sushi Maki. I have a good friend who is Chinese who taught me how to make sushi maki some years ago. I know that sushi is from Japan and not China, but my friend learned from a friend and passed it on. My sushi isn't that fancy, and sometimes it's not uniform in size, but it sure tastes good. We also have fun making it, my 19 year old son usually hangs around when I am making sushi. You see the two end pieces often fall apart a bit when it's cut, so he likes to eat the rejects!! Frankly, the more mistakes I make the happier he is. Pics taken with my son's HP R717: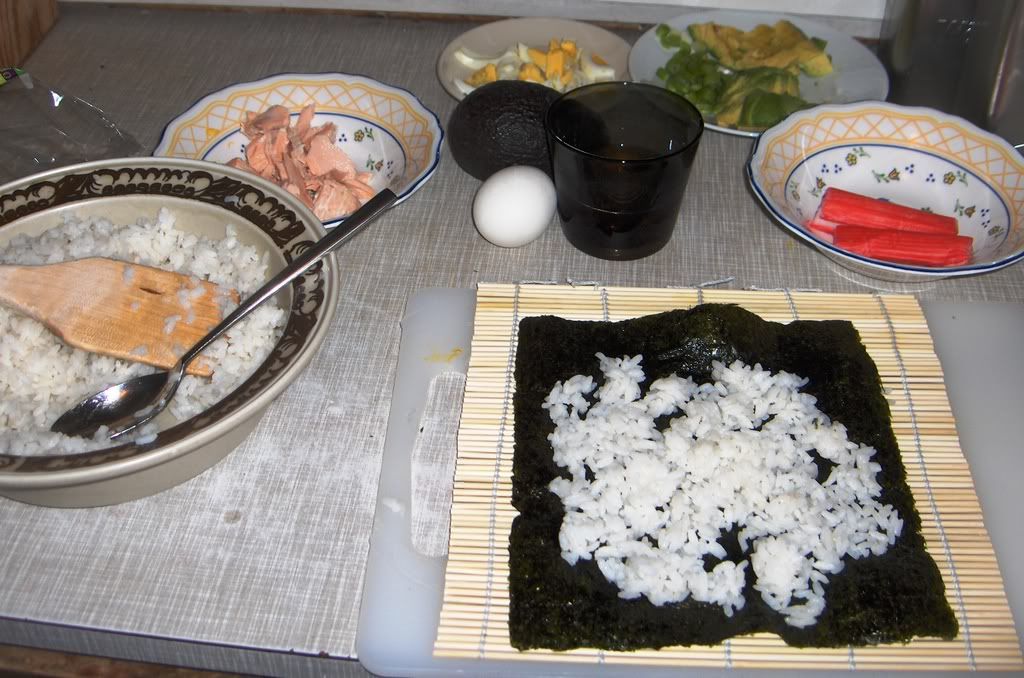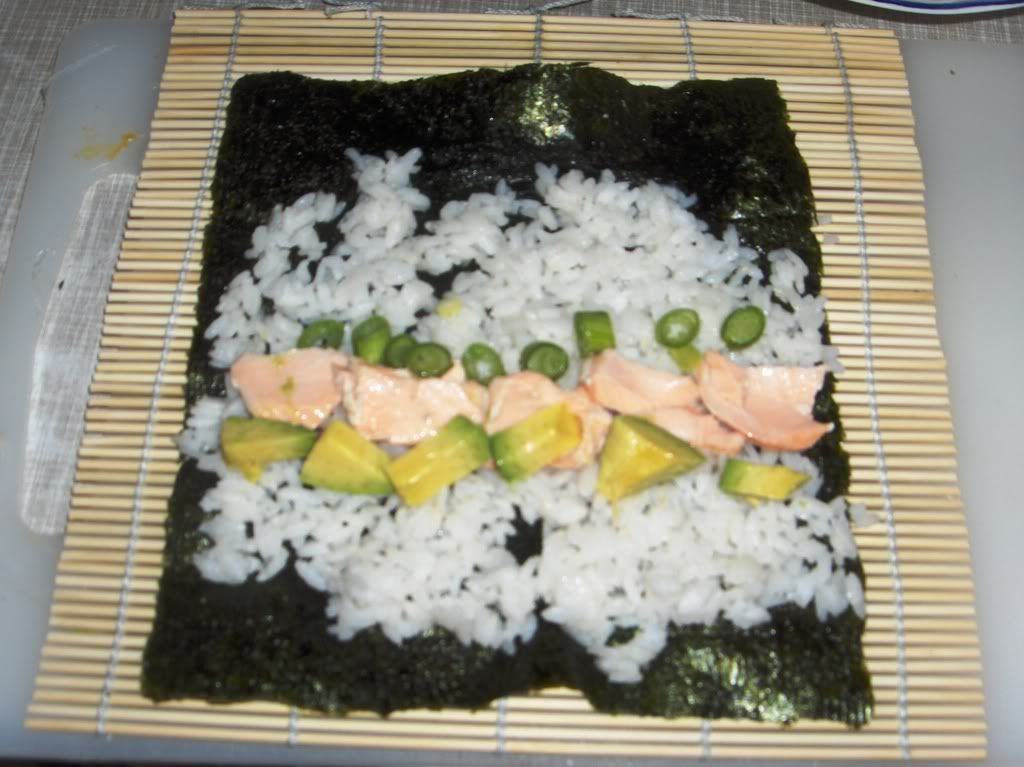 Sushi ingredients and bamboo mat — Filled Nori ready to roll!
To make sushi maki you need a special tool, that's really the secret to it. It's a bamboo mat which you use to roll the sushi, that way it rolls evenly and doesn't stick to your fingers. My sushi was made with nori seaweed sheets, available in most Asian supermarkets, crab pieces, or salmon (I am a bit chicken at home so I steamed the salmon a bit –I know raw is better), avocado, and sliced hardboiled egg. I won't write the whole process here – but rather invite those of you who really want to try their hand to click here and get a good description of how to make simple Sushi Maki.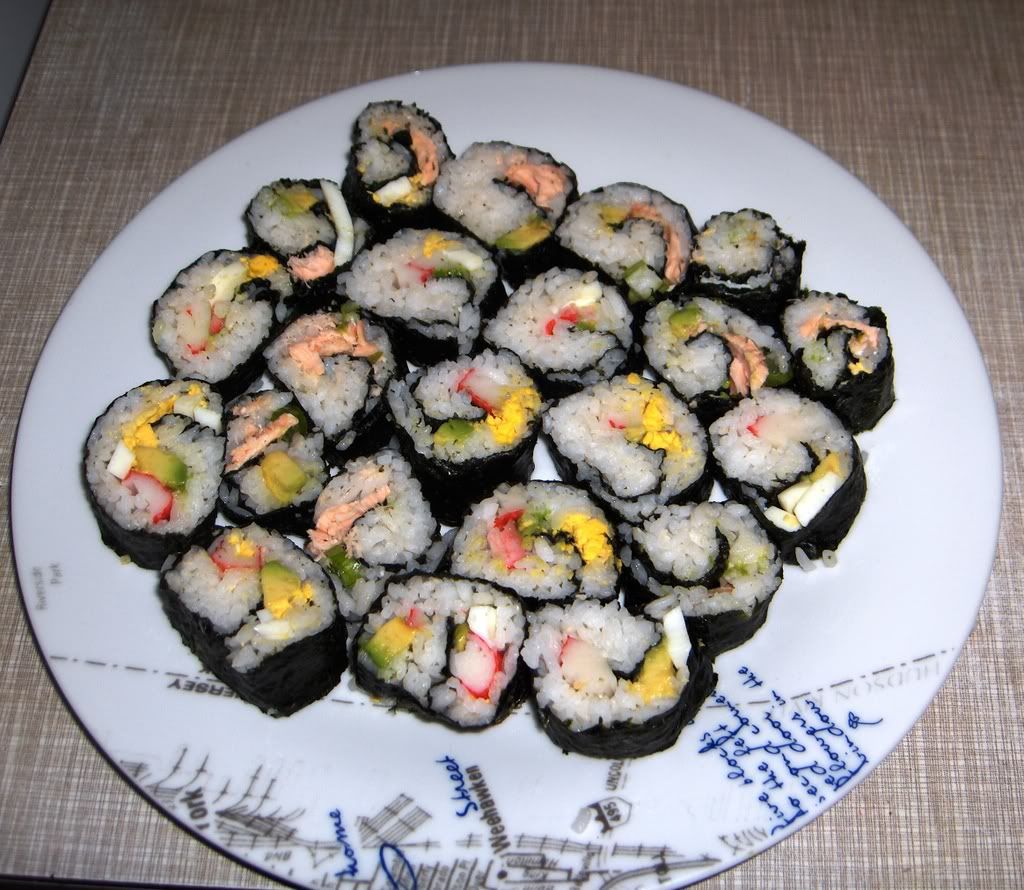 Since today was my birthday I broke out a tablecloth from last years big birthday bash and decked the board for the festivities. The china is also a birthday present from last year, it's made by Porsgrund porcelain and the name of the pattern is Street. The chopsticks are personally brought back from Hong Kong by my friend, Patricia.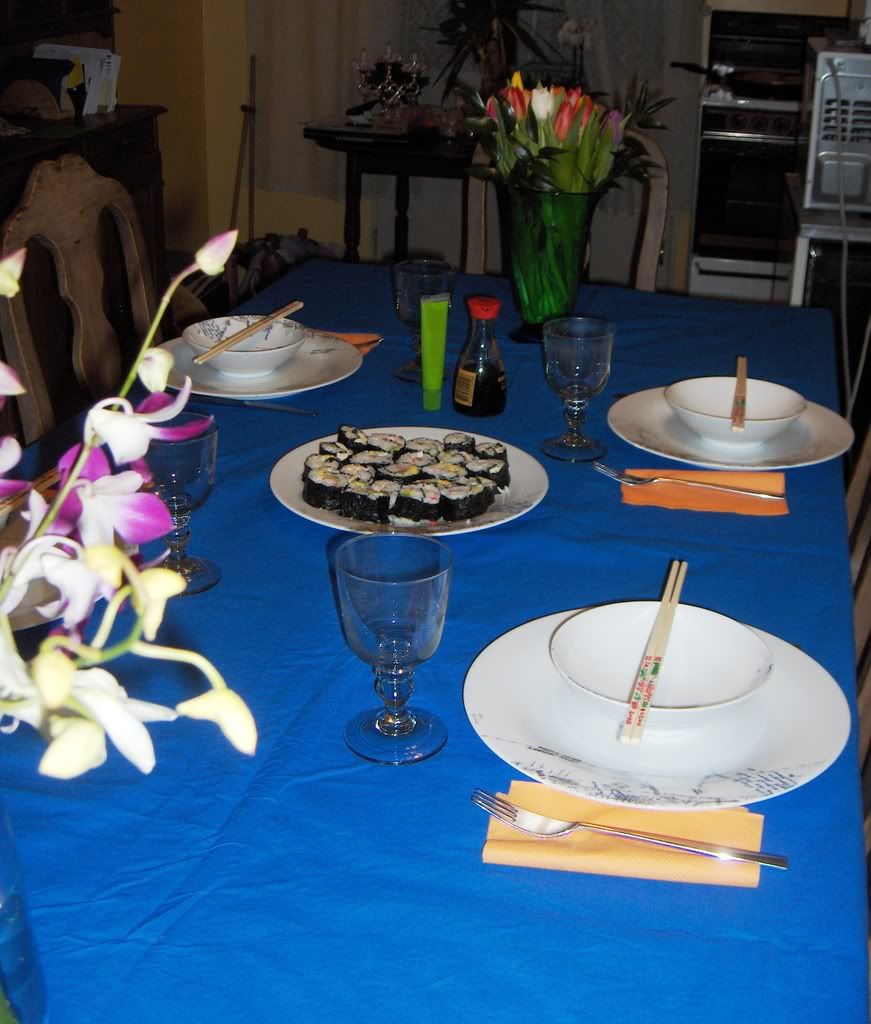 As far as the long awaited birthday gifts this year I received some lovely tulips from my husband, and tomorrow we are going to a wine tasting seminar – which I am sure you will read about soon. My inlaws gave me a lovely serving dish, my parents a birthday card and some green stuff. I also received a bottle of wine from a good friend and of course a birthday cake arranged by my youngest son.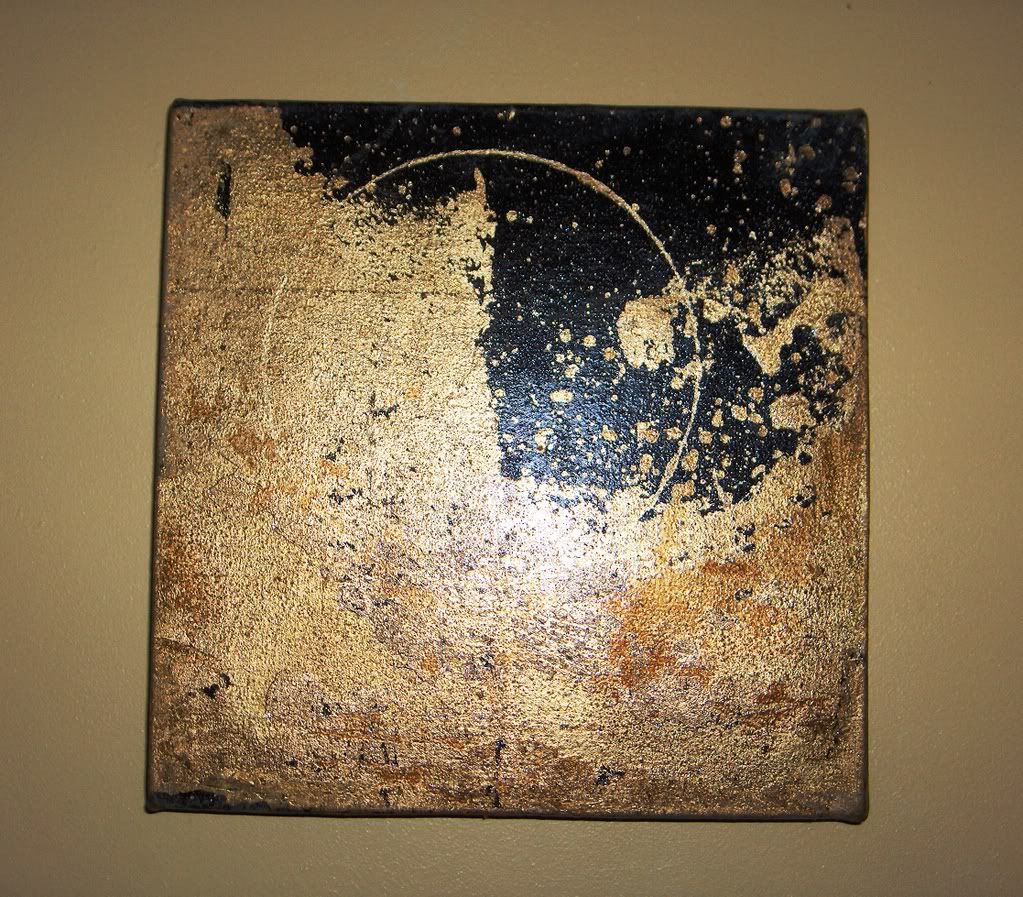 A little group of presents — and a masterpiece

The ultimate surprise came from my friend Patricia once again, her brother Frank Woo is an artist, and he left me an original painting from his Wave collection for helping him arrange an exhibition in Norway (
click to see RennyBA's post
!). Frank has several upcoming exhibitions in the next months if anyone is interested in his work. I really adored the Wave collection, and am personally thrilled to have one of his masterpieces hanging on my wall!