I sometimes say: Since this is a blog about Norway, it would have been a disgrace not to mention..… This time it's an historical moment for mankind: Tuesday 26th of February, the Prime Minister of Norway, Jens Stoltenberg opened Svalbard Global Seed Vault. As usual, I'll do it my way, but lets start with the vault:
The world's seed collections are vulnerable to a wide range of threats – civil strife, war, natural catastrophes, and more routinely but no less damagingly, poor management, lack of adequate funding, and equipment failures. Unique varieties of our most important crops are lost whenever any such disaster strikes, and therefore securing duplicates of all collections in a global facility provides an insurance policy for the world's food supply.
The Vault is an answer to a call from the international community to provide the best possible assurance of safety for the world's crop diversity. It's being dug into a mountainside near the village of Longyearbyen at Svalbard: A group of islands nearly a thousand kilometres north of mainland Norway. Remote by any standards, Svalbard's airport is in fact the northernmost point in the world to be serviced by scheduled flights – usually one a day. For nearly four months a year the islands are enveloped in total darkness. It is here that the Norwegian government has built the Svalbard Global Seed Vault, to provide this ultimate safety net for the world's seeds.
Btw: Click to read my wife's post about the event and our friends Mark's and A.!
Then to my personal touch, since I was at Svalbard in April 8 years ago and saw this from the plane before we landed: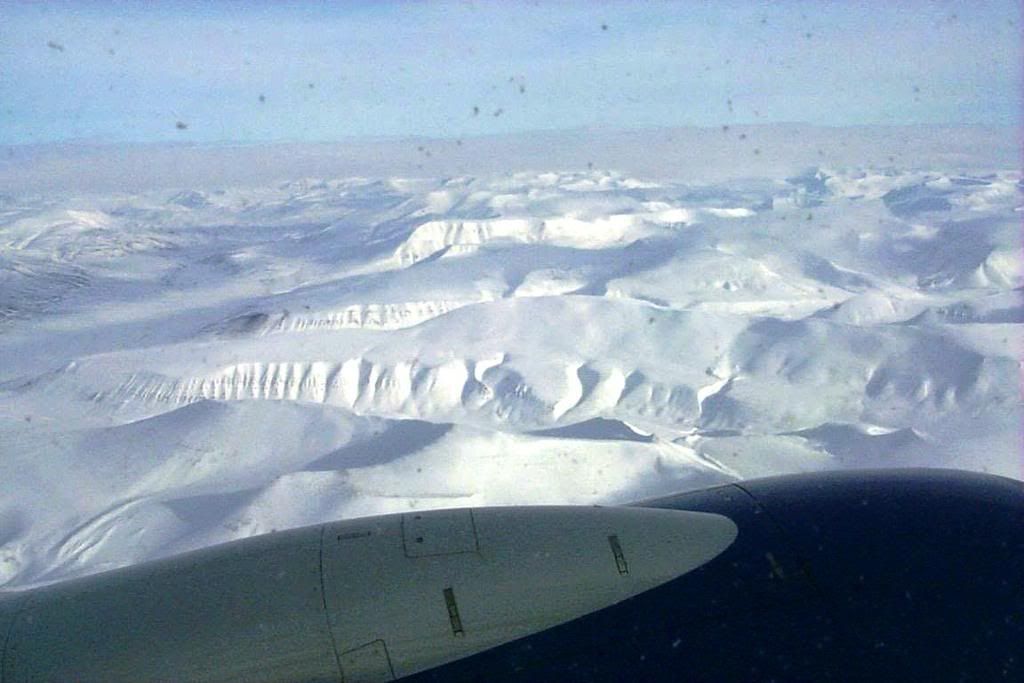 This was a once of a lifetime experience. The landscape is breath taking and has a unique geology. Ancient rock formations are easily seen in the characteristic stripes and layers of the mountains. The rich deposits of coal — fossilised plants — reveal that millions of years ago Svalbard was found far to the south. Intact fossils of tropical leaves, flowers and sea animals, which are several hundred million years old, are still commonly found in Svalbard (in the middle of the Arctic Ocean).
To give you a glance, let me show you a picture from the airport and the entrance of The Longyear City (click the pics if you like a larger view):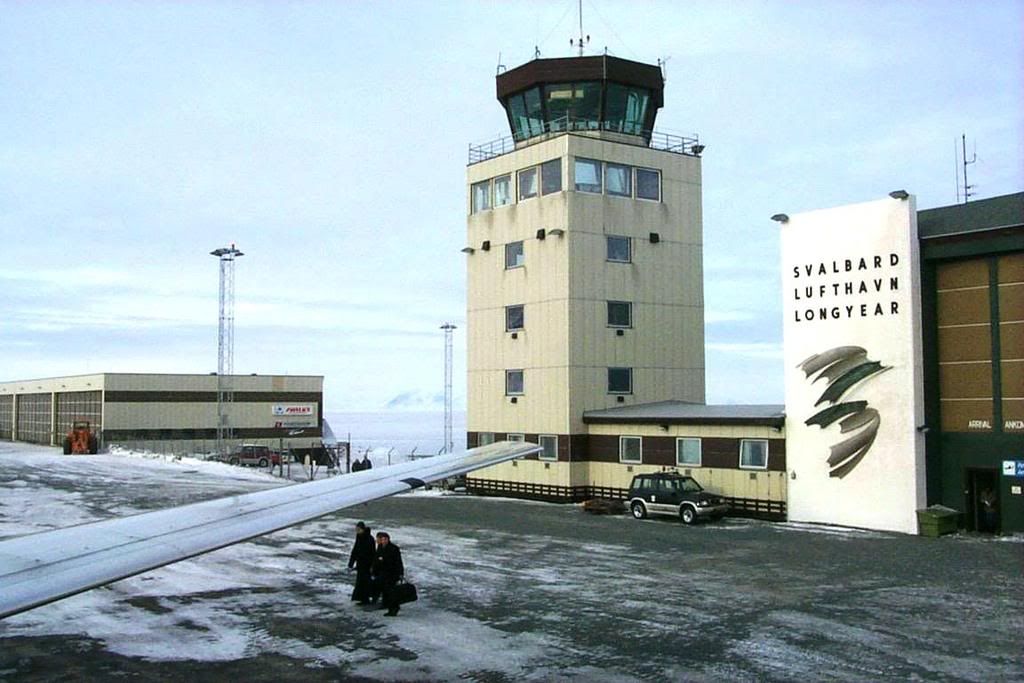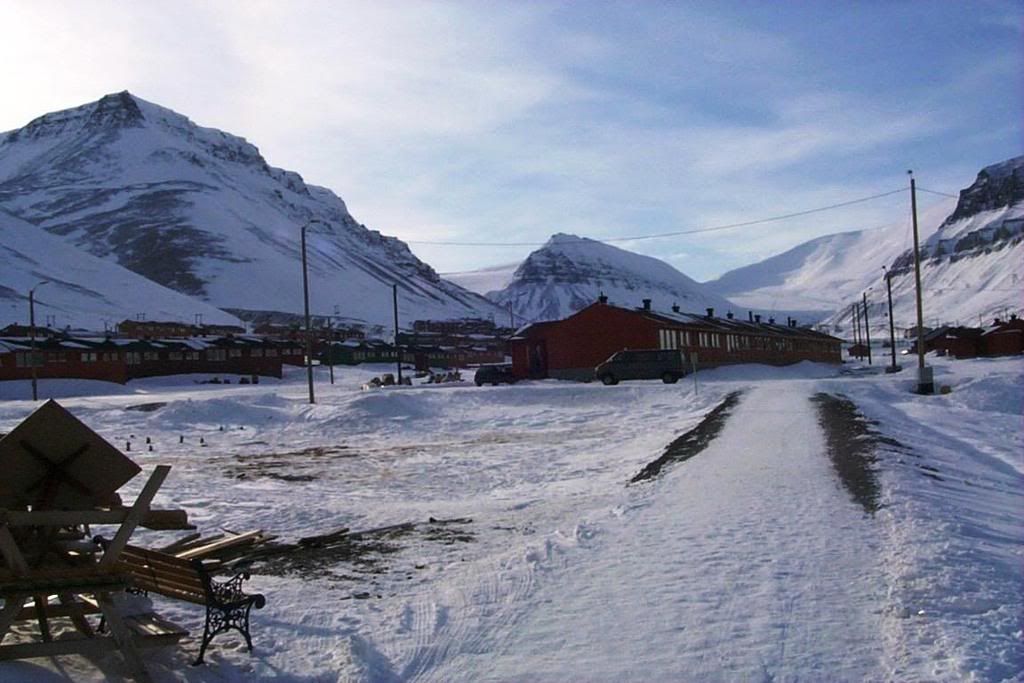 The most unforgettable event of my stay was a one day scooter safari in The Advent Valley and deepest in we saw this glacier: "Dee Geer", a more than 5 million year old mountain of blue ice: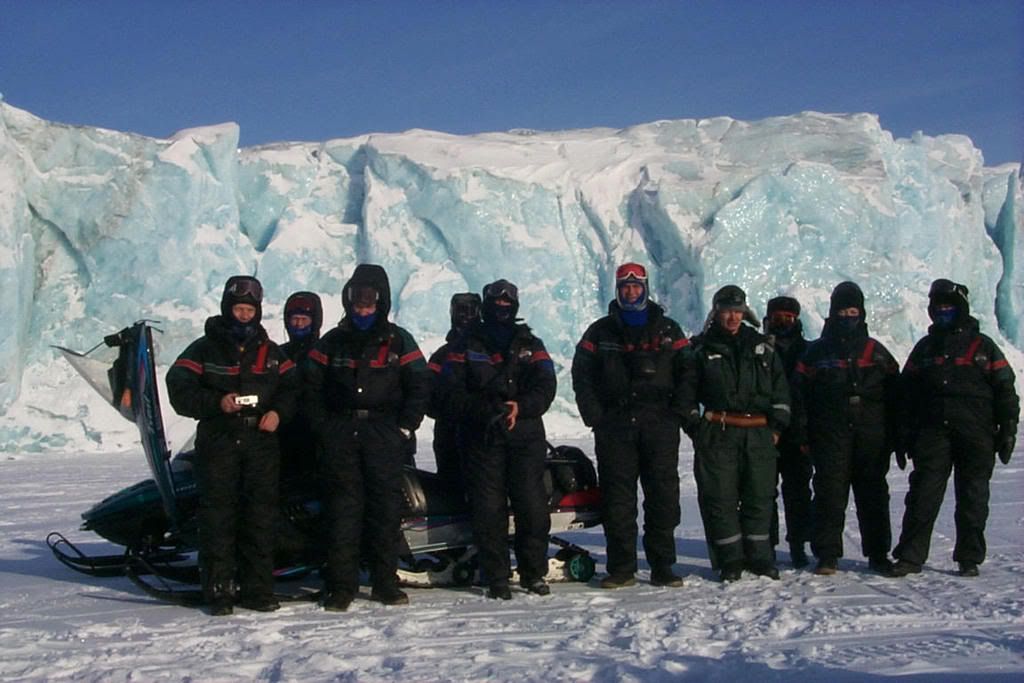 RennyBA with the red top in the middle :-)
I could have go on for a long time, but since pics says more than a thousand words, let me end this special adventure by sharing a collection of pics from my stay and the safari. We did not see any polar bears, but some seals who also kept holes in the ice for a speedy escape…in pics #9, 12, 13 and 14:
I hope to go back there one day – anyone wanna join me?
seed vault
svalbard
norway