Since my blog mostly is about my daily life in Norway – where we talk a lot about the weather, and its great variation – and I've complained a lot about missing snow in Oslo this winter, I might as well give you a weather report from the last two days.
In my last post (scroll down!), I reported about a taste of spring from a beach without bikinis. Yesterday, when I left office, I got proof of that it can change quite rapidly as I met a snowstorm right in my face. Walking towards the bus, I was thinking: 'I have to share this with my blog friends' and of course I had my Nokia mobile phone at hand. It gives me the chance to show and tell you about the city, the habitants and how they get home from work too (always want my readers to learn something you know:-). Lets start with a picture close to flower square (click all pics to enlarge!):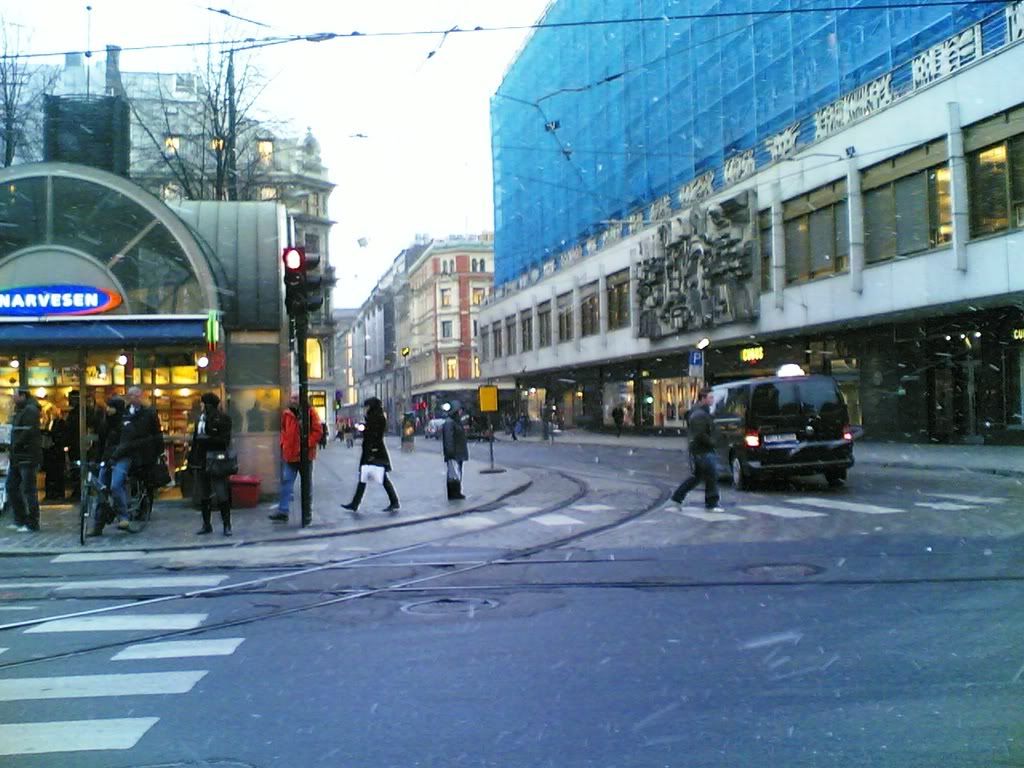 Its hard to capture, but I hope you can see the snow in the air!
Then I passed an Italian Ice Bar and confectionery: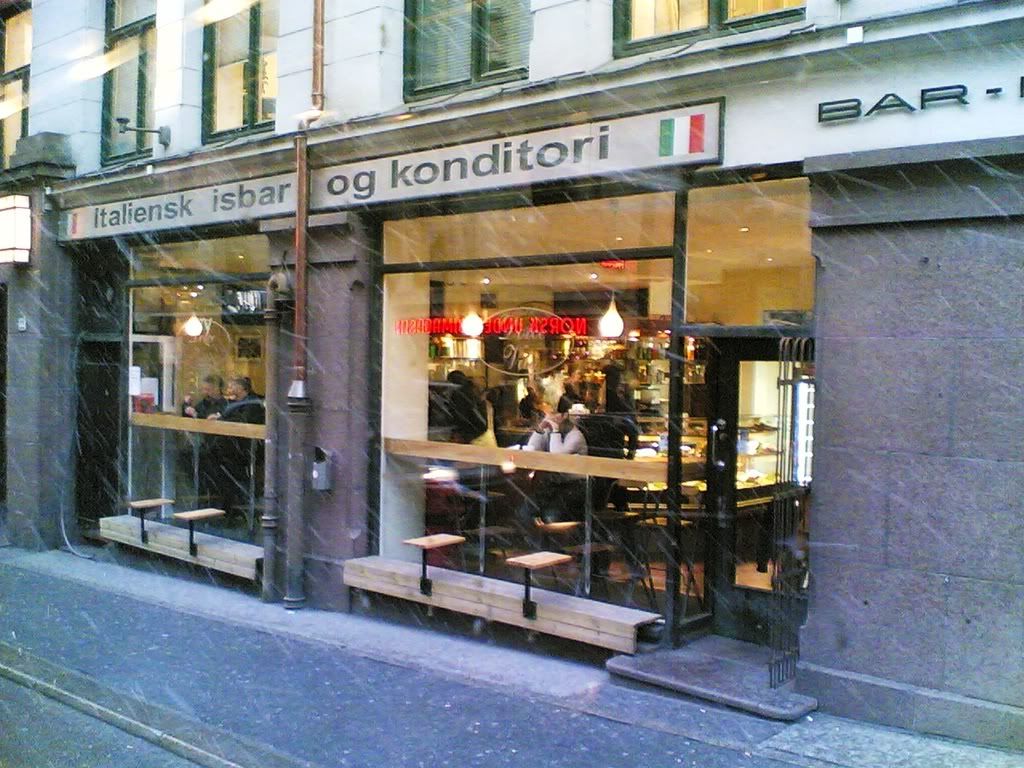 A new trend is to have a bench in the windows so you can sit and face the street.
Sitting hight and dry on a bus, we passed another stop and also here I hope you can get an idea of the snowstorm: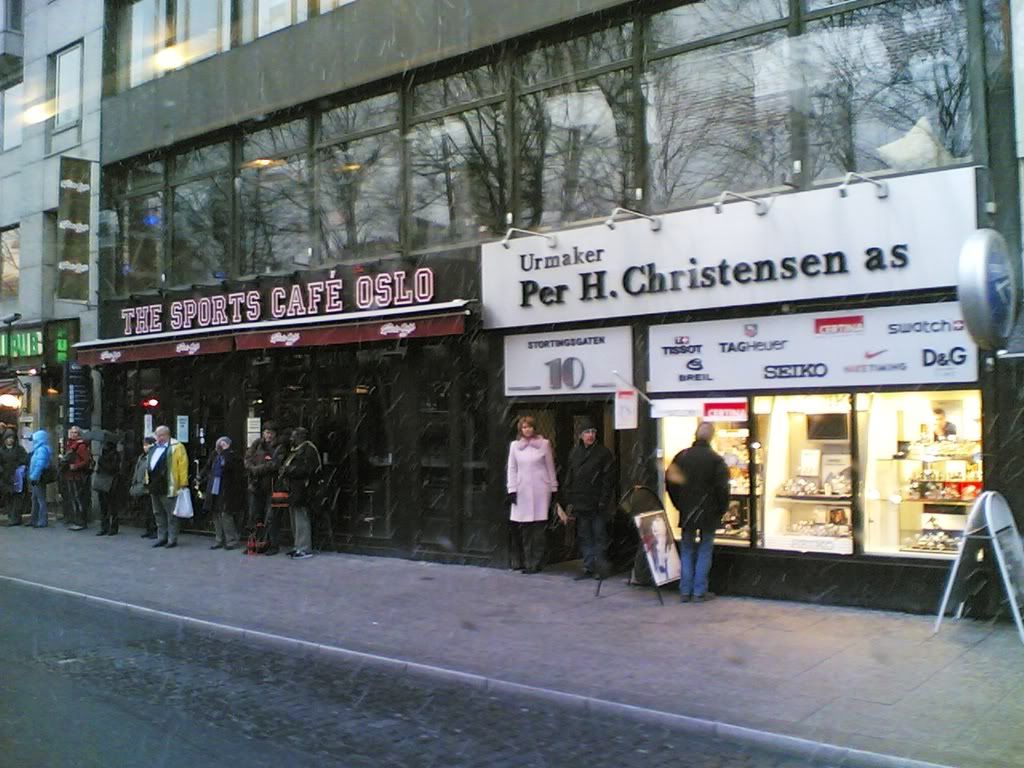 People are clinching the wall to get some cover from the snow.
I take the opportunity to tell you a bit about
Oslo
with a some over 500 000 inhabitants (areal 454 km²): The city is characterized by a mix of old and new architecture, parks, hills, museums, monuments, lakes, forests and the fjord. It is a vibrant city, excellent for shopping, cultural and sports activities. Oslo offers a wide range of excellent restaurants and a sparkling night-life. Through more than two years of blogging, my regular readers have seen a lot from Oslo and for those who want to refresh their memories or dig more into it, click
her for my vault
!
The urban lifestyle has of course hit Oslo too, so we have our broiler factories where you can exercise your biceps – nice and warm – as you watch the snowstorm: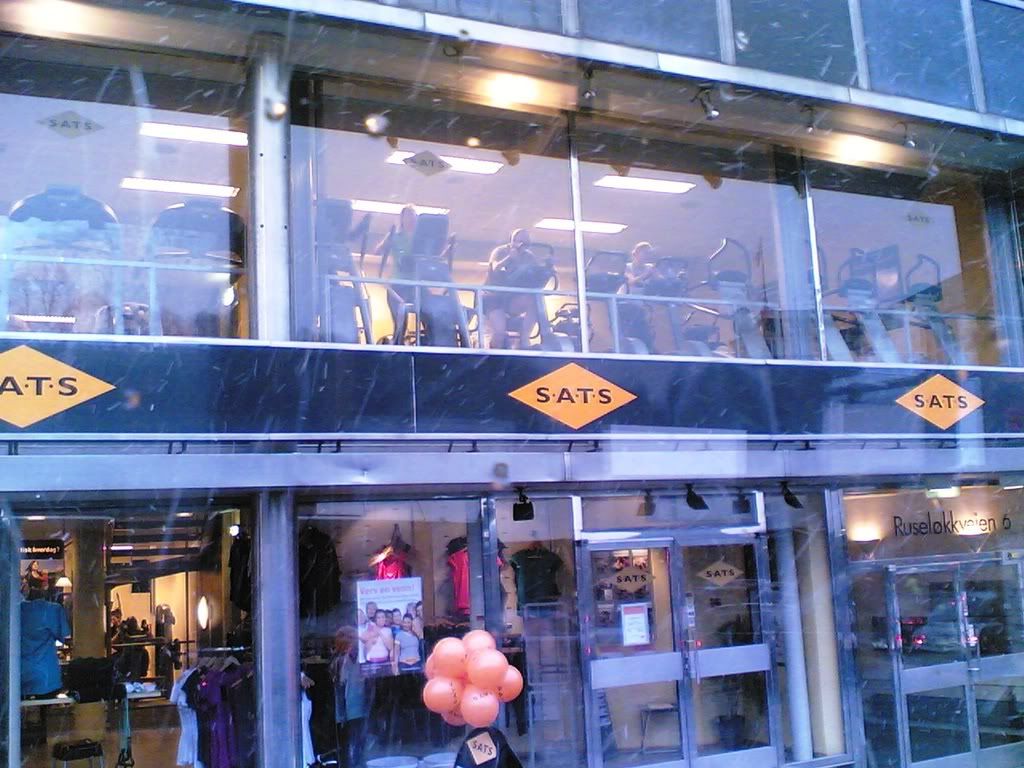 Actually I wonder why they don't take the trolley for 20 minutes up to the mountains to go skiing :-)
In the beginning of this post I talked about two days and the rapid weather change. So here is a brief summery from today then, when we've had a nice and sunny day. Karl Johan (the main street) is bathing in sun and the street musicians accompany your walk: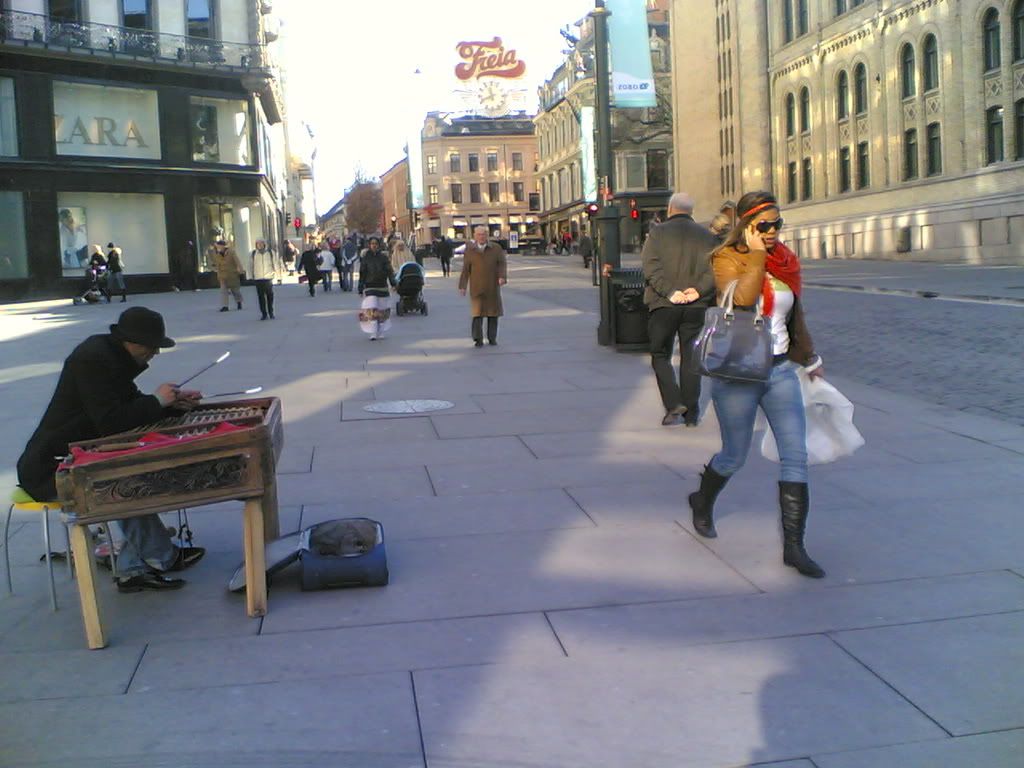 Well, its still around freezing so you do best if you know how to dress well :-)
Then I've saved the best till the end: I just love to see children having fun and at
the fountain
in front of the Parliament (transformed to a skating rink in the winter time), I saw these group from a preschool having a lunch break from their skating adventures:

I so much wished I was 5 or 6 again and could join them – their thermos with hot chocolate smelled delicious too ;-)
This weekend we are going to my home town, gathering for the yearly family Norwegian fish feast party. We are eating
Rakfisk
(fermented fish) –
click to see my report
from last year! So please bear with me if I don't visit and comments on your blog the coming days. I'll keep you posted later on though – as always :-)
spring
oslo
snow