If there is a festival going on, you can always count in the Norwegians, especially when it comes to celebrating with people we have close ties to. The Irish people are one of these and I'll give you a peek at this year's parade in Oslo, with a Norwegian twist – as always. Let's start with St. Paddy's himself and their banner: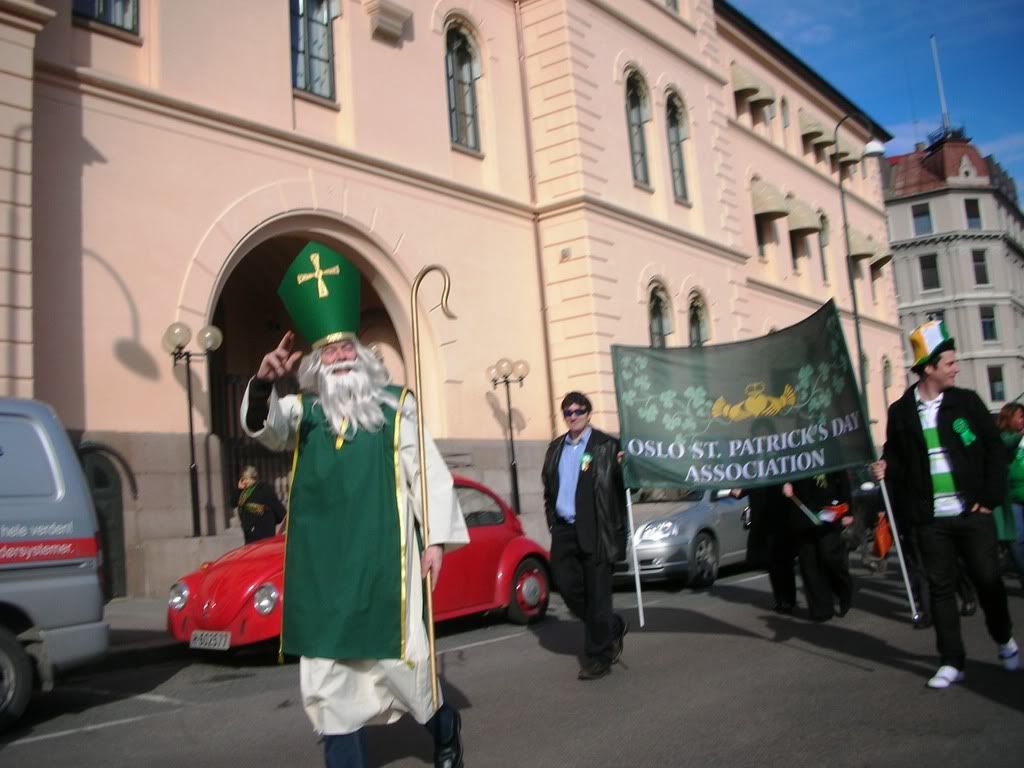 I'm of course humble to another country's National Day and won't indoctrinate you to much, but I want to draw some historical parallels since my blog is about Norway; our history, culture and traditions:
You see in 852,
Olaf the White
, the Ainhlabh of the Irish chronicles, descended from the same family as Harold Hårfagre (the Fair-Haired), the first King of Norway, conquered
Dublin
, with the adjacent territory, and founded this, the most renowned, most powerful and most lasting Norwegian kingdom in Ireland. However, in 1054 the last Scandinavian ruler in Dublin was replaced by an Irish king. The Scandinavians were by then culturally and ethnically assimilated, and stayed a part of the Irish population. So of course I am not proud of my forefathers conquering but it proves our close ties and often common lineage. Judging by the Irish people in Norway, they have forgiven us a long time ago :-)
Talking about eventually making friends, may I ad: The legendary
Leif Ericson
lead Vikings to Canada (long before Columbus!) and the east coast of what 500 years later became the United States. My regularly readers know I'm even married to one!
Then back to the parade: Now it was The Irish who invaded Norway and made it a green folklore in Oslo: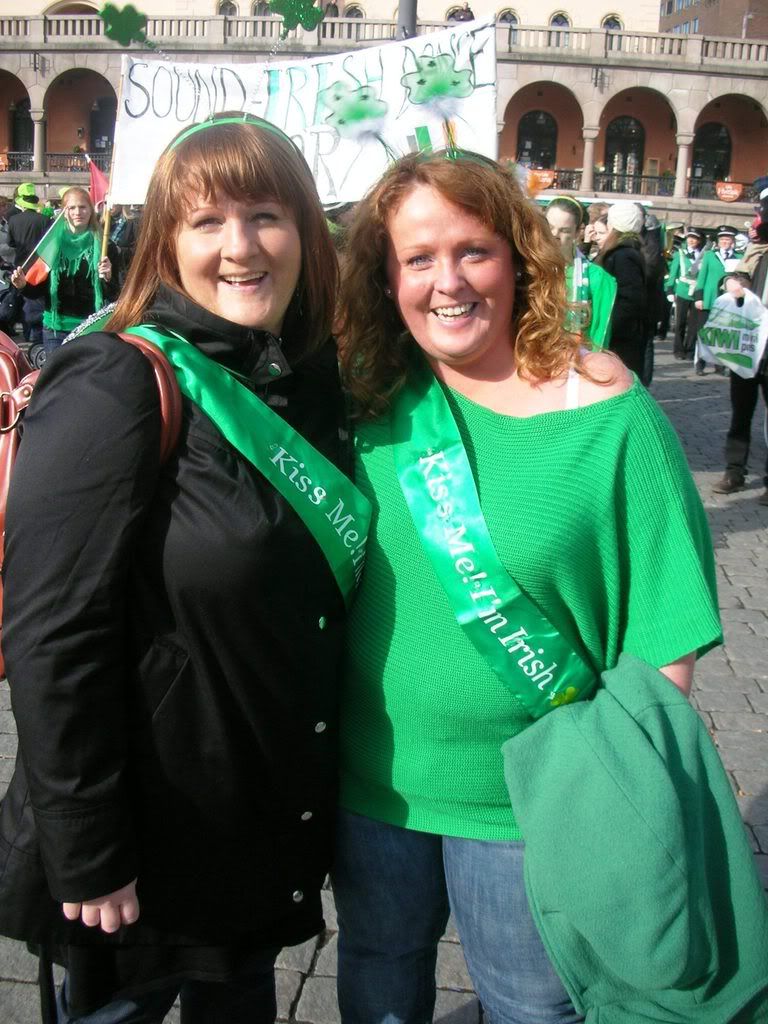 Its organised by Oslo St. Patrick's Day Association. From its start the parade has continued to grow in size and now includes a pipe band, musicians and dancers, leprechauns and other strange creatures, wolfhounds and the venerable St. Paddy himself. As well as locally based Irish, Norwegian friends of Ireland, and friends of every nationality, many visitors from Ireland and elsewhere making their way to Norway to enjoy the parade.
Remember the Catholics are in the middle of their Lent period; Fasting, both from food and festivities! In earlier days this Day was a break allowing them to let down their hair – even to get married for those who 'had too' :-) That explains the big smile on these girls faces and of course their banner (click the pics for a closer look!)
Of course I took a lot of pics, crazy about sharing this colourful folklore with you. Also this time I guess pictures tells more than a thousand words:

If you would like to hear how great the Bag Pipe Band sounded,
click here
and turn up your speaker! All the pics can also be seen at my
Flickr account
.
To top off this post, my wife invites you to sit in for a bowl of traditional Irish stew and of course beer! For the record; my wife
Diane
comes from the Carvill family and although American is of Irish descent:
Erin go brea!
Challenge to my readers
:
There must be many of you who have made a St. Patrick's post these days. Leave the link in a comment and I'll update this post!
#1:
House of Lime,
Michelle in Pennsylvania, US: '
Happy St. Patrick's Day
'
#2: Brykmantra, and Irish blog friend living in Texas: 'HAPPY ST. PATRICK'S DAY! (Part 6)'
#3: Teena in Toronto, Canada: 'Happy St. Patrick's Day'
#4: Olga, The Traveling Bra A Globe-trotter: Olga Go Bra!
#5: EastCoastLife in Singapore: St Patrick's Day Parade in Singapore – Weekend Snapshot 15.
#6: Sandee (Comedy +) in California, US: Manic Monday #50 – Drink
#7: That Breese Famly – Tanya in Georgia, US: ~Happy St. Patricks Day!~
#8: Expat Travels, From Switzerland to Canada: Happy Saint Patrick's Day.
#9: Fleur de Lisa, From Indiana, US: Happy St. Patrick's Day!.
#10: Here in the Hills -Naomi: OldOldLadyOfTheHills in LA, US: a st.patricks day wish.
#11: Eric "Speedcat Hollydale" in Minnesota, US: Saint Patty Cakes & Greenbriar HollyCat.
#12: Simply Sofie, A Filipino in Swiss: Our summer vacation in Ireland.
#13: A little piece of me, Claire from Cheshire in UK: Today I will mostly be….


St. Patrick's Day
irish
parade