We've started the Easter Holiday. Actually the Easter break started last Friday and a lot of Norwegians have a week off until next Tuesday (the second day of Easter is a holiday too). Since today is Good Friday and we are in Lent season, a lot of Catholics (like my wife Diane) avoid eating meat. Therefore we had fish for dinner. I'm not religious, but I never object to fish!! So this will be another gourmet post – at least to us it tasted that way. As usual, let me invite you to sit in as I continue (click all the pics to enlarge):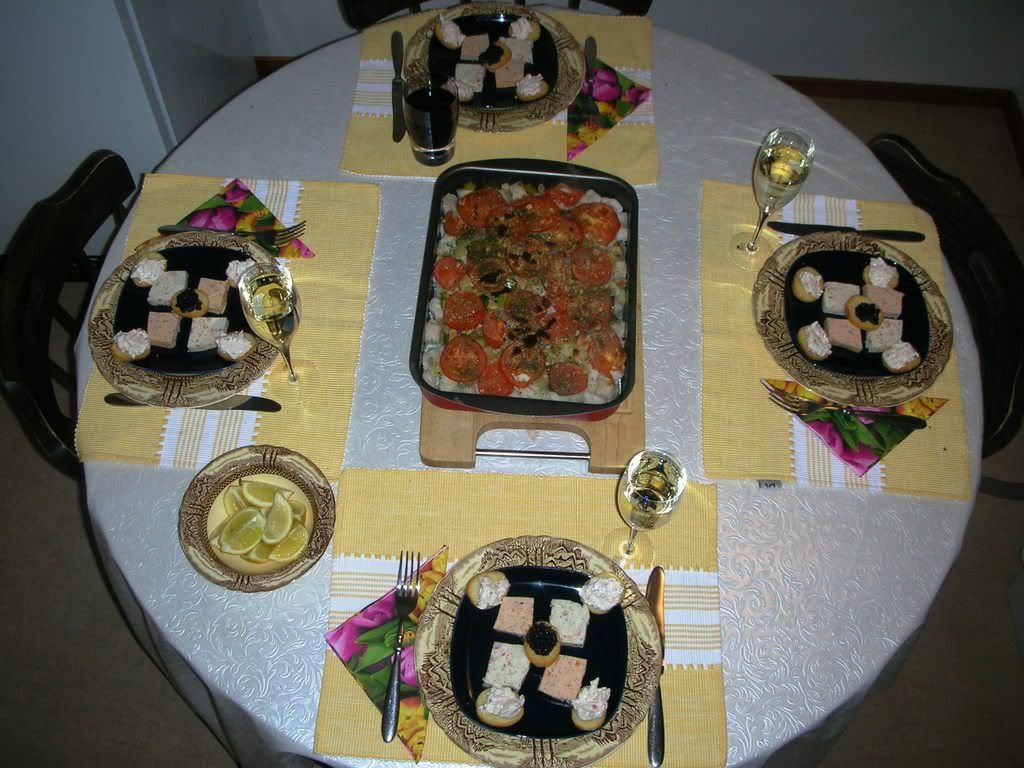 My regular readers know we set the table with our best china and glasses for occasions like this. We had an extra reason to make it special today as Tor (dear colleague and blog friend) is visiting. We had a nice dinner conversation and enjoyed each others company along with this lovely meal. This is what I call Slow Food delight and a good conversation is an important part of it. Our anticipation for the traditional family Easter Egg hunt in the forest at my home town the first day of Easter was of course one of the subjects :-)
My regular readers often ask for the recipe, so this time Diane has carefully listed it up and I'll share as you see the ingredients: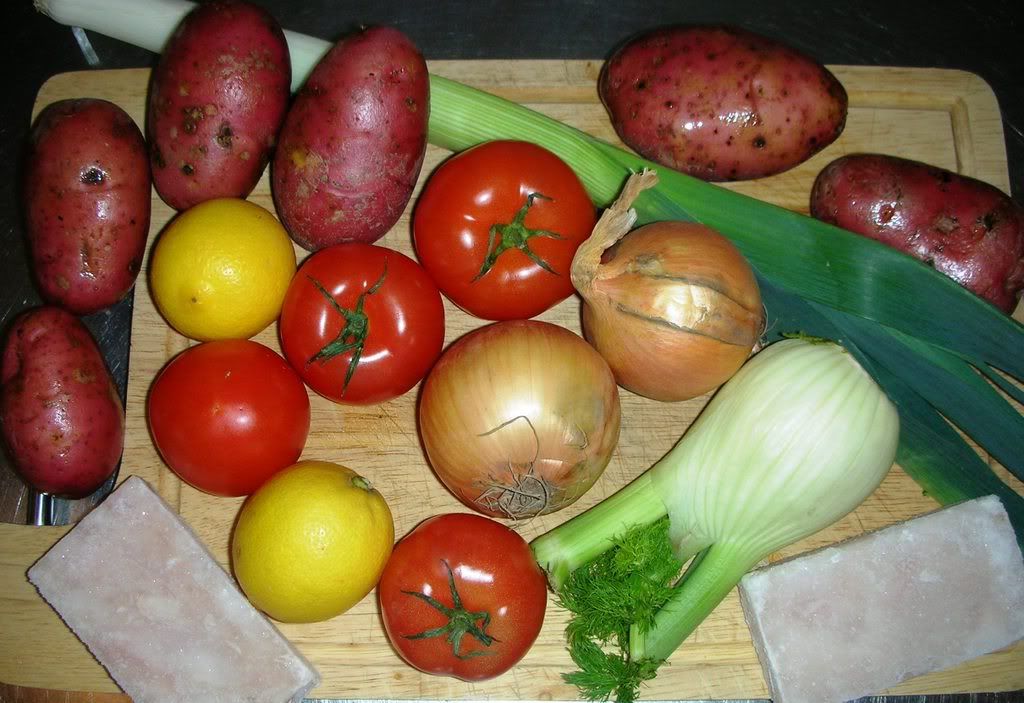 800 grams white fish such as cod or haddock
1 dl leek sliced, 1 dl fennel diced, 4 tomatoes sliced, 6 small cooked potatoes, 1 onion diced, 1 ts dried parsley, 1 ts fresh or dried thyme, 1/2 bay leaf, 1 garlic clove diced, 2 dl fish bouillon, 2 dl white wine, and 2 ts tomato paste
Peel and cook potatoes until almost done, slice into nice even slices. Fry onion, leek, fennel, and garlic in butter about 10 minutes. Add in fish bouillon, white wine, thyme, parsley and bay leaf. Boil lightly until vegetables are tender – about 20 minutes.
Butter the baking pan or glass dish. Layer potatoes and add some more spices to taste, salt and pepper. Layer fish, pour over vegetable and sauce mixture, and top with sliced tomatoes. If you would like a brown top like mine sprinkle with breadcrumbs, and I like to sprinkle some more spices over. Bake in (200 C/350 F) oven for 30 minutes or until nicely browned and fish is cooked through.
Then I guess you are eager to see the result, fresh from the own: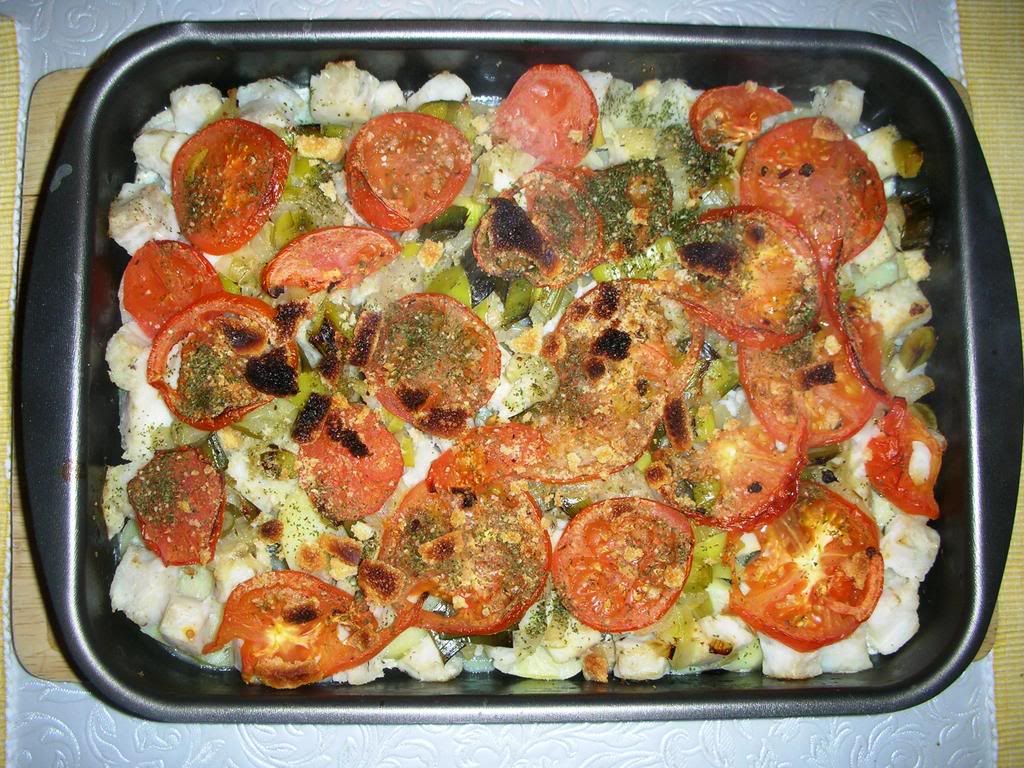 But since it was a special day on a special occasion with a special guest, we also had an appetizers: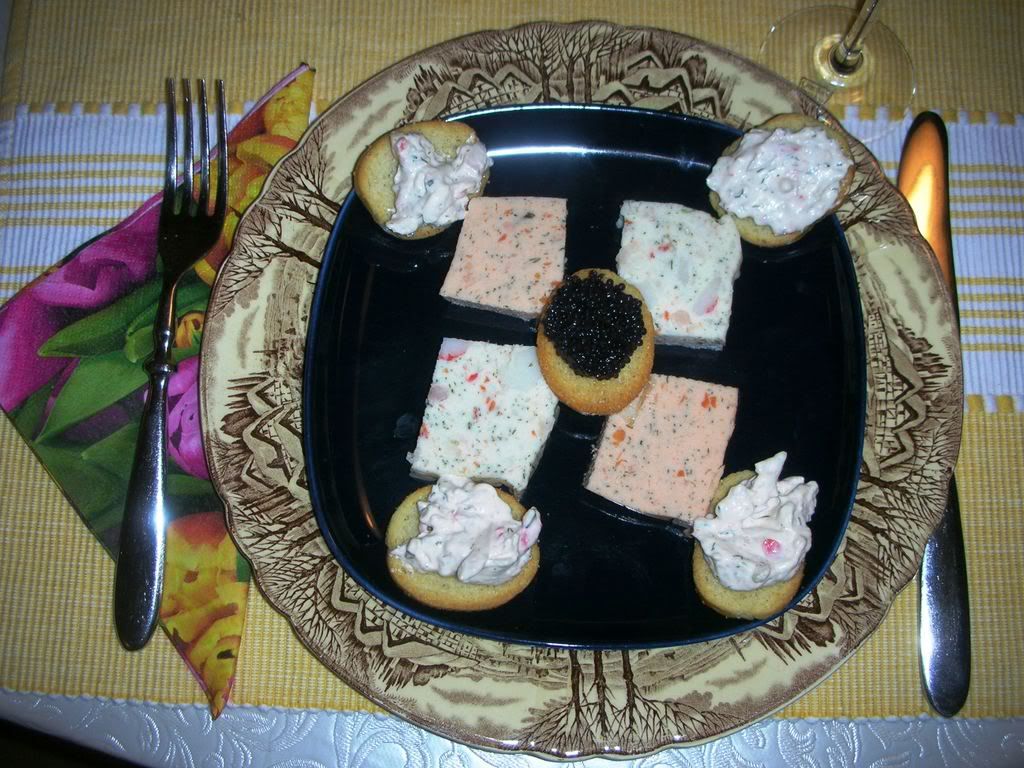 Salmon pate, shellfish pate – shrimp salad and caviare on crackers.
Then finally – the sensational: 'Poisson a la Marseillaisse (Fish Marseillaisse)' – served with white wine of course: 'Les Fumées Blanches – Sauvignon Blance':
Bonne Apetit
Tomorrow we're going from our vacation home in Sweden to my home town for the annual family
Easter Egg hunt
. This means I'll be rather busy the next days, but stay tuned for another adventure post from deep in the Norwegian forest on Tuesday!
Wishing you All A Happy Easter!
food
fish
easter