If you could put Christmas, New Years Eve, National Day, Birthdays, Anniversaries, first day at school and even summer vacation all in one day – for me you get: A Happy Easter Bunny Egg hunt. This is the most cheerful family tradition for me – a multitude of quality time and of course I will love to share it with you. My regular readers knows it's not the first, but actually the third time I've posted on this, and in the end I'll tell you how my family ended up not wanting to miss this for anything.
Let's start from the beginning though – the ingredients: 1: A family who cares for each other, 2: who loves to be out in the nature, 3: + who believes in 'inside secrets' and fairy tales, 4: A bunny who lay Easter eggs, 5: back bags with sausages, hot chocolate, oranges and sweet rolls and 6: some logs to make a bonfire.
There are always surprises on occasions like this and this year – can you believe it, in Norway? – it was that we had snow – lots of it. My regular readers knows I have complained about too little of it all season. So when we went away last week for our Easter break, ski equipment was the last thing were thinking of. I mean in a post a couple of days ago, I showed you a lot of spring flowers!
Last Friday though, the southern part of Norway got up to one meeter (3,3 feet) of snow. So when we traveled to my home town of Porsgrunn to start the egg hunt on Easter Day, we looked like this (click to enlarge all pics):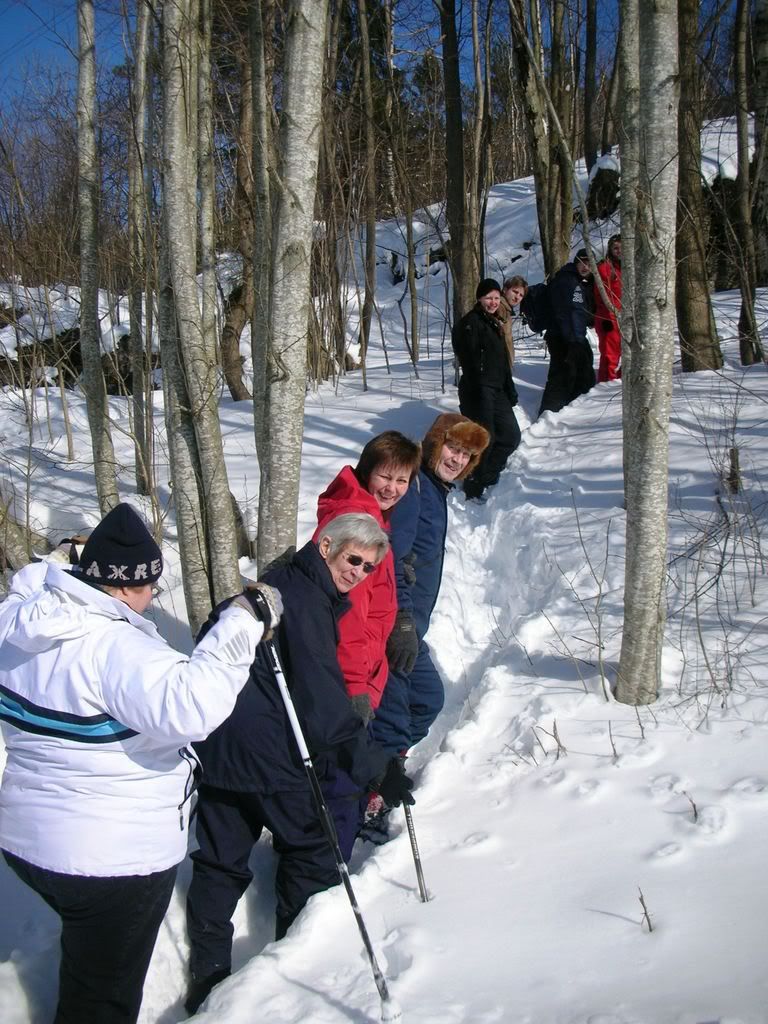 poles are good for walking in snow too you know :-)
The walk into the forest was great fun as we laughed and sang all the way to our destination. After half an hour walk we found a nice spot for a picnic and bonfire and sat down our backpacks. Then my sister shouted: Look, Easter Bunny foot prints! and the hunt began: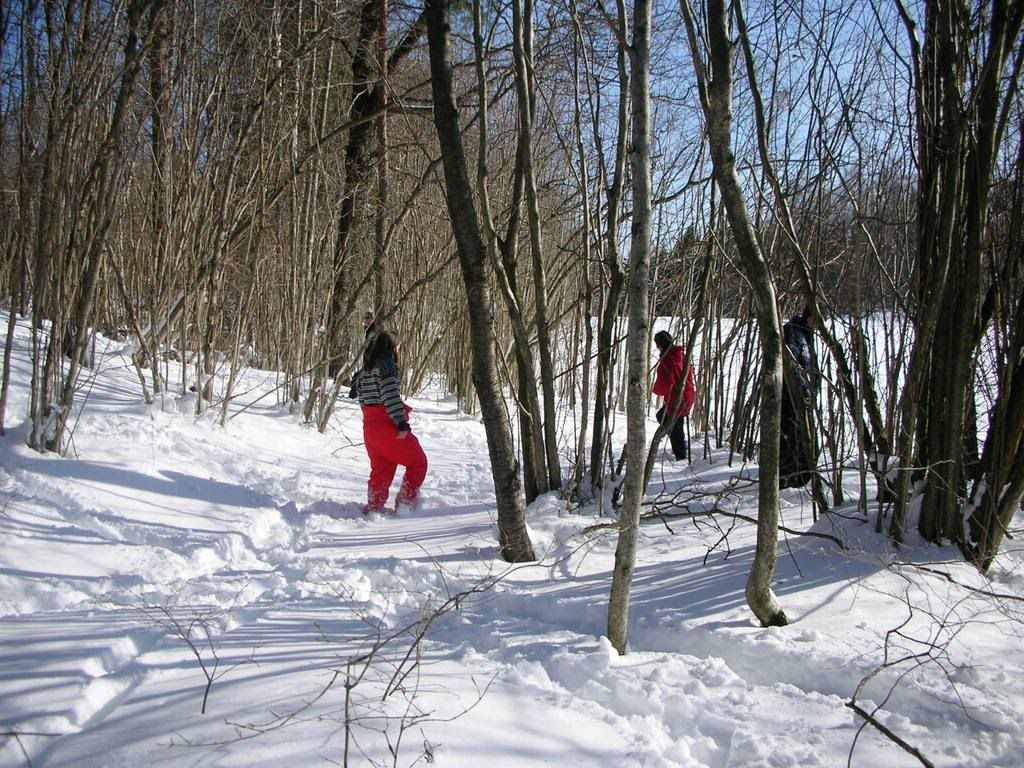 After a lot of chaos of foot prints the eggs were harder to find :-)
Its important that you find your personal egg. My sisters and mine are about 50 years – a bit taped – but still going strong and an important part of feeling for this tradition.
When each of the eggs are found we sit down by the bonfire to roast the sausages on sticks cut from birch branches, drink hot chocolate and of course eat some of the sweets in the eggs: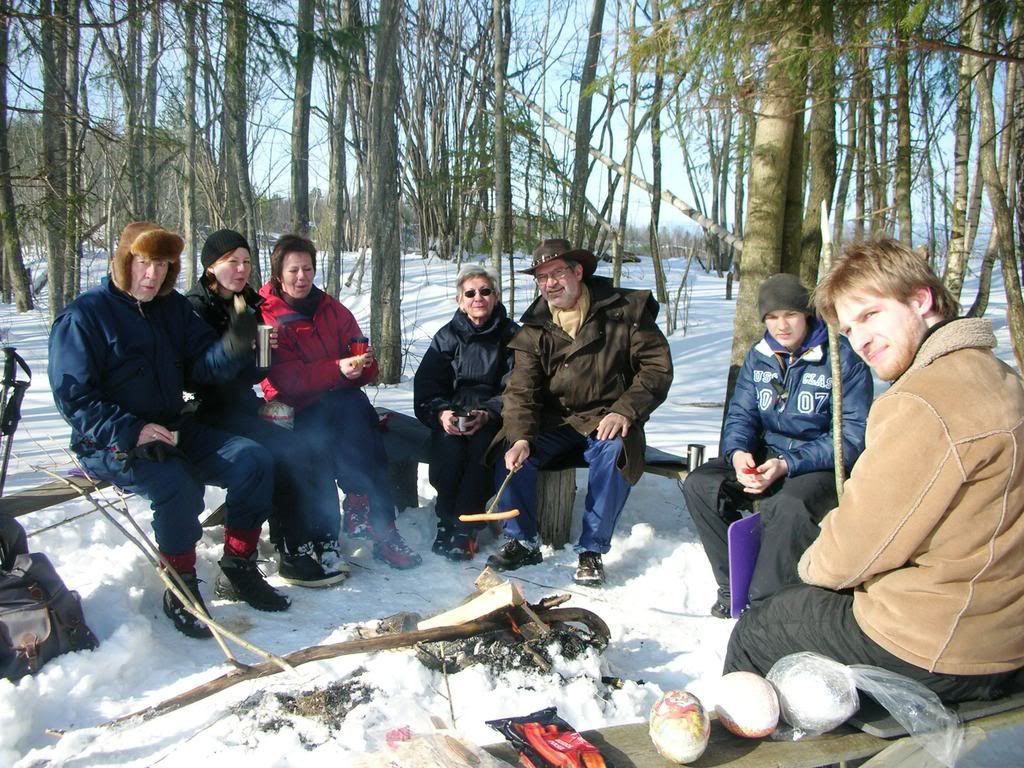 When I was young, I though everyone hunted the Easter Eggs like this of course. Growing older, I've realised its kind of special and asked my Mom where they got the tradition from. She then told me that they wanted to give my sister and me some special experience connected to Easter and combined some traditional European rituals with the joy of outdoor fun. Since then we have passed it on to our children and now I'll pass it over to you. If you would like more details (all pics can also be seen at my
Flickr account
): Here is a slide show I made with some more of the pictures from this advantageous tradition (couldn't resist the music as I think it's wonderful):
In my last two post from
2006
and
2007
(click to read more about our tradition and why The Easter Bunny lay eggs), you can tell it doesn't have to be snowy! So here it is – from me to you: A new Easter Egg hunt family tradition for free!
Until next Easter then: In comments, I would like to know about Your Easter Egg tradition!