My regular readers know I call myself a Network Evangelist. Just check the communities on my sidebar! It has nothing to do with religion, but rather how much you can achieve by showing interest in others and sharing some from yourself. Blogsphere is a perfect arena for doing so and never have I learned so much about other people; their country, traditions and culture, then since I started to blog more than two years ago. That's why I say: 'Blogging connecting people' so 'Make Blogs not Wars!'.
Sometimes I've posted about sharing some small, but significant and typical things from others. I've got a lot of postcards from all over the world, one time a Christmas ornament from Lynn and another time maple fudge fro Zhu. This time I've exchanged with a great blog friend Dackel Princess who lives in the White Mountain and Lakes Region of New Hampshire, US and this is what I found in the package (click all picks to enlarge!):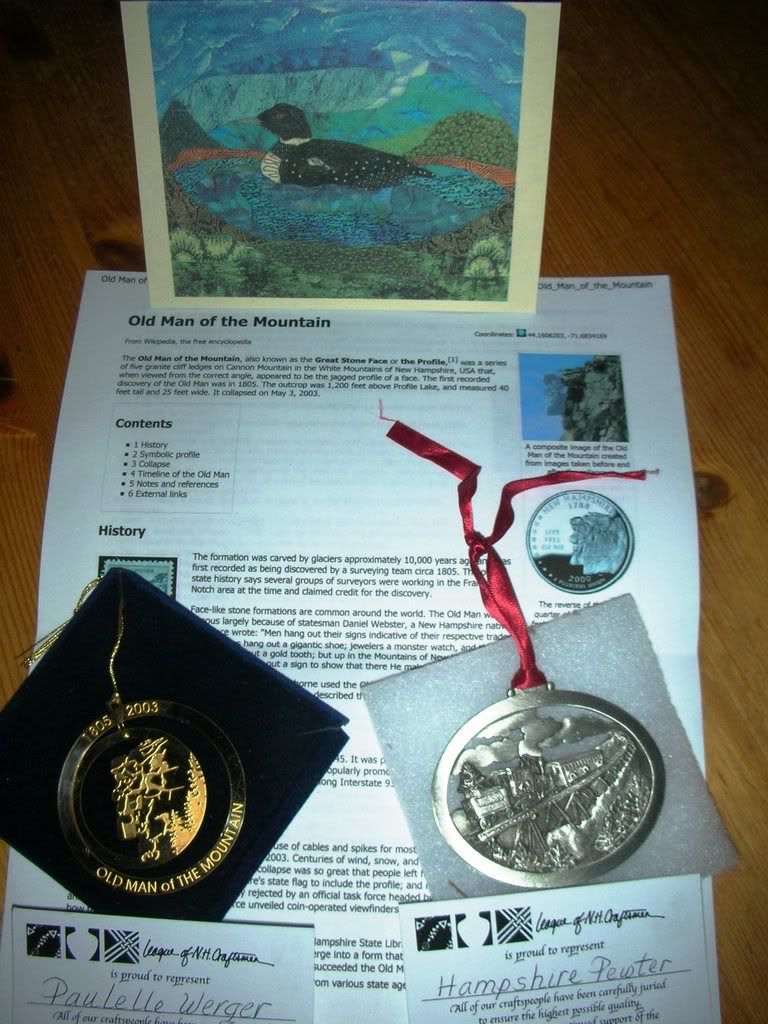 On top you see a typical bird living around at their lakes: a Loon. We have them in Norway too, living by lakes in the mountains and we call them Lom. Actually the fauna, the climate and the animal life are very much alike in Norway compare to North East of US and Canada! I know it also since my wife is from upstate New York :-)
But let's dig into some more details from the package: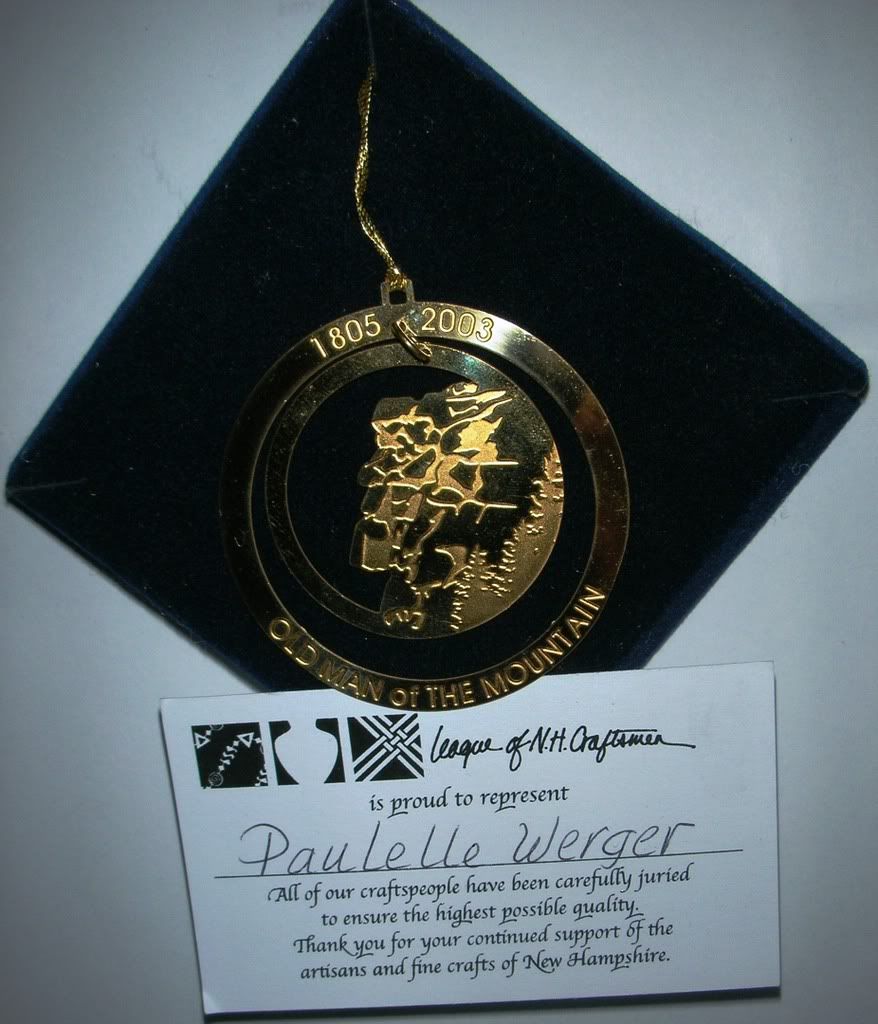 A pewter Christmas ornament: The Old Man of the Mountain, also known as the Great Stone Face or the Profile, was a series of five granite cliff ledges on Cannon Mountain in the White Mountains of New Hampshire, USA that, when viewed from the correct angle, appeared to be the jagged profile of a face. The first recorded discovery of the Old Man was in 1805. The outcrop was 1,200 feet above Profile Lake, and measured 40 feet tall and 25 feet wide. Sorry to say it collapsed on May 3, 2003. To make it short in a kind of comparing: It reminds me of Preacher's Pulpit (Norwegian Prekestolen) in Lysefjord.
Then another symbol from New Hampshire aria:
A medallion: The Mount Washington Cog Railway was the world's first mountain-climbing cog railway (rack-and-pinion railway) with a Marsh rack system. It climbs Mount Washington in New Hampshire and ascends the mountain beginning at an elevation of approximately 2,700 feet (820 m) above sea level and ending at the summit of Mt. Washington at an elevation of 6,288 feet (1,917 m). It is the second steepest rack railway in the world with an average grade of over 25% and a maximum grade of 37.41%. The railway is still in operation. It reminds me of 'Dovrebanen' in Norway from Oslo to Trondheim. At least it climbs in similar mountains.
So just by this little but significant exchange, I've learned a bit more about where Maribeth lives: A Scorpio (like me :lol: ), who loves to cook, read, travel, write, snow ski and be with her Hubby, her daughter Amanda and of course her adorable dogs. Please spend a minute and go over and visit her to see what she got from me – tell her, I sent you!
Is there anyone else who wants to give and gain like this?