I've finally found it – the proof of the old saying: Norwegians are born with skis on their feet! At least the closest you can get – but I'll get back to that later! Let's start with the beginning: A guided tour of Holmenkollen Ski Museum in Oslo. This is the last cultural adventure we arranged for the delegates at this years Annual Meeting of The Norwegian Computer Society (scroll down to see the other posts!).
The Museum illustrates 4000 years of skiing history with rock carvings, skis from the time of the Vikings, and skis from all various parts of Norway that show local handicraft skills and traditions. You will also be able to see modern racing- and XC skis, as well as skis used by athletes throughout the last century. A brand new snow-board exhibition shows this new trend in skiing, keeping the museum up-to-date. Let me give you some examples (click to enlarge):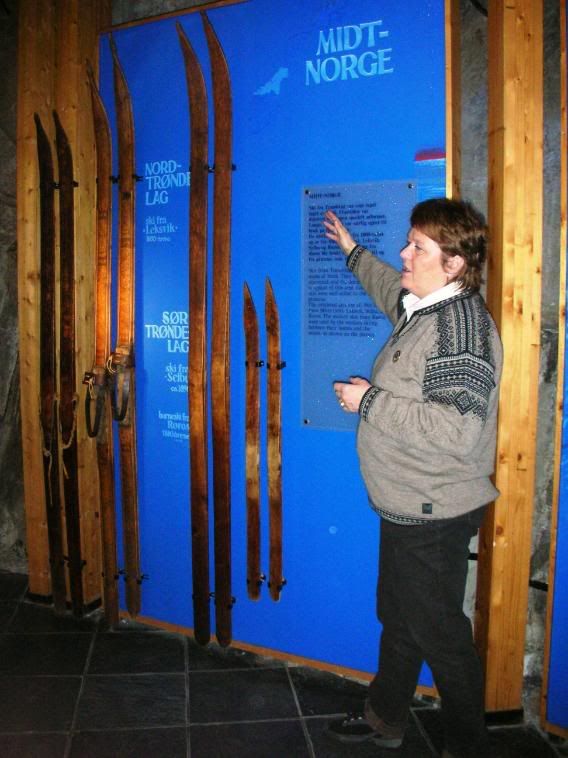 Left
: The guide show skies from mid Norway which where mostly made of birch and usually decorated and designed for of the tip is typical of the area. Long, narrow skis where well suited to the mountain plateaus.
Right
: From Telemark (my county): Skis had tapered shape. Only in the 1880s did the concave shape become standard, making sharp turns possible and this has of course been popular worldwide. Skies of this area is mostly made of pine or oak. You can also see the typical 'rose painting' from Telemark in the picture too!
Let's take a look at
the equipment
: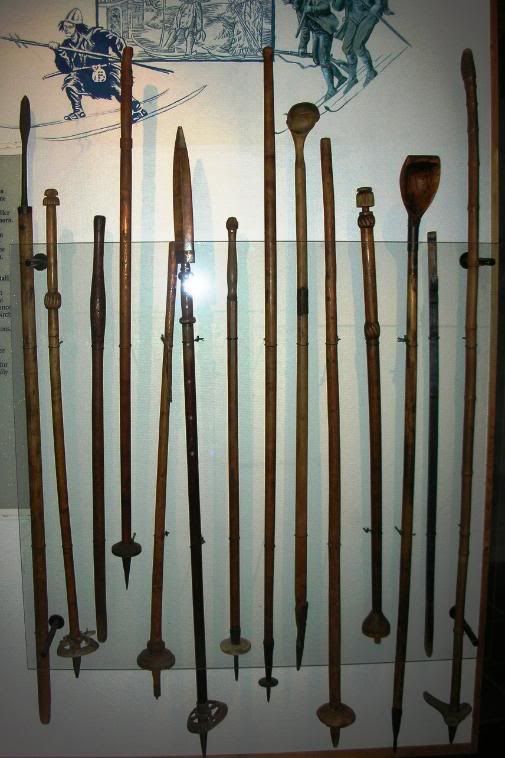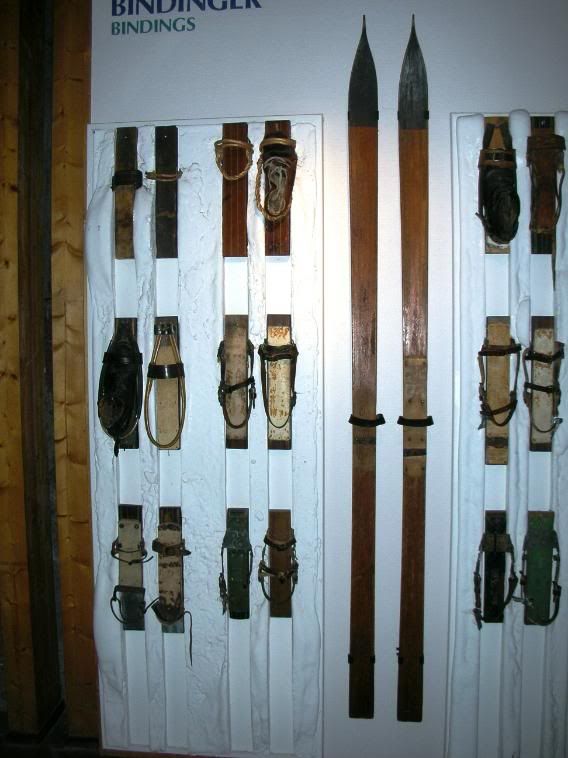 Left
: Skiers used only one pole until about 1890. The pole was long and solid, so that the skier could break and make maintain balance. They're usually made of fir, ash or birch and a disk of wood, bone or horn. Some also had other functions like the upper end could be shaped like a drinking cup or shovel; the latter use by Sami herdsmen seeks reindeer fodder under the snow. They could also be equipped with a sturdy spear-point for hunting bears.
Right
: On the oldest skies the binding was just a leather or osier toe band. The Sami and the Army have used heel bindings of leather for centuries. In Telemark they start using osier heel bindings in the 1860s. Specialized bindings for cross-country where introduced in 1913 and for jumping and alpine skiing in about 1930.
The South Pole Expedition
:
Talking about Norwegian ski tradition one can hardly avoid mentioning the most famous: Roald Amundsen and the competition when he beats the Englishman R. F. Scott in reaching the South Pole first (1910 -12). They skied almost 3000 km with four dog teams pulling sledge. Here you see Amundsen and his crew planting the Norwegian flag: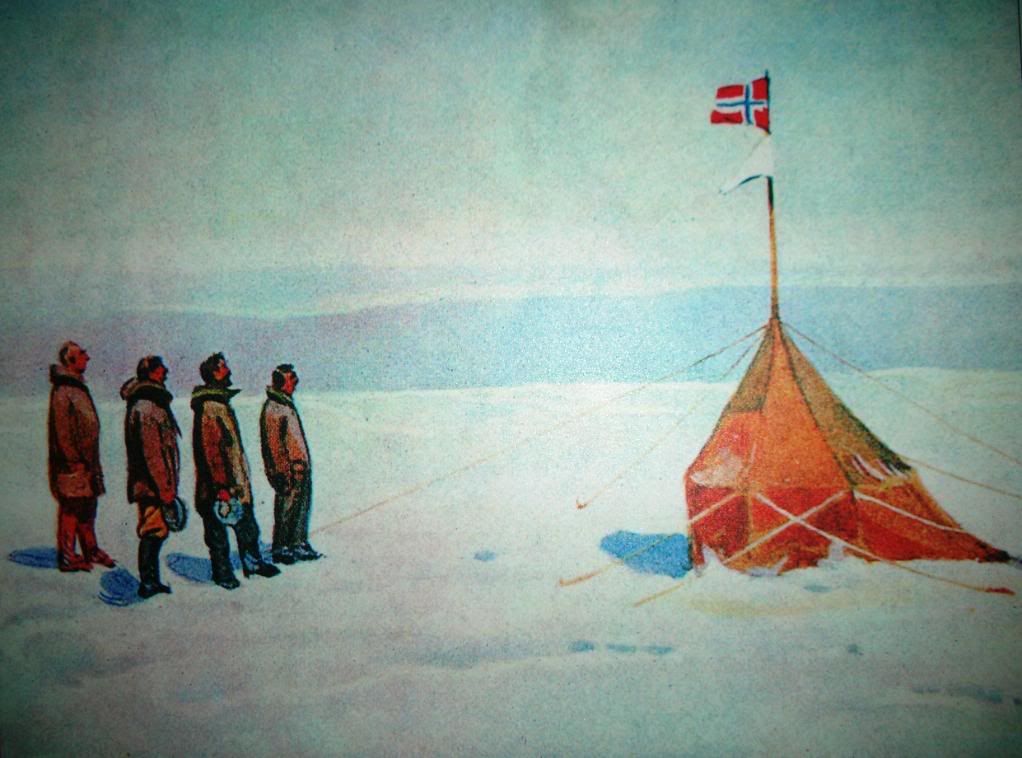 The proof of the saying
:
Then at last, my allegation:
Norwegians are born with skies on
. My regular readers know I've said it before, but it might be hard to believe. At the exhibition you find this boy on ski at Holmenkollen and he is
9 month
old: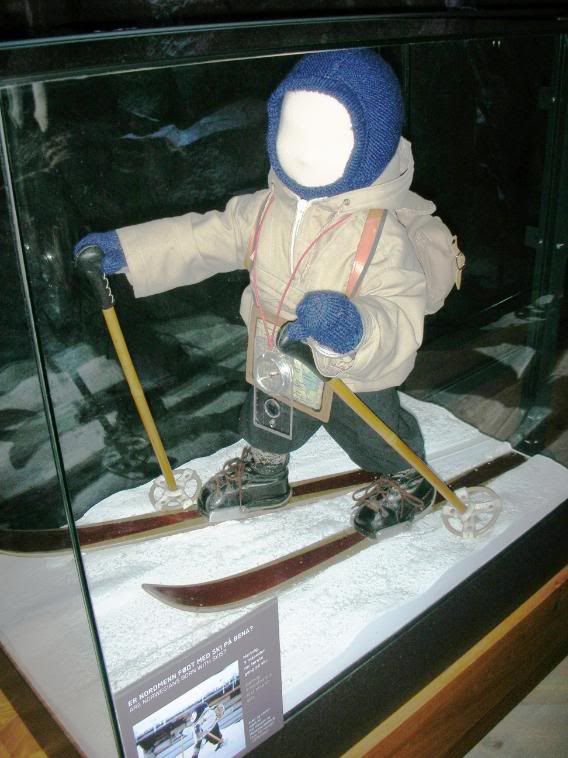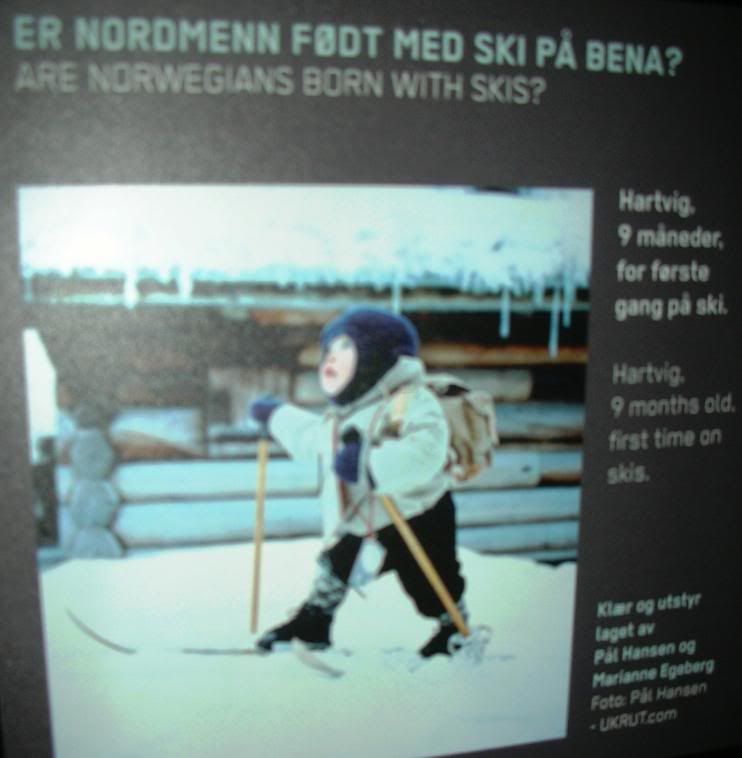 To the right you see an authentic picture of the boy taken by his father: Pål Hansen, who was a photographer. Do I need to say more? He had the same kind of ski equipment I had when I started my career in the beginning of the 1950s :-)