My regular readers know I believe 'Blogging Connecting People' and the more we connect, share, read and learn from each other, the more we breaking down culture, religious and other barriers. That's why I stick to my motto: 'Make Blogs not Wars!' I do my best to support these sayings, by sharing about Norway and the Nordic countries; our traditions, culture and habits and also by visiting blog friends and others all over the world and reading and learning from them.
At least a couple of my blog friends: Mrs. Lifecruiser, Sandee (Comedy +) and Blogging Sueblimely have reminded me of another chance to focus on the same and of course I'll join them. I do hope you will do the same – Carpe Diem: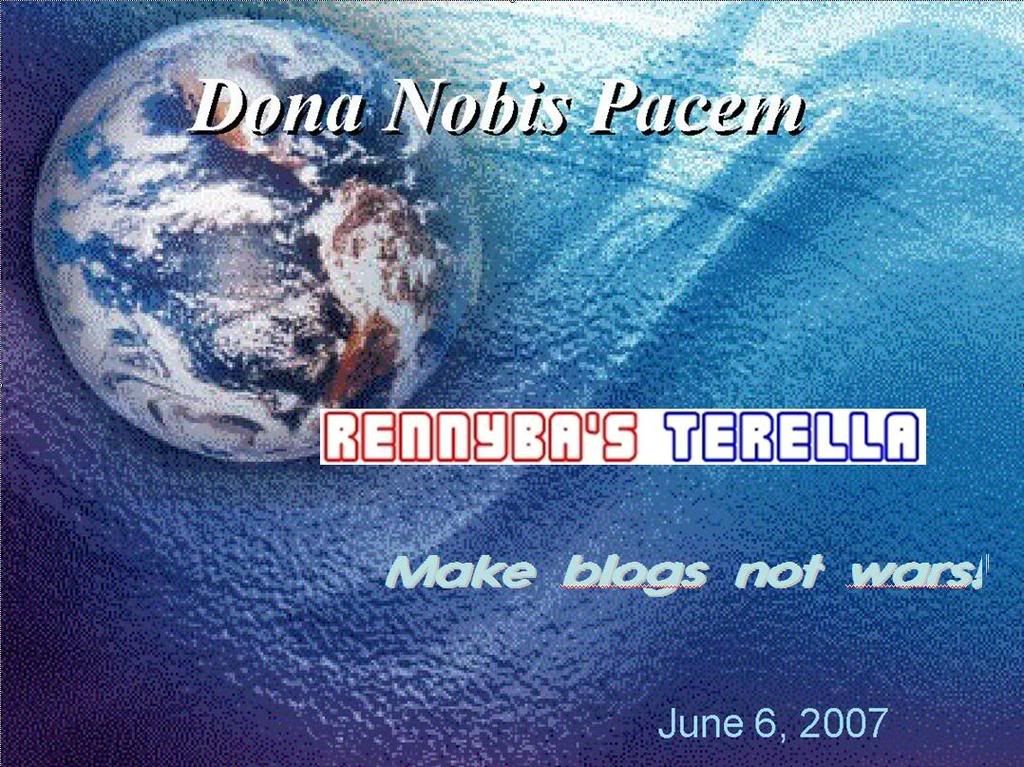 My contribution from last year. Click on the picture and get further instruction on how to participate The 4th of June this year!
—————oOo—————
The Master List of Peace Globes and counting….

Adding daily….Want the code? Write me!

The Master List of Peace Globes
Mimi Writes and Dating Profile Of The Day and The Peace Globe Gallery and Message In a Bottle 2- 2CarolinaCats 3- 2CarolinaCats (2) 4- 2nd Lt Lundell 5- 7th Heaven 6- 42 7- The Cats Stephens 8- Airhead-55 9- Everything and Nothing 10- And Miles To Go Before We Sleep 11- Getting A Grip On Grace 12- Getting A Grip On Grace (2) 13-Alicia M Ballard 14- Angell'z Secretz 15- Angel Mama 16-Snapshots of Life In Pictures and Words 17-The Anitokid 18- Anndi's Luggage 19-Ann M & The Kitties 20- Another Tangential Thinker 21- Anyhow Blogs 22- A Pity I'm An Aquarius 23- Artsy Catsy 24-Asara's Mental Meanderings 25-Mojok Pojok 26-The Audball 27- Everything and Then Some 28 – A Voice To Be Heard 29 – Words That Flow (1) 30-Words That Flow (2) 31- Baring It All For Cancer Research 32 – Words That Flow (3) 33- Words That Flow (4) 34- Words That Flow (5) 35- Baby Owls Go To Bed 36-Furry Logic 37-The Ballicus Blog (1) 38 – The Unity Project and The Love Blog 39 – Bart Wicked Tribe 40- Basset Knitter 41- Normal Life 42- Becca's Byline 43- Muffin53 (1) 44- Muffin53 (2) 45-Asta's World 46- Benjamin The 2nd 47- Benji Golden Retriever 48- Ben Spark2: Electric Boogaloo 49- The Ben Spark 50- Life In The Fortress 51- Birchsprite 52- Bittersweet Coffee 53- Jeter Harris (1) 54-Frank's Honk 'n Hollr (1) 55- Foxxfyrre's Honk 'n Hollr (2) 56- Foxxfyrre's Honk 'n Hollr (3) 57- Blog That Mommy! 58- Blog That Mommy (2) 59- Blue Country Magic (1) 60-Blue Country Magic (2) 61- On The Wings Of My Dream 62 – Bobbarama 63- Random Thoughts of A Simple Gal 64 – One Reader At A Time 65 – The Big Leather Couch (1) 66 – The Big Leather Couch (2) 67- The Big Leather Couch (3) 68- The Big Leather Couch (4) 69-Creating Peace 70-Bonnie Underfoot and Victor Tabbycat (1) 71- Bonnie Underfoot and Victor Tabbycat (2) 72- Book-a-Rama 73- O So Mo Love 74- Bwog Of The Genius Cat 75 – Southern Expressions 76- The Passing Stranger (1) 77- The Passing Stranger (2) 78- Random Drift 79-WTIT Tape Radio (1) 80- WTIT Tape Radio (2) 81 – WTIT Tape Radio (3) 82 –Butchy & Snickers 83- Scrappin' With Life 84 – LifeCruiser 85 – Capt Caveman 86-Caspersmom 87- Cat Banter With Kimo and Sabi (1) 88- The Cat Blogosphere (1) 89- Cathy's Rants & Ramblings 90- Cats Goats & Quotes 91- Catymology 92 – Caylynn's Contemplations 93 – The Ballicus Blog (2) 94 – The Ballicus Blog (3) 95 – Go Forth And… 96- Chase 97- Chey's Place (1) 98- Chey's Place (2) 99 – China Cat's Blog 100 – Chookooloonks 101 – The Ordinary Mystic 102 – Epiphany Sanctuary 103 – Epiphany Sanctuary (2) 104 – Comrade Kevin 105 – A Little Piece of Me 106 – Blue Country Magic 107 – Blue Country Magic 108 – Infinitely Crazy 109 – Crooked Eyebrow 110 – Curry Egg 111 – Cyclone Cats 112 – Daisy Mae Maus & The Feline Americans 113 – Daisy Mae Maus & The Feline Americans (2) 114 – Purrchance To Dream 115 – Codepink: Women For Peace 116- Dayngrous Discourse 117 – Democats 118 – Derby The Sassy Cat 119 – Blogacide 120 The Ice Box 121 – All Things True To Me 122 – Dixie's Heart and Soul 123 – Dixie's Heart and Soul (2) 124 – Dixie's Heart and Soul (3) 125 – DK & F's Secret Paws 126 – Dog's Eye View 127 – Dr. Benton Quest 128 – Dragonheart's Domain 129 – Dragonheart's Domain (2) 130 – Drawing On Words 131 – Dr. John's Fortress 132 – Eclair's Exciting Escapades 133 – Our Red Thread Journey 134 – Edsel The Pooch 135 – South By West 136 – South By West (2) 137 – South By West (3) 138 – Electronic Village 139 – Now Is Wow 140 -A Blog For Emma 141 – A Blog For Emma (2) 142 – Kat's Cat of The Day 143 – Muffin53 144 – The Enchanted Daffodil 145 – Screw Perfection 146 – Screw Perfection (2) 147 – Our Life By Eric and Flynn 148 – The Thoughts of Artemis 149 – Evil Blogger Twin 150 – City Lights 151 – The Famous Five and 1 In Spirit 152 – The Sextet Speaks! 153 – Filip's Blog 154 – Filip's Blog 155 – Fingerprints On My Walls 156 – Fini 157 – Attack Cats! Fiona & All! 158 – Flatwater Tech 159 – Forest Dogs 160 – Foxxfyrre's Black and White Gallery 161 – Foxxfyrre's Honk 'n Hollr 162 – Delta Bunny 163 – Soliloguy 164 – From A Bee's Point of View 165 – Fruit Of The Spirit 166 – Gabrielle 167 – QotD: A Meme Blog of Gabrielle 168 – Gabrielle (2) – 169 – Writer Cramps 170 – Gloria 171 – Gem-osophy 172 – Gemini's Adventures 173 – Imagined Life 174 – Happy Tiler 175 – GinaFish 176 – Echoes of Grace 177 – House of The (Mostly)Black Cats 178 – One Million Dollar Project 179 – Notso's 180 – Grr, Midnight & Cocoa 181 – Guanaguananare: The laughing gull 182 – The View From Here 183 – Boho Rhap 184 – Sword Mama 185 – Mr. Hendrix The Kitty 186 – Just Call Me SCANJolina Jolie 187 – Holly's Corner Blog 188 – Honjii's Harangues 189 – Hootin' Anni's 190 – A Window Within Myself 191 –Perpetual Writer's Blog 192 – Icon Baxter Bentley 193 –Lone Wolf In The Highlands 194 – I Was Born2Cree8 195 – Migraine Chow 196 – South By West (4) 197- Pregnant Pauses 198 – Israeli Mom 199 – It's All Good 200 – Jack Of All Shades and Shadows 201 – For What It's Worth 202 – Jack Of All Shades and Shadows (2) 203 – Jack Of All Shades and Shadows (3) 204 – Jake and Bathsheba 205 – Venters2 206 – Duward Discussion 207 – Cozy Reader 208 – The Jannaverse 209 – Brothers Wishlist 210 –Xenogere 211 – Something To Say: About Life In The Netherlands 212 – Big Book Of You Blog 213 – The Furry Diva 214 – Hunna's Happenings 215 – Life Is RANTastic 216 – Hunna's Happenings (2) 217 – Jeter Harris 218 – My Little Corner 219 – The Rising Blogger 220 –Flip This Body 221 – Mysterious Musings 222 – Crazy Quilt 223 – Julie's Jewels and Junque 224 – This Is You Reading About Me – Yin Yang 225 – Junior Babee 226 – Junior Babee (2) 227 – Junior Babee (3) 228- Junior Babee (4) 229 –Junior Babee (5) 230 – Fearfully Made 231 – Kitty Limericks 232 – Reason Enough 233 – The Cat Realm 234 – Kat's Journey To Success 235 – Kate Spin 236 – Diary Of A Heretic and Manny's Place 237 – Kat's Cat of The Day 238 – Katnippia 239 – Kat's Cat of The Day MySpace 240 – Kaze The Cat 241 – Kellyology 242 – Cat Banter with Kimo & Sabi 243 – The Dragon: 050376 244 – Casting On 245 – Evolving Your Spirit, Mind, Body 246 – Evolving Your Spirit, Mind, Body (2) 247- The Laments of A Brokenhearted Silhouette 248 – Solitary Views 249 – On The Lake Front 250 – Last Minute Lyn's Life 251- Latte The Meezer 252 –The Bronzed Shoe Archives 253 – Whereabouts 254 – Fungi Thinking 255 – Laura in Portugal 256 – The Birds and The Beads 257- A Stitch In Time 258-Levi King of Ramble 259 – Lexa Roseann 260- The Witch Doctor Is In 261- Libby's Blog 262 –Lifecruiser 263- News From Hawkhill Acres 264- Lilly and Iris Tell All 265- Mu Shue Pooh King Cat 266 – Are We There Yet? 267 – This and That 268-Rock and Star 269 – Finding Life Hard? 270-I AmWoman, See Me Blog! 271-I Am Woman, See Me Blog! (2) 272-It's Sanni-licious (1) 273- It's Sanni-licious (2) 274-Luxor 275-Luxor (2) 276-Luxor (3) 277-Maddspace: Maddisms & Whatever! 278-Min Pin Mania 279- Picture Clusters 280-Mama Milton 281-The Ballicus Blog (2) 282-Mao's Mews 283-Maremagnum 284-285-Gentlemen Prefer Blondes (1) 286-Gentlemen Prefer Blondes (2) 287-More Random Than Average 288-Sternenwirbel (1) 289- Sternenwirbel (2) 290- Maryam 291- Bagwine Ruminations 292-Dixie's Heart and Soul 293-Mattingly and Harlie 294-The Psychokitty Speaks Out (1) and The Adventures of Buddah Pest (2) 295- The Psychokitty Speaks Out (2) and The Adventures of Buddah Pest (2) 296-Meeaugraphie 297- The Meezer Gang 298- Meloncutter Musings 299-Merlin's Meows (1) 300-Purrchance To Dream 301-Merlin's Meows (2) 302-The Wonderful World of Nothing Worthwhile (1) 303- The Wonderful World of Nothing Worthwhile (2) 304- Mickey Mantle – Brother of Jeter Harris 305 – Grrr….Midnight and Cocoa 306- Milk and 2 Sugars 307- Darling Millie (1) 308- Darling Millie (2) 309- Mimi Writes (2) 310- Dating Profile Of The Day and BlogBlast For Peace: The Official Site 311- Mississippizen 312- Missy & KC (1) 313-Meowers From Missouri (1) 314-Missouri Meowers (2) 315- Missy & KC (2) 316-Missy & KC (3) 317-Missy & KC (4) 318- The Adventures of The M's 319- Unplug Your Kids 320- Moonroot 321- It's A Blog Eat Blog World (1) 322 – Purrchance To Dream Manic Monday 323- It's A Blog Eat Blog World (2) 324-It's a Blog Eat Blog World Manic Monday (3) 325- It's A Blog Eat Blog World (4) 326- Purrchance To Dream (2) 327 –Mother Of Invention 328- Mousey 329 – Mr. Wonderful Does It Again 330-Miss Maggie Moo Talks 2U 331 – Just gotta Hang On…. 332-Insanity prevails 333-The Chrysalis Stage 334- Kids, Cats, & Books: What Else Is There? 335- Obsidian Kitten 336- Odat's Mumblings 337-O Mighty Isis 338-Opinion Minions 339- I Was NOT Named For A Cookie!! Right?! 340-Pablog 341-Trav's Thoughts 342 – Mimi Writes (3) 343 –Dona Nobis Pacem: The Peace Globe Posts 344 –Parlancheq 345 -Late Bloomer Boomer (1) 346 –Late Bloomer Boomer (2) 347- Doctor Anonymous 348 – Peanut, Peanut Butter…. Jelly2 349 – Peggy's Musings 350 – Perfectly Parker 351 – Necessary Skills 352 – Pet Prayer & Praise Blog 353 – Pet Purrs and Purrayers 354 –Piacere 355-Stochastic Ruminations 356 – Pimp Your Blog 357 – Daisy The Curly Cat 358 –Pjocall 359-The War Within 360-Cherry, Plum, & Dansom Blossoms 361 – Cherry, Plum and Dansom Blossoms (2) 362 – The Moving (Middle) Finger Writes (1) 363 –The Moving (Middle) Finger Writes (2) 364-PT-LawMom 365 – Pumpkin's World 366-Queenie's Random Ramblings 367 – A Day In The Life… 368-Reba's Run! 369-A World of Bloggers (1) 370-Return Of The White Robin 371 –RK 372 – A World of Bloggers (2) 373-Rocky Ann 374 –Rocky's Ramblings (1) 375 –The Rocky Mountain Retreat 376 –Rocky's Ramblings (2) 377 –World Outside My Window 378 – Heavenly Voice 379 –Quotes In Can 380 –The Many Adventures of Wonder Ruby 381 –Rubys N Purls 382 –Me, My Life, My Garden 383 –Ruth Speaks Up 384 –Polliwog's Pond 385 –Sadie, Sadie, Married Lady (1) 386 –Sadie, Sadie, Married Lady (2) 387 –Life From A Cat's Perspective 388 –Sammawow (1) 389 –Sammawow (2) 390-Comedy Plus 391 –It's Sanni-licious (1) 392 –It's Sanni-licious (2) 393 – It's Sanni-licious (3) 394 – Sapot-Litrato 395 – Sarge Charlie (1) 396 –Sarge Charlie (2) 397 – Sarge Charlie (3) 398 – Savvyology 399 –Scrungy's Creator 400 –Twenty-Three and Counting 401 –SGTDUB (1) 402 – SGTDUB (2) 403 –Shadow Saluki 404 – This Eclectic Life 405 – 406 – Simone's Butterfly 407 – Skeezix's Scratching Post (1) 408 – Skeezix's Scratching Post (2) 409 – Skeezix's Scratching Post (3) 410 – Skindiver 411 – Sweet Like Kitty (1) 412 – Sweet Like Kitty (2) 413 – Sweet Like Kitty (3) 414 – Sparky's Blog (1) 415 – Sparky's Blog (2) 416 – Philly Transplant 417 – A Spider's Web 418 – Spilling Out! 419 – My Life As We Think I Know It 420 – Purrchance To Dream 421 – Here Comes A Storm In The Form Of A Girl (1) 422 – Here Comes A Storm In The Form Of A Girl (2) 423 –Here Comes A Storm In The Form Of A Girl (3) 424 – The Friendliest Flower 425 – Mother's Home 426 – Studio Susie Says… (1) 427 – Studio Susie Says...(2) 428 – Sunflower Optimism 429 – Susan Lee 430 – Orphie The Wonder Dog 431 – Suz 432 – Diurnata 433 – Kentucky Gal 434 – Katnippia 435 – Tara, Princess Meezer 436 – TeaTime Ramblings 437 – The Secret Backup Blog 438 – Soliloguy 439 – Meezer Tails (1) 440 – The Cat Blogosphere 441 – Meezer Tails (2) 442- The Screaming Pages 443 – Tennessee Text Wrestling (1) 444-Tennessee Text Wrestling(2) 445-Lily's Pad 446-Tiggerprr's Scratching Post 447-A Blip On The Radar 448-Crazy Working Mom (1) 449-Crazy Working Mom (2) 450-The Creativity Blog (1) 451-The Creativity Blog (2) 452-TomToms 453- Bad Jokes and Oven Chips 454-Bad Jokes and Oven Chips (2) 455-Trav's Thoughts 456-Trav's Thoughts (2) 457-Tripper The Psycho Cat 458-Tulipa Negra 459- And As The World Turns (1) 460-And As The World Turns (2) 461-And As The World Turns (3) 462-And As The World Turns (4) 463-And As The World Turns (5) 464-Tuxedo Gang 465- Twyla 466-US Danes Meme Page 467-Bitter Cup of Joe 468-William The Cats 469-William The Old Fart 470-William The Old Fart (2) 471-Willow's Cat Blog 472-Wil's Blog 473-Windy Willow and Salix's Art Nook 474-The Wired Kayaker 475-WMD William of Mass Destruction 476-Wolfbaby 477-The Wren's Nest 478-Writer's Ink 479-Yaxlich 480-Trav's Thoughts (3) 481-Webs of Significance 482-Yuki & Kimiko 483 – Zenith & The Fancidots Gang 484-Impact Of A Soul From A Soul To A Soul 485-Zero Impact 486-Zippy, Sadie & Speedy 487-Kitty Limericks STARTING NOVEMBER 2007 488- 2CarolinaCats (3) 489- A Blog For Emma 490- A Broad In Costa Rica 491- Airhead-55 492- Alasandra 493 – A Little Piece of Me 494- All About Me 495 – Almost Somewhat Positive 496 – And As The World Turns (6) 497 – And Everything Thereafter 498 – And Miles To Go Before I Sleep 499 – Angell'z Secretz 500- A Nice Place In The Sun 501 – Anndi's Luggage 502 – Answers To The Questions 503 – Anyhow Blogs 504 – Are We There Yet? 505 –Artsy Catsy 506 – Asara's Mental Meanderings 507 – A Stitch In Time 508 – Baaahhh! 509 – Baby Mao 510 – Bagwine Ruminations 511- Beau Beau & Angie's Fur Days 512- Billion Dollar Baloney (1) 513 – Billion Dollar Baloney (2) 514 – Billion Dollar Baloney (3) 515 – Billion Dollar Baloney (4) 516 – Billion Dollar Baloney (5) 517 – Billion Dollar Baloney (6) 518 – Black Tennis Pro's 519 –Blue Country Magic 520 – Boho Rhap 521- The Big Leather Couch 522-Brain Foggles 523 – Butchy & Snickers 524- Cap'n Dyke Lesbian Pirate Queen & Rogue Blogger 525- Carver's Sight or Is That Site? 526 – Carver's Sight or Is That Site (2) 527- Casey: Meezer Diva 528 – Cat Banter with Kimo and Sabi 529 –Cats Goats & Quotes 530- Catymology 531 – casa de Charlotte della luna 532- Charlie! 533-Chey's Place 534- China Cat's Blog 535- Christine of Epiphany 536 – Sanni-licious 537 – Pimp Your Blog 538 – Comedy Plus 539 – Costa Rica Crazy 540 -Crazy Quilt 541-Crazy Working Mom 542 – Cyclone Cats 543 – Daisy Mae Maus & The Feline Americans 544 – Daisy The Curly Cat 545 – Dallas Maio'd 546 – Derby, The Sassy Cat 547- Diary of A Heretic 548 – Diary of A (Slow) Triathlete 549 – Diurnata 550 – Divas Never Die 551-Dixie's Heart and Soul 552 – Dixie's Heart and Soul 553 – Dixie's Heart and Soul 554 – Doctor Anonymous 555 – Dogs With Blogs, World of Turbo, Opy The Original Gruff Puppy, Chucksie-Bux 556 – 557 – Dragonheart's Domain 558 – Duward Discussion 559 – Echoes Of Grace 560- Endangered Spaces 561 – Eric & Flynn 562 – Everything and Nothing 563 – Everything and Nothing 564 – Evil Blogger Twin 565 –Finding Blanche 566 – Foxxfyrre's Honk 'n Hollr 567 – Gabrielle 568 –Gill's Jottings 569 – GinaFish 570 – Girly With A Twist 571 – Gretchen's Paw Prattle 572 – Grr, Midnight & Cocoa 573 – Hahn At Home 574 – Hardly Subtle 575 – Heart Full O Cat 576 –Here Comes A Storm In The Form of A Girl 577 – Home In France 578 – Honjii's Harangues 579 – House of the (Mostly) Black Cats 580 – I Am Woman, See Me Blog! 581 – Idaho Daily Photo 582 – Idaho Daily Photo (2) 583 – Impact Of A Soul From A Soul To A Soul 584 – It's A Blog Eat Blog World 585 – It's All Good 586 – Jack Of All Shades and Shadows 587 – Jasper Mckitten-Cat 588 – Jersey The Furry Diva 589 –Jersey The Furry Diva 590 – Julie's Jewels and Junque 591 – Just Write 592 – Katie Zipper Doodle 593 – Katnippia 594 –Kat's Cat Of The Day 595 – Kat's MySpace 596 – Kattenpraatt's Catwalk 597 – Kattonic Cats 598 – Kid's, Cats & Books – What Else Is There? 599 – Kids, Cats & Books – What Else Is There? (2) 600 – Kids, Cats & Books – What Else Is There? 601 – Kitty Limericks 602 –Knit For Joy 603 – Knitnana 604- Late Bloomer Boomer 605- Late Bloomer Boomer 606-Late Bloomer Boomer 607- Life 608- LifeCruiser 609-Life From A Cat's Perspective 610 – Life Is Just Around The Corner 611- Life Isn't About Finding Yourself 612 – Lily's Pad 613 -Liza del los Reyos 614 – Luxor 615- Miss Maggie Moo Talks 2 U 616-Manx MNews 617 – Mao's Mews 618- Maremagnum 619 – Marie The Defender 620- MauiGirl's Meanderings 621- Meezer Tails 622- Meloncutter Musings 623- Me, My Life, My Garden 624 – Meowers From Missouri 625-Mickey Mantle Brother of Jeter Harris 626 – Mickey's Musings 627 – Mieow 628 – Migraine Chow 629- Missy, KC & Bear 630-Modern Musings 631 – Mom Knows Everything 632 –Mommy Bytes 633-Mojok Pojok 634-More Average Than Random 635 –Mother's Home! 636 – Mrs. Who's Open Book 637 – Mr. Zenith and The Fanidots Gang 638 –Muffin53 639-Mummified Times Five 640-Mum's Got A Dot Com 641-My Dogs Keep Me Sane 642 – My Life Is Murphy's Law 643-My Life Is Murphy's Law (2) 644-My Life Is Murphy's Law (3) 645-My Life Is Murphy's Law (4) 646 – My Life Is Murphy's Law (5) 647 – My Life Is Murphy's Law (6) 648 – Necessary Skills 649 – Nobody Important 650 – Not Afraid To Use It 651- Odat's Mumbling 652- On A Limb With Claudia 653- On The Lake Front 654-O So Mo Love 655-Our Life By Eric and Flynn 656- Peanut….Peanut Butter, Jelly2! 657-Pimp Your Blog 658-Pimp Your Blog 659-Pimp Your Blog 660- Polliwog's Pond 661- Prudence and Madness 662 – Pumpkin's World 663 – Pumpkin's World 664-Purrchance To Dream 665-Random Autumness 666-Rocky's Ramblings 667-Royal Kitties 668-Sammawow 669 – Santa's Mailbox 670- Sarge Charlie 671 – Scrappin' 672 – Sheltered Sanity 673 – Skeeter & LC 674 –Skittle's Place 675 – Snapshots of Life in Words and Pictures 676 – Solitary Views 677-Solitary Views 678- Sparkling Lotus-Land 679 –Scrungy and Friends 680-Here Comes A Storm In The Form Of A Girl 681 – Starry Skye and Just Say Ooh Rah 682 – Blogging Sublimely 683 –Sugar Queen's Dream 684 – Sugar Queen's Dream 685 – Sweet Ariel 686 –Table For Five 687 –Tara, Princess Meezer 688-Tarheel Ramblings 689- Tarheel Ramblings (2) 690-Tea Leaves 691 – Team Tabby 692 – The Secret Backup Blog 693 – The Love Blog, The Unity Project, World United Bloggers 694 – The Adventures of Vincent and Mike 695 – The Big Leather Couch 696 – The Goat Rodeo 697 – The Jannaverse 698 – The Laments of A Brokenhearted Silhouette 699- The Many Adventures of Wonder Ruby 700- The Mo Show 701 – The Mo Show (2) 702 – The Painted Veil 703 – The Passing Stranger 704 – The Spirit Knows Best 705 – The Starr Ann Chronicles 706 – The Thoughts of Artemis 707 – This and That 708 – This That & The Other Thing 709 – Thorne's World 710 – Tiger Girl Lamb 711 – Transitions 712 – Trav's Thoughts 713 – Trav's Thoughts 714 – Trav's Thoughts 715 – Trav's Thoughts 716 – Tricotine 717 –Tripper The Psycho Stray Cat 718 – Twilight Mug 719 – Twist & Skewer 720 –Unplug Your Kids 721 – Vixen's Den 722 – Wading Through My Stream of Consciousness 723- Watgog 724 – Wayne's World 725 – What? Mermaids? 726 – Willow's Cat Blog 727 – Windy Willow and Salix Art 728 – Wired! 729 – Words That Flow 730 – Words That Flow (2) 731 – Words That Flow (3) 732 – Words That Flow (4) 733-Words That Flow (5) 734 – Work Of The Poet 735 – Writer Cramps736 –Yao-lin's Yawnings 737 – Yo Quiero Paco Belle 738 – You Can't Become A Goddess Overnight 739 -Saturday9