Computer skills are the fourth basic skills that children and young people must achieve – next to reading, writing and arithmetic!
I had a great time together with a class of middle school students a couple weeks ago. It was deadly serious: About Sensible Internet Use, but feeling such interest in the class is very inspirational. The occasion was The Norwegian Computer Society annual "Operation School-work" which gives a day to some 9th grade classes and I am happy to be one of them. Here is a picture from one of these days after the class a couple of years ago:

Let me use this opportunity to give you a bit more facts about the Norwegian school system and their use of computers in education in a global perspective:
Figures from OECD show that there is now 6 students per PC in the average Norwegian school. By comparison; nearly twice as many as in the French school, while in Germany they have 22 students per PC and the same in Mexico. Among countries that keep Norway company are Canada and New Zealand, while the United States and Australia is at the very top with 5 students per computer.
Even more important is the influence outside of school: Americans on average have 2.2 PC per capita and Norwegians 1.8. Swedish and Danes have an average of 1.7. In the UK there are 1.2 PC per capita, 1 in France and Spain is on 0.6 and e.g. Japan have 1.3. Of course a lot of them are on the job or at school PCs, but this means that the younger generation are more and more active users of PC – at school and at home. It's an important part of their media information exposure and they need guidance as
e-citizens
. That's why I say:
Computer Skills is the fourth basic skill young people must achieve – next to the old ones: to reading, writing and arithmetic
. We adults have a responsibility to help the youth use the net safely!
During the five hours of Operation School Work I discuss (you don't teach those guys in the old ways – its too boring!):
How and where to find information on the net and even more important: how to evaluate what you find. Google is fine, but only if you are accurate in your search and have enough source criticism. The same with Wikipedia of course: the world's largest and most updated encyclopaedia. Here you see the class working with some tasks I gave them: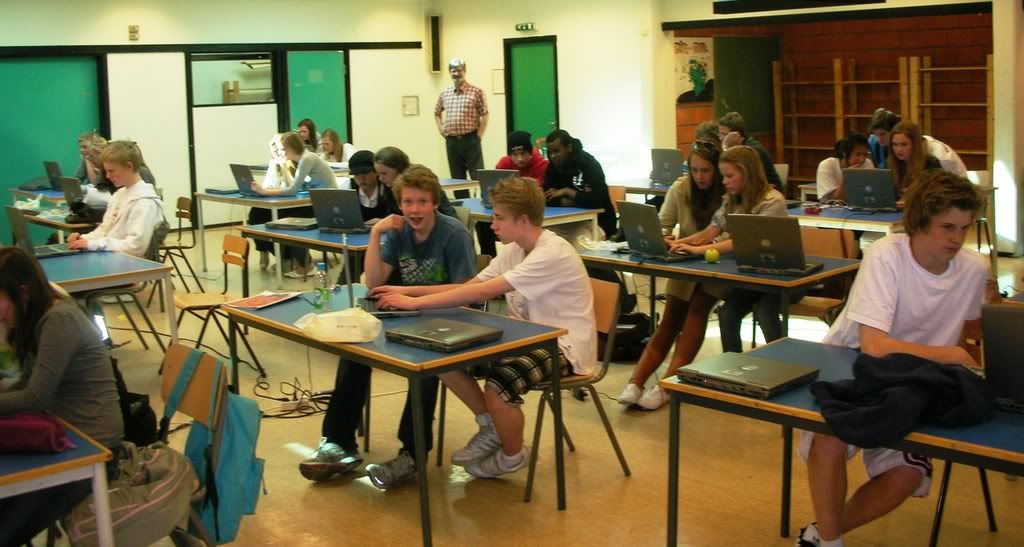 Yea; its RennyBA in the background :lol:
Then comes the best part – to me: How to behave on the net (mail, chat, net societies, blogs etc.). I mean that is when I feel open communication with them and where we really understand each other. They think it's cool when I, by personal experience can give them some advice about personal setting on Facebook, how to use IM, Skype and not to mention how fun it can be in the Blogsphere.
Some of you might have youngsters at home, so I'll gladly share some of my advices:
• Use
anonymous 'nickname'
that is not traceable to your real name, where you live or what school you go on.
• Be
careful on Facebook
, where you are not anonymous! Learn and actively use privacy settings and be careful about what to share with friends and what is open to all. Don't upload all the 'funny' photos from your private party. Everything that you do not want a future employer to see should be removed.
•
Never upload pictures
of others without asking them first!
• If you are going to meet someone you have 'met' on the net for the first time;
bring an adult
you trust.
• Think about what kind of photos you have left on your
mobile phone
. If it is stolen or you lose it, some might post them.
When I left for the day, I saw some teens in the schoolyard eagerly going through pics on their phones and was thinking: It works – they are learning fast and if you take them seriously, they listen!

internet