My regular readers know my saying: 'Make Blogs not Wars'. Again this year, I take this opportunity to join BlogBlast for Peace – The Fourth Launch! – As I strongly believe that blogging empowers people and want to give my share: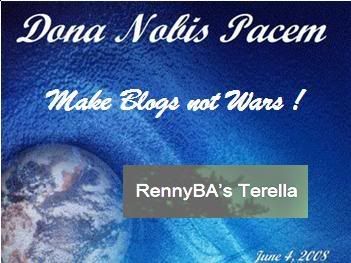 So what has
Peace
to do with
Blogging
? To me it's simple:
Peace: Is something the world achieves by understanding each other in mutual trust for equal opportunities. Uncertainties develop scepticism and fear, while knowledge makes sense, openness, acceptance and leads to dialogue. The more we know about each other, the smaller the world becomes.
Blogging….: to quote myself again: '….. Connecting people', as we in Blogsphere share our daily life, our thoughts, ideas and experiences – from our own perspective – from our part of the world. We share knowledge and by that we are breaking down cultural, religious and other barriers.
The Peace Globe Project began in the fall of 2006 with a simple post. The post ignited a flame in the blogosphere – The flame became a passion – The passion became a movement – and I want to be a Passionate Participant!
Some say we should teach the worlds leaders and politicians how to blog. I don't know if that's a good idea – I mean at least some of them have made enough of a mess of things already. I would say we, the people, we bloggers should do it: Proving that blogging empowers us to make a better world. Each of ours posts is small steps, but when hundreds – thousands – say millions, moves in the same direction; who could stop us then? – For the very best course!
It's Mimi Lenox who hosts this movements and you can read all about it, how to participate and how to do you share on her post here. So bloggers all over the world:
Make Blogs not Wars!