Now I want to prepare my faithful readers for a Nordic treat which really will show what makes Norway different from the rest of the world. This weekend I will be travelling to the city of Kirkenes for a team building seminar held by ECDL Norway. Here to encourage trust and teamwork we will be sharing new and exciting experiences in the Nordic landscape, and seascape.
Kirkenes is located about 240 miles (400km) north of the Arctic Circle. This means that it enjoys the midnight sun in the summer period. The midnight sun shines from May 17 to July 21 and the corresponding winter darkness extends from November 21 to January 21. Thankfully we are right in the middle of the summer period, almost to the time when the sun is at its highest point for the year, which occurs about 10 days from now. I am so much looking forward to sharing pictures of the midnight sun with you, and hoping and praying for clear weather!!
But my friends that is not all. We will also be invited to join several activities. In the summer time it is important to be outside, you know. So we will actually be staying on an island outside of Kirkenes in the Jarfjord, a branch of the Varanger Fjord, which is a vast bay connected to the Barents Sea near the Russian-Norwegian border. Here there is an abundance of cold loving sea life, and we will be on a safari to hunt the mighty and deadly (at least to other sea creatures!) King Crab. I have tackled this sea monster once before (picture from 2002 – click to enlarge!) and I am glad I had him in my claws, and not the other way around: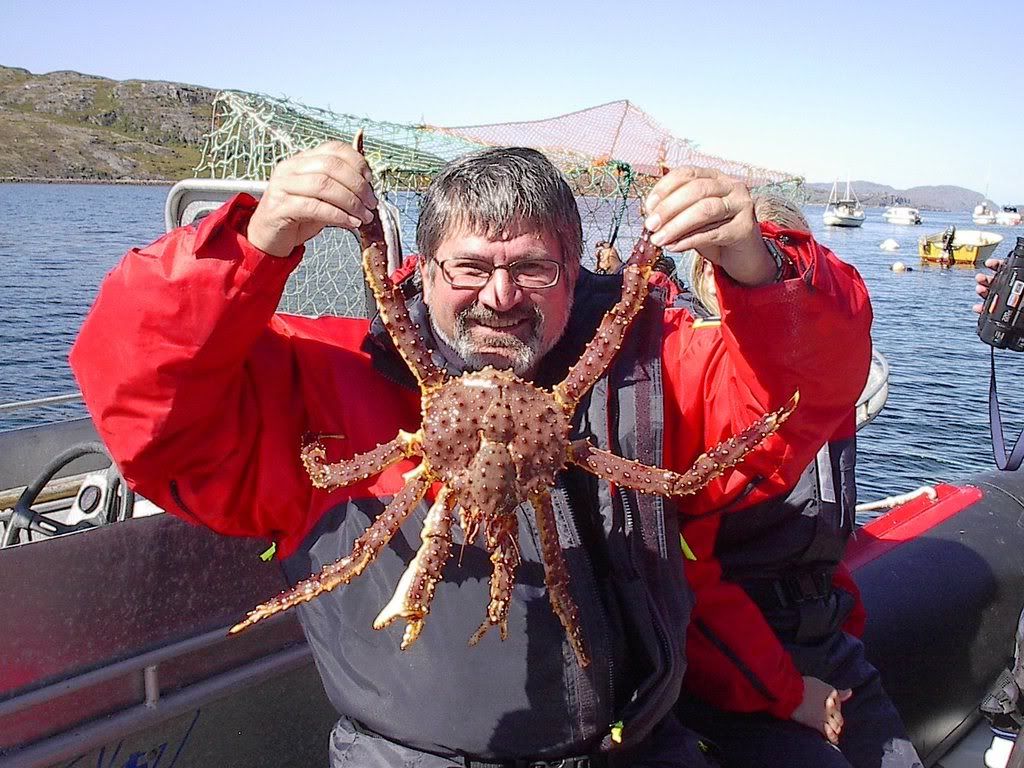 We will not only be exploring the sea but we will be exploring the waterways as well, in an adventurous outing of white water rafting. I have also tried white water rafting before, and I can tell you it was a hell of thrill, but pretty hard on my poor back! So I hope I will have better luck with it this time, since I am now so experienced LOL.
So stay tuned nature lovers, and keep checking back to get a glimpse of the loveliest time of the year here, and experience nature which is not found so many other places in the world. I will be dressing warmly and have my camera ready to capture everything on my safari for you!