My regular readers know we've had my colleague and blog friend Tor and his wife Anne visiting us at our vacation home in Sweden. I've posted about some of our adventures earlier (scroll down to read!) and there are still more to come. This post will be kind of an intermezzo as I also would like to share one of our delicious dinners. To us, gathering around the table, enjoying each others company with socialized conversation is one of the highlights of the day. They brought champagne and we wanted to find a culinary sensation to match that. Why don't you just sit in with us while I tell you all about it:
We were lucky enough to find it in the local super market. I know you have this species of salmonid native to tributaries of the Pacific Ocean in Asia and North America. The fish is a reddish-pink band along each side about the midline that may range from faint to radiant. The lower sides are usually silver, fading to pure white beneath. Small black spots are present over the back above the lateral line, as well as on the upper fins and tail.
After living for 9 years in Scandinavia, my American wife Diane, has become an excellent at making seafood. Let me show you and then go on in details (click pics to enlarge):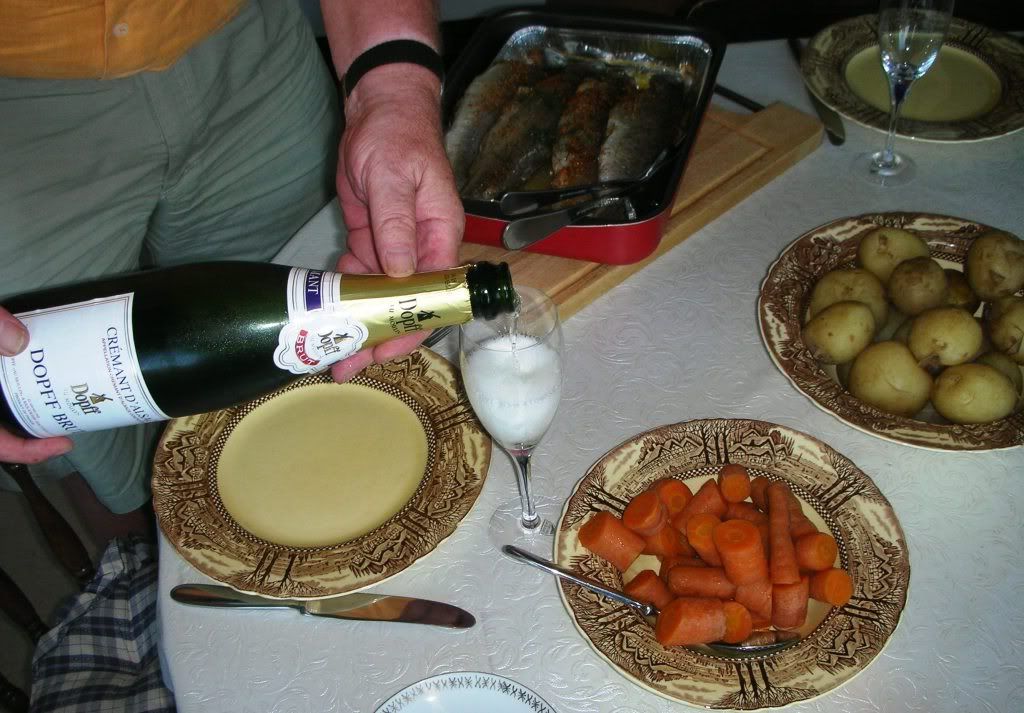 Champagne: A Dopff Brut from Crémant d'Alsace. Right: Trout in the foil pan.
The fish recipe
:
You simply lay it in a foil baking dish and sprinkle the fish inside and out with a mixture of herbs and spices, like paprika, garlic, red and black pepper. We then topped it all off with fresh clipped dill, butter and a cup of white wine. Bake for 30 minutes and voilà dinner is served.
Along with the fish we had boiled potatoes and carrots, cucumber salad and cream fresh. Your all welcome to eat with us, the dinner is served:
Like I've said: We have a lot more adventures to share. How about a trip to Läckö Castle or explore canal swimming on Göta Canal? My wife and I still have a week vacation left and between golfing, some time to post – so stay tuned!