One of the most historical and majestic places to visit, 45 min drive from our vacation home in Sweden, is Läckö Castle. It was Tor and Anna's luck to go with us for a visit this year and I gladly share some of the history and highlights from this castle with you:

The history starts with a castle build by Brynolf Algotsson in 1298. The location was perfect – at the top of a steep cliff surrounded by water on three sides. Brynolf was bishop of the huge Skara diocese, so he placed the castle right at its heart as one of many castles in the province of Västergötland. It belonged to the Skara bishop until the reformation in 1527 when King Gustav Vasa seized the church's property and replaced the Catholic Church with Protestantism. The King gifted the estate of Läckö to various noblemen as a kind of tax-free payment for the services mainly in battles in Europe.
In 1615-1681 Läckö was transformed into the magnificent caste we can see today. Until 1860 it was held by a number of officials, and fell into neglect, until the early 20th century when tourism came and the castle was restored. Let's take a look at some of what you can find inside today and we start with the Kings Hall (click all the pics in this post to enlarge):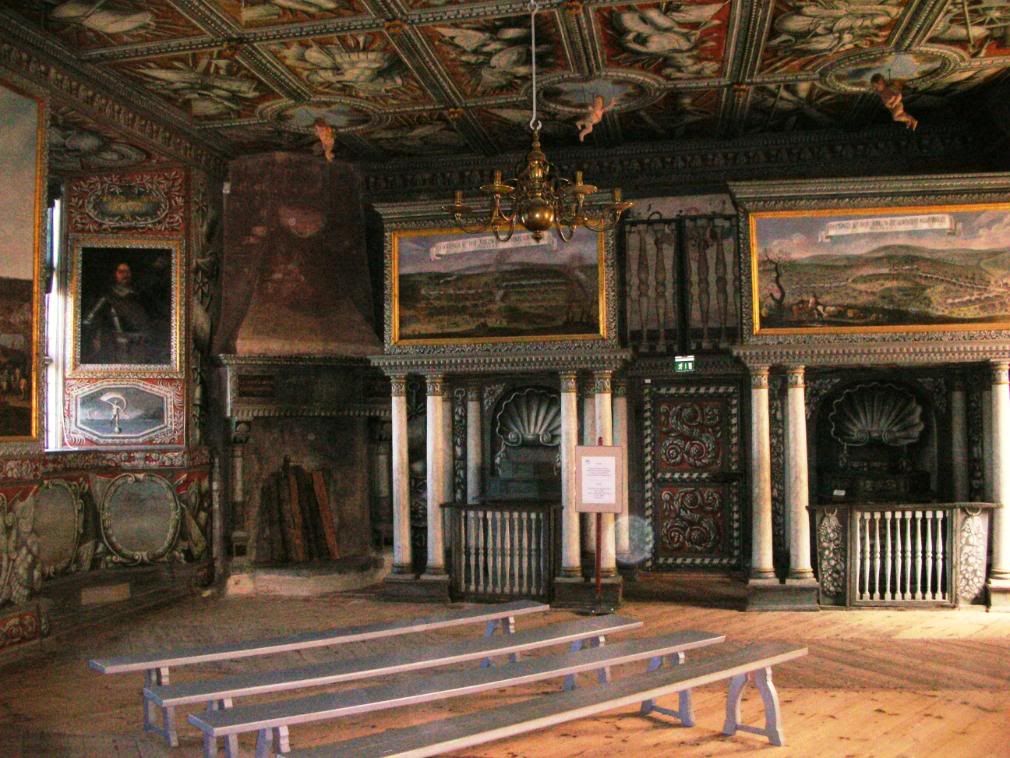 Two fire places on opposite corners, big wall paintings and decorations.
I could not resist sneaking into their bedrooms either: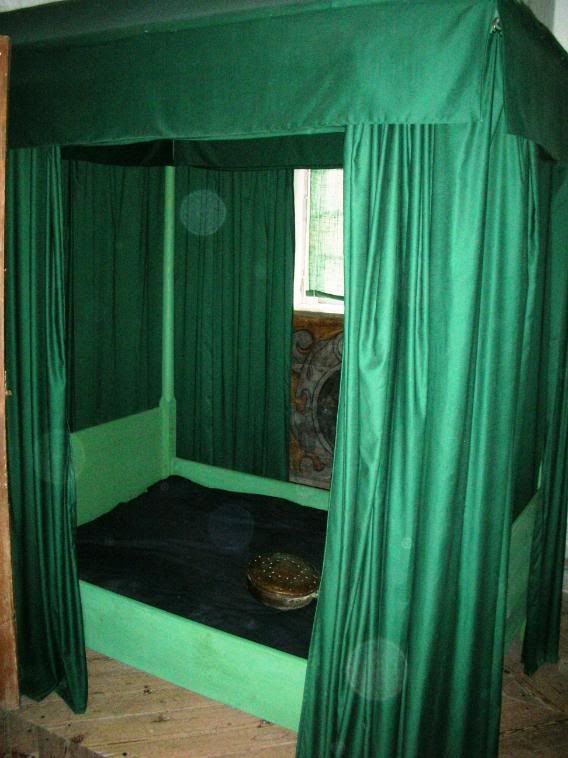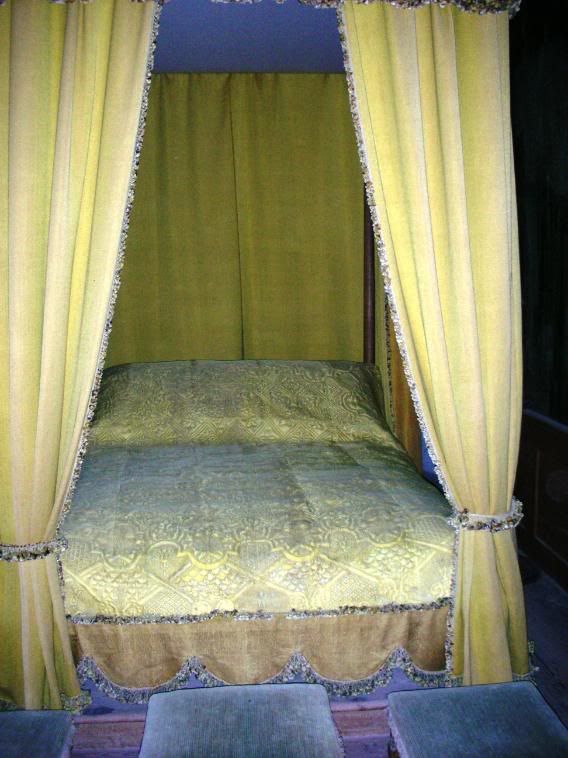 Canopy beds of course. Notice the iron bed warmer in the green bed!
Then a peak into some of the living rooms: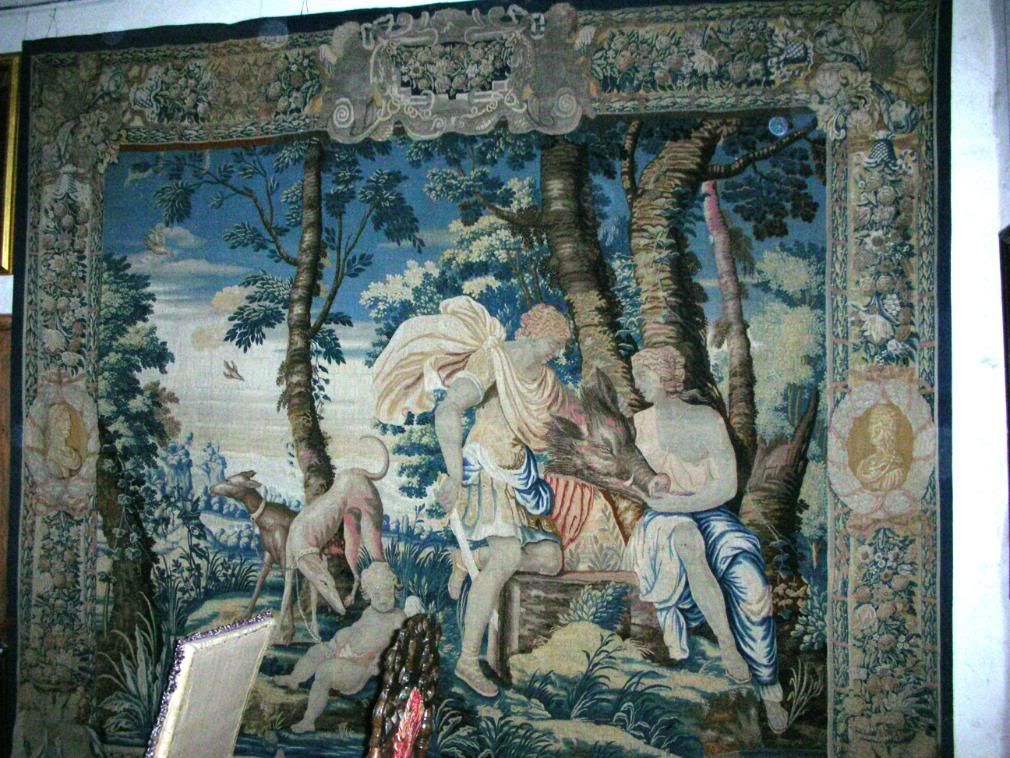 Left: Goddess Diana. Right: Meleager, Atalanta and the Calydonian boar, tappesty probably made in northern France, 1650- 1690:
Diana, the goddess of the hunt, sent an enormous boar to ravage Meleager's home land after his father, Oeneus the King of Calydon, neglected to make a sacrificial offering to her. Meleager decided to kill the boar and gathered a group of youths for the Calydonian boar hunt. He finished the kill and was awarded the skin, which he turned over to Atalanta, with home he was in love.
Before we leave the inside of the castle, let me show you some of the rooms that was fully furnished as an exhibition:

The Camber of Count Per Sparre:
A dignified Baroque interior was decorated floor to ceiling – something hard to imagine when walking through the castle today. An alternative to tapestry for wall hangings and upholstery was expensive gilt leather, impressed with relief pattern, covered with silver foil.

The Camber of Count Axel De la Gard:
The grand bed has canopy and its own crowning, sculpture palm leaf ornaments and covered with early-eighteen-century silk damask. To either side of the bed stands high and slender pillar table called a gueridon, intended to carry some sort of light resource.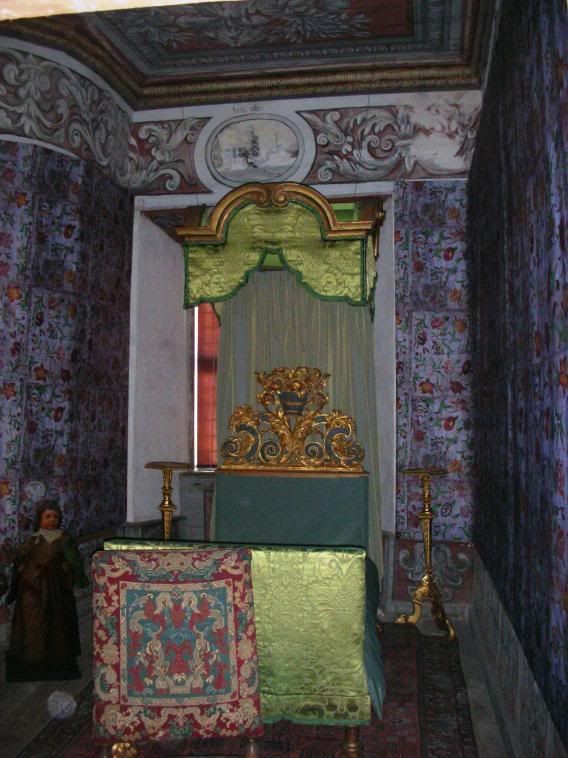 The Camber of Pontus De la Gard:
The crowns of the canopy could be adorned with ostrich plumes, carved figures or turned ornaments covered with fabric antic embellishments such as tassels or other decorations made of fabric.
There are a lot more beautiful things to see here. Let me just end with the herb garden where they still grow flowers as well as plants used as seasoning or for medicine: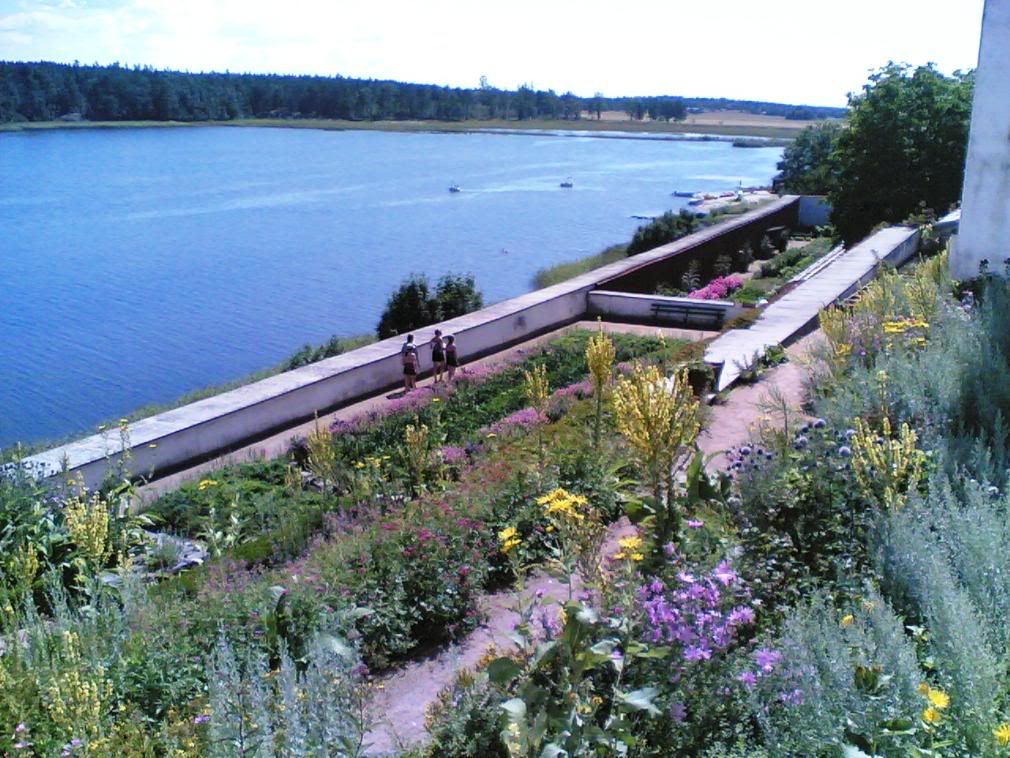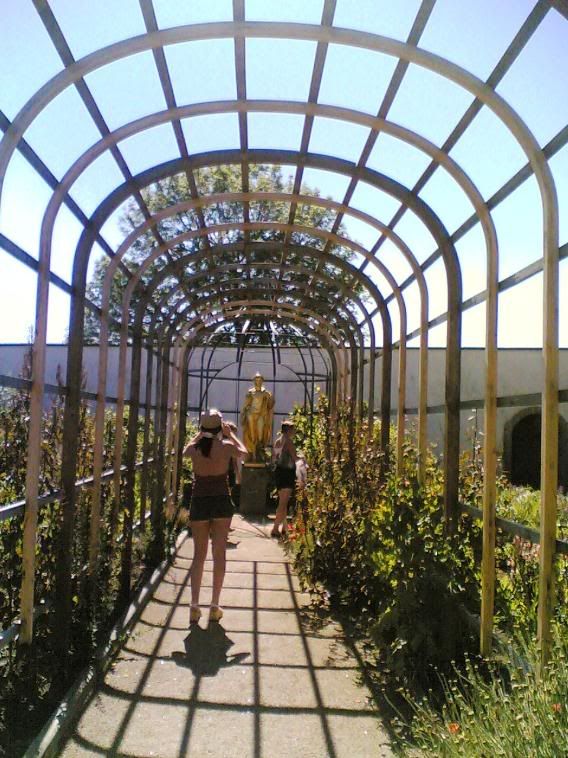 (Theaw pics from the garden is taken with my Nokia Mobile phone – the previous with Nikon CoolPix S2)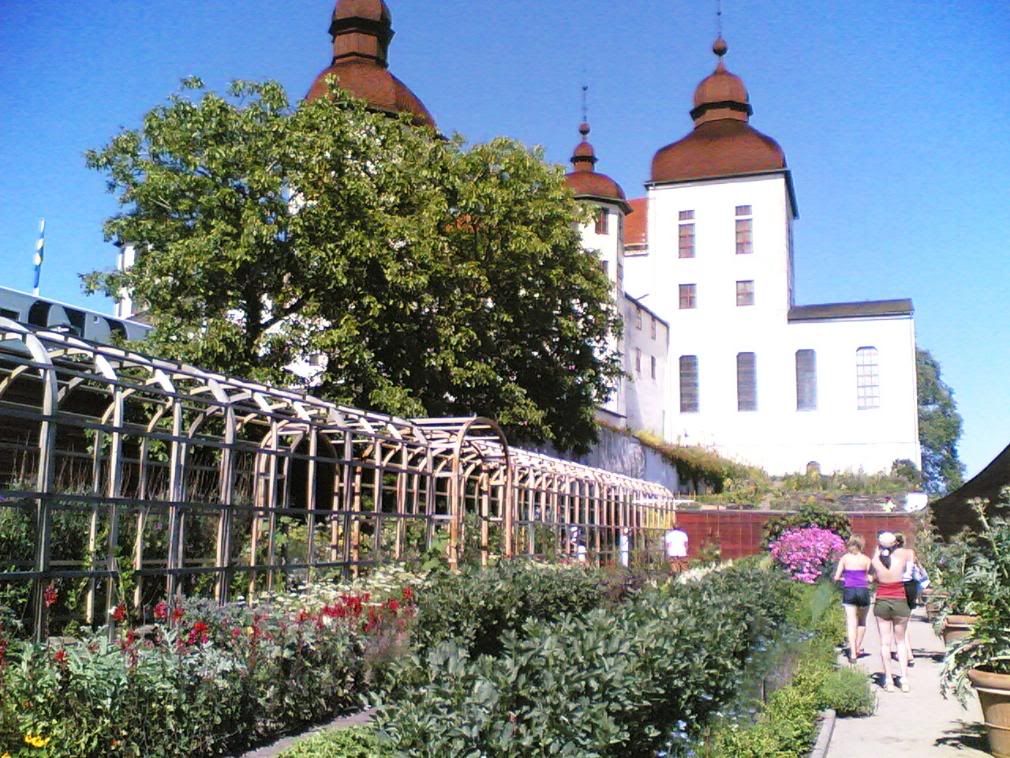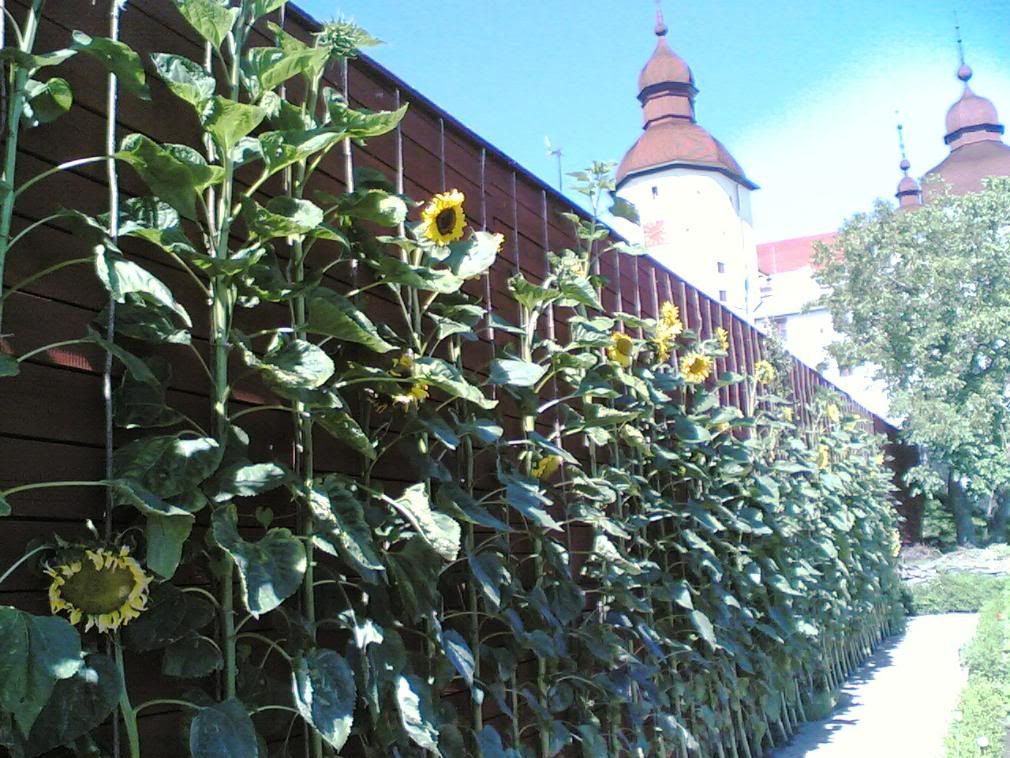 If you like to see and read more about Läckö, you're welcome to click for my post from two years ago:
A baroque Castle in Sweden
.