I admire passion: People who are devoted, engaged and very much involved in their hobbies or interests. Some weeks ago, when our blog friend Tor and wife Anna were visiting our vacation home at Mariestad in Sweden we experienced just that. I mean, you don't need to share their interest, but are carried away of their enthusiasm. As always, I love to share my adventures with you and hope you get as much of a kick out of it as we did:
We are talking about Mariestad Accordion Festival from Friday to Sunday, in mid July. Hundreds of people gathering with their instruments and well over 50 motorhomes. Let me give you an idea of the atmosphere (click all pics to enlarge):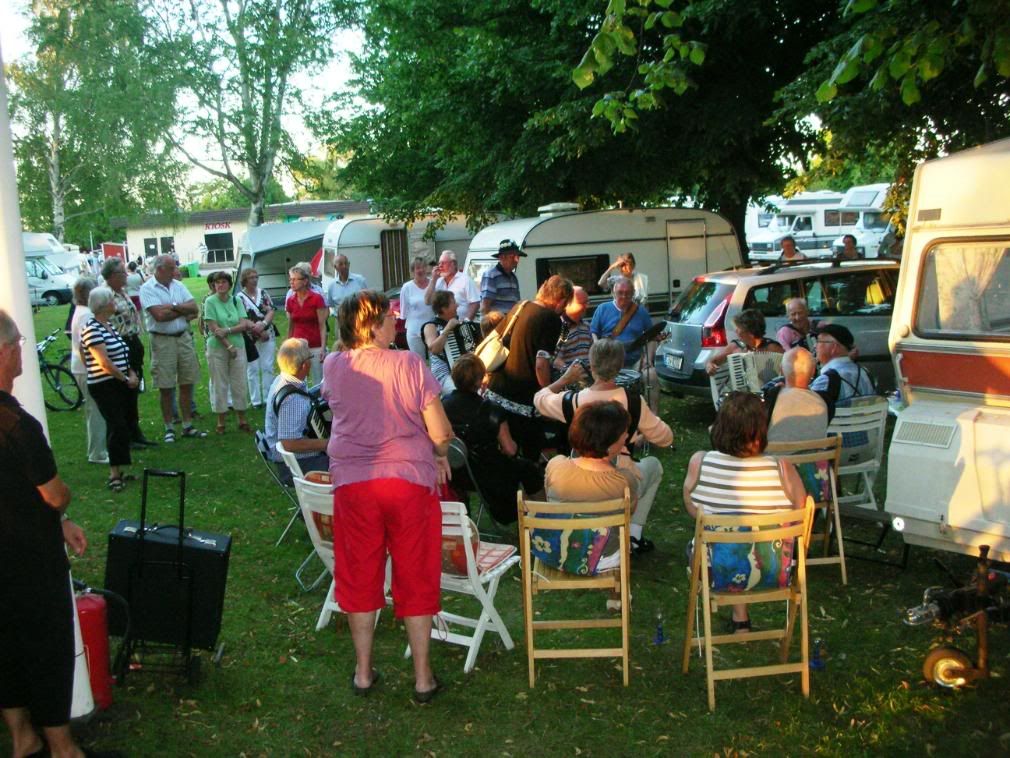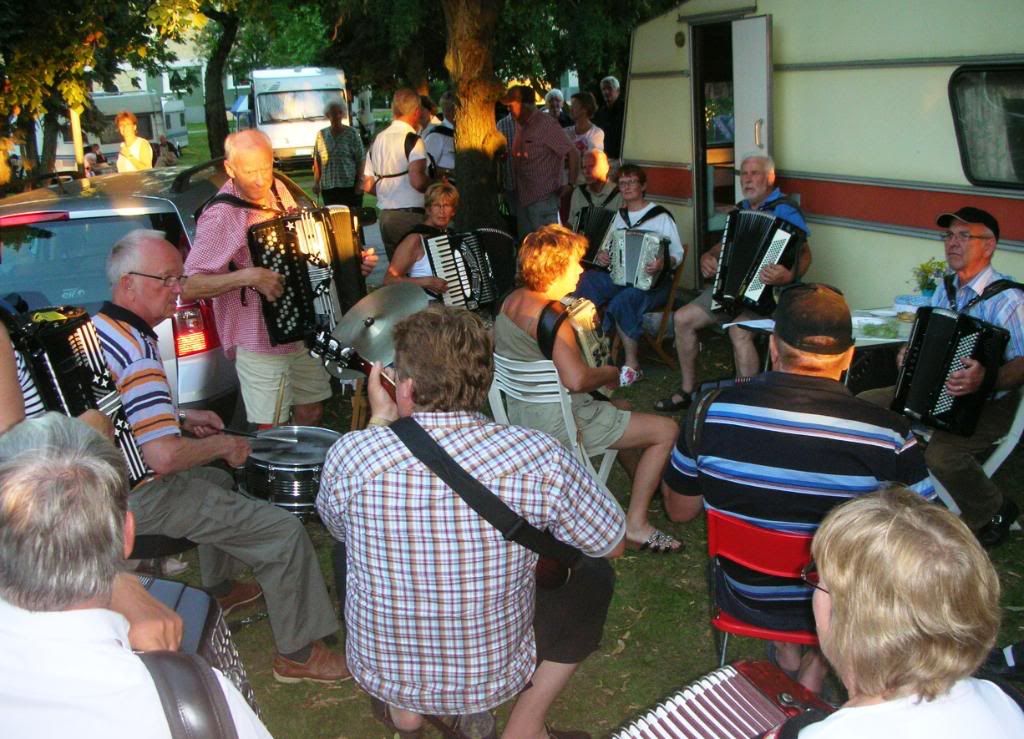 Look at the sun light – I'll get back to that later :-)
I've dug into information about the Accordion – always want my readers to learn something from my post and I learn too – lets put it in the Scandinavian frame:
The accordion is a hand-held bellows-driven free-reed aero phone family, sometimes referred to as a squeezebox. The basic form was invented in Berlin in 1822 by Friedrich Buschmann. It is often used in folk music in Europe, North America, Russia, and South America and is commonly associated with busking (street players, you see them in the streets of Oslo too). It came to Norway from Sweden in the mid 1800s. I took a video with my Nicon CoolPix S2 for you to enjoy the atmosphere:
Some were sitting outside their campers in groups while others were organizing a band to perform: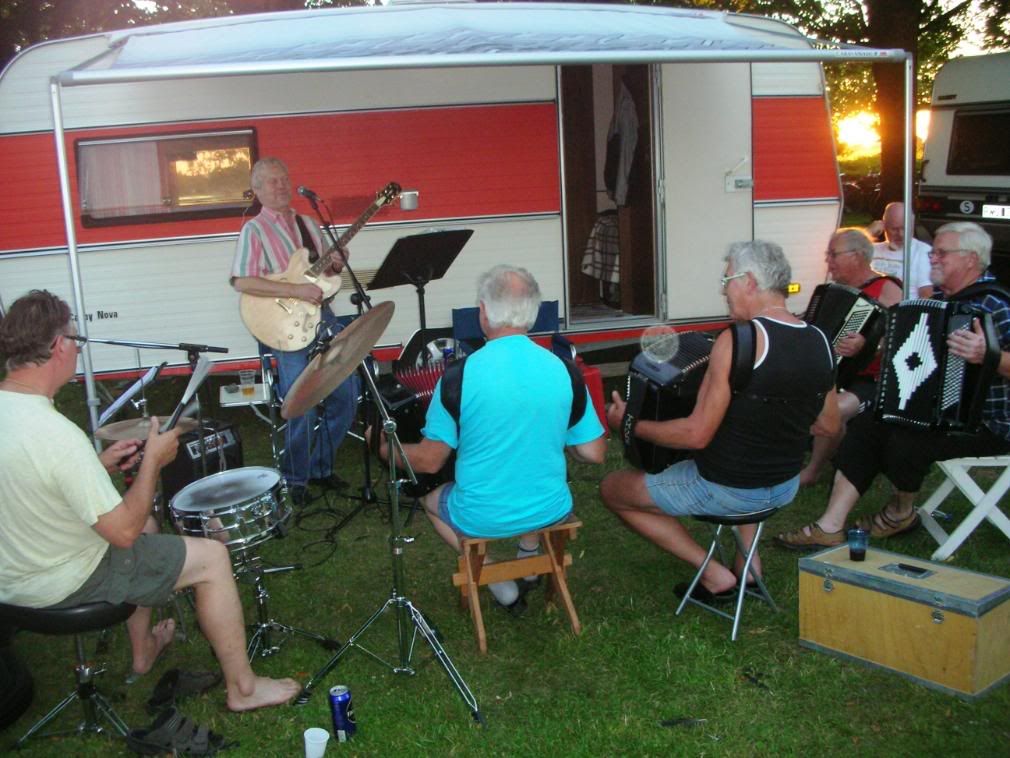 Notice the sun set to the right. The time was 9:30PM: Long Scandinavian evenings helps to the spirit :-)
A video from their performance too:
Btw: Can anyone see who is dancing in the background?
I mentioned passion and have saved the best for last. Walking around I spotted a strange instrument and the man holding it was inspired by my interest and gave me an interview: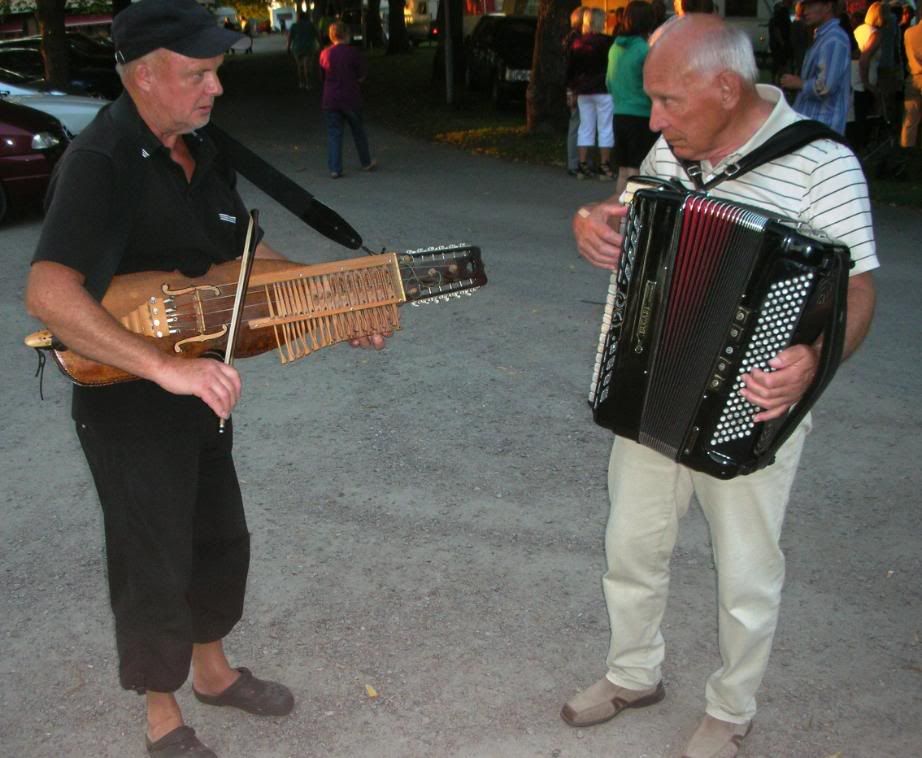 He had made this Key Harp himself!
A
Key Harp
, keyed fiddle or
Nyckelharpa
in Swedes is a traditional Swedish musical instrument. The oldest indication of Nyckelharpa playing is a relief near one of the gates to Källunge church on Gotland from about 1350 and he meant it was from mid Europe back at the beginning of the 1200s. Its keys are attached to tangents which, when the key is depressed, serve as frets to change the pitch of the string. He told me there where a lot of good players of that instrument in Norway as well. He willingly gave me a demonstration, a real scoop which I'm thrilled to be able to share it with you:
So this is what I call passion in a traditional folk music atmosphere. Is there anyone who wants to join us at the festival next year?