Hosting a blog about Norway, our culture, traditions and habits, it would have been a shame not to post about the Summer Olympics. Yea, I've been watching, from the very beginning, including the almost surrealistic opening ceremony – an impressing guided tour through Chinas 5000 years of rich cultural history. However sports is in focus of course and I take it you watch the ones that are most popular in your country – or where you have a chance of winning a medal. In that way, this Sunday, has been a thrill for all Norwegians: 2 gold and 1 silver medals in one day: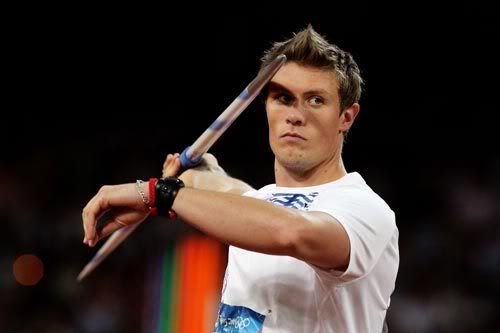 The Viking: Andreas Thorkildsen, Gold in Javelin Throw, just like in 2004!
Photo: ScanPix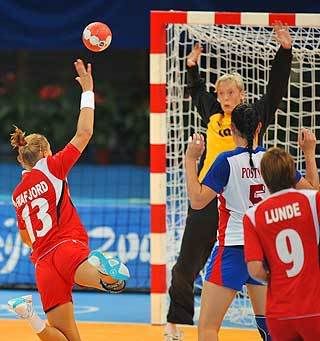 Left: Handball, won against Russia. Right: Nina Solheim (blue), Silver in Taekwondo
Photo: ScanPix
Allow me a bit of Norwegian facts and figures from Summer Olympics:
2008
participating with 84 sportsmen and women – Totally
10 medals
:
3 Gold Medal
: Rowing, Javelin and Handball
5 Silver Medal
: Swimming (Men 100m Breaststroke), Taekwondo, Shooting (Skeet), Kayak and Women's 20km Walk
2 Bronze Medal
: Horse Jumping Team, Women's 200m Breaststroke
Norway's best Summer Olympics ever was in 1920 in Belgium with 31 medals and maybe the most famous was in Amsterdam in 1928 when
Crown Prince Olav
won the gold medal in sailing.
China will be this years number one of course; So far (I mean there is still one competition day left), they have 48 gold and next is US with 31. Quite often the host is close or on top of the list. That was the matter in the 1994 Olympics too; Norway on top with 26 medals, but that was in winter sports of course :-)
Like I said I have followed the Olympics quite tight – actually all my life (literary!) – so you might ask: What is my most exciting Olympic moment? Well let me put it this way: I was born in November 1952 and that year in February the Olympics were in Oslo. I wonder if I was conceived after Hjalmar Andersen had won three gold medals in speed skating :lol:
What is your most exciting Olympic experience then?