With all the positive response from my last post about Bodø just north of the Arctic Circle, I'll gladly take you with to a charming city on Norway's west coast. While Bodø is at the latitude of 67° north, Bergen is at 60° – same as mid Hudson Bay in Canada – (Oslo: 59° – same as Stockholm). Let's put it on the map and give a short introduction: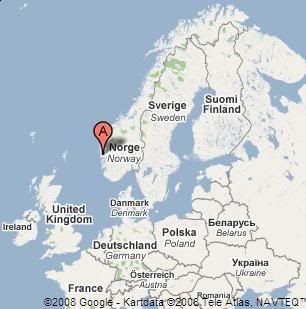 Bergen was founded in 1070 by King Olav Kyrre. The town was favourably situated in relation to shipping traffic and was for a long time the country's most important commercial, shipping and industrial town. Moreover, Bergen became a commercial and shipping town of European significance and for a while, during the Middle Ages, Bergen was also the largest of all the towns in the Nordic countries. Trading from the north with import of grain and export of fish laid the foundation for growth during the first centuries.
From the fourteenth century and onwards for several centuries, the Hanseatic merchants dominated trade. The Hanseatic merchants established one of their four most important trading stations in Bergen, the German Office on the Wharf. In the period from the last half of the nineteenth century until the First World War, there was strong growth in trade and industry resulting in an increase in population; from 17,000 inhabitants in 1855 to 103,500 inhabitants in 1920. Today its Norway's second largest with 250 000.
Like to Bodø, when approaching Bergen by plane, I had my Nokia mobile phone ready, so let's take a look at the different, but still beautiful landscape (you will have a much better view if you click the pics to enlarge!):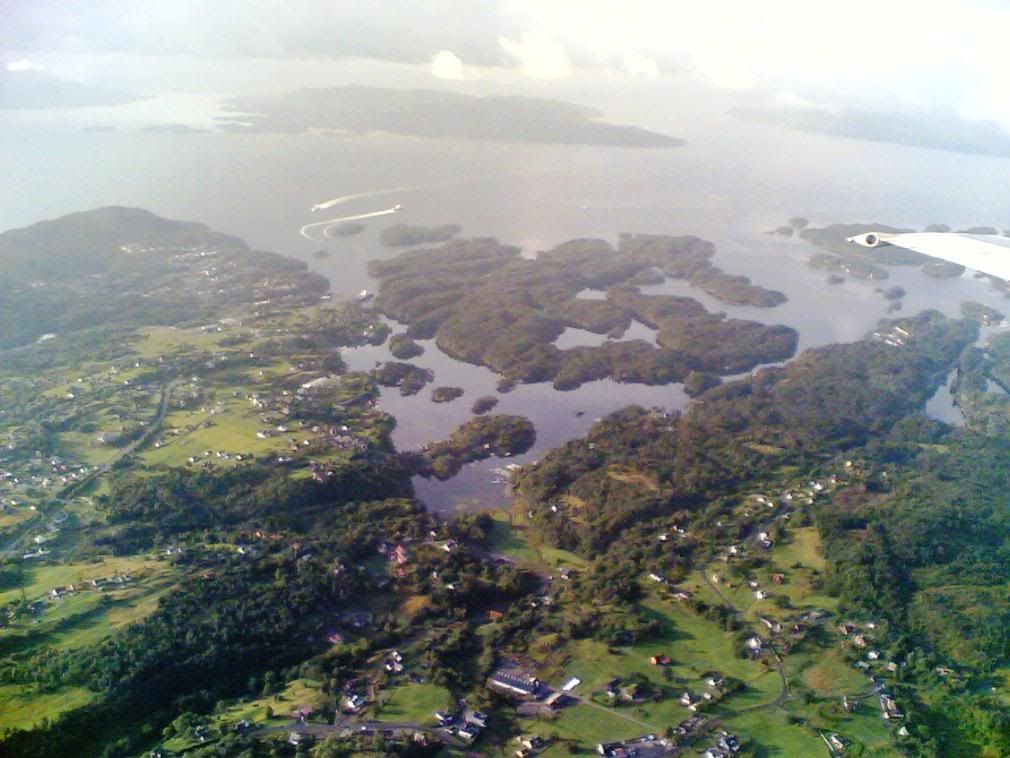 They wouldn't let me open the window, so bear with the quality :lol:
There are fjords and islands like around Bodø, but with a higher landscape and more vegetation as you can see in more detail here: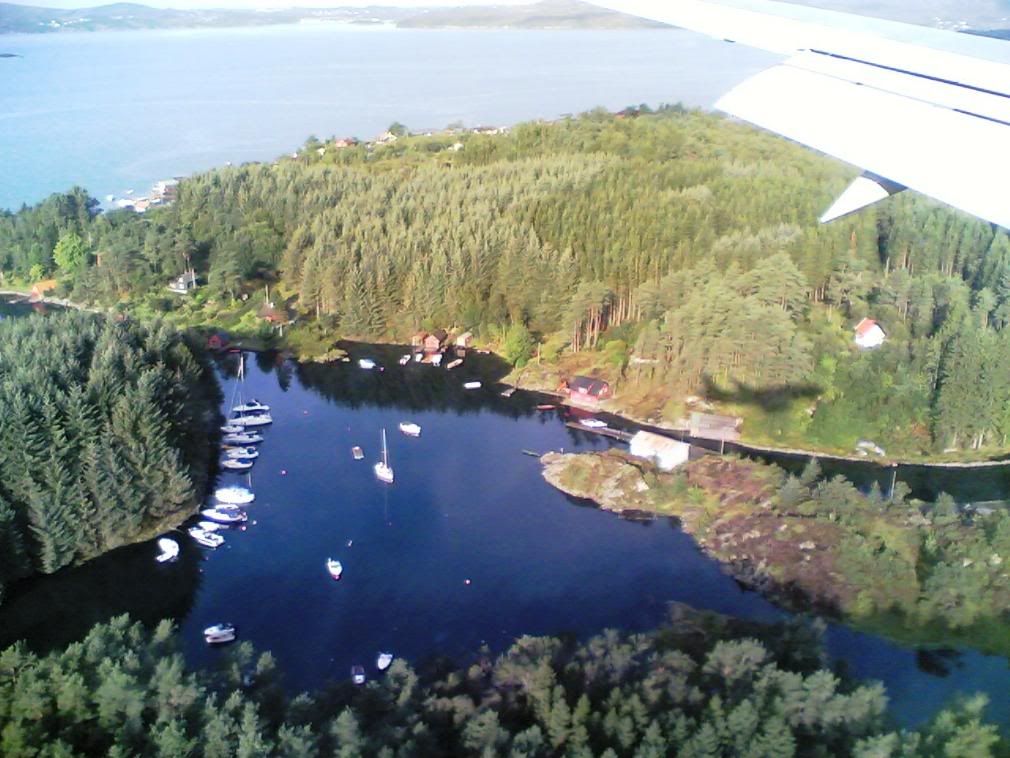 After the meeting I did a little sight seeing. You can reach most parts downtown walking around for an hour or so you know. Let me give me some of the highlights of what Bergen is famous for:
The Fish Market; Located close by the harbour front, this popular market features much more than just fish with fruit, vegetables, flowers, knitwear, handicrafts, artwork and souvenirs all finding a place here. Whether shopping or just browsing, the market is a great spectacle. Lets take a look: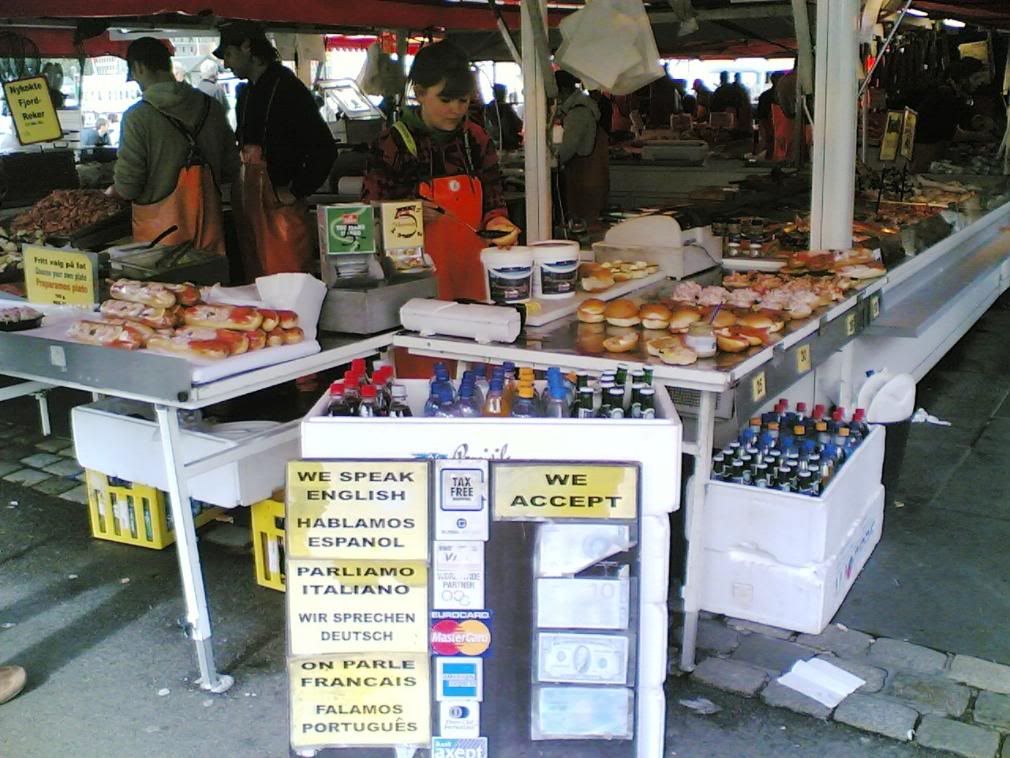 As you may see, they speak for example English, Spanish, Italian, French, Portuguese and accept all kinds of monies as well as credit and debit cards. As a tourist, you can even by tax free. Some samples: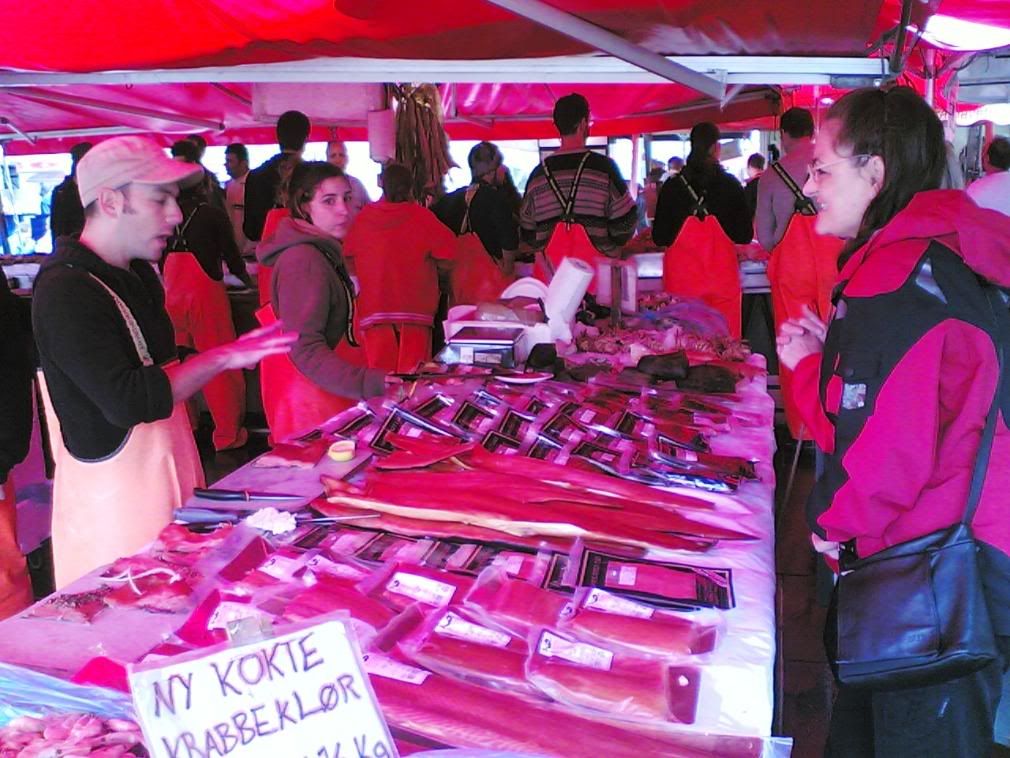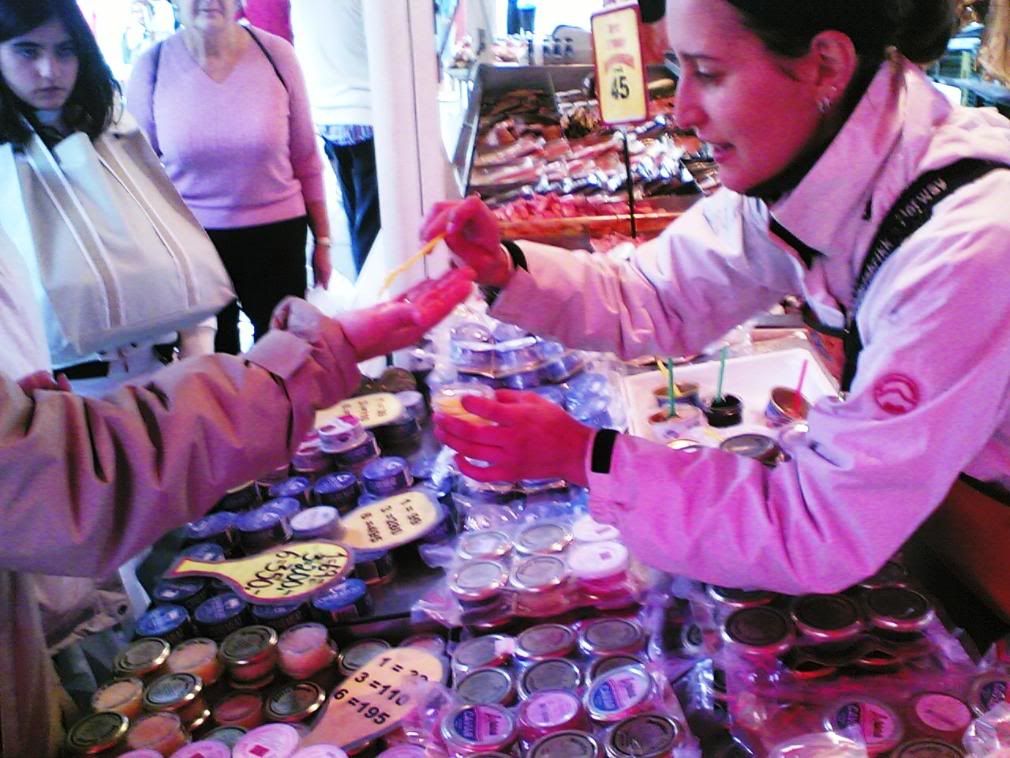 Left: All kinds of fresh and preserved salmon. Right: How about some caviare?
Another very popular thing is to buy freshly boiled crabs, lobster or shrimps and eat by the waterfront.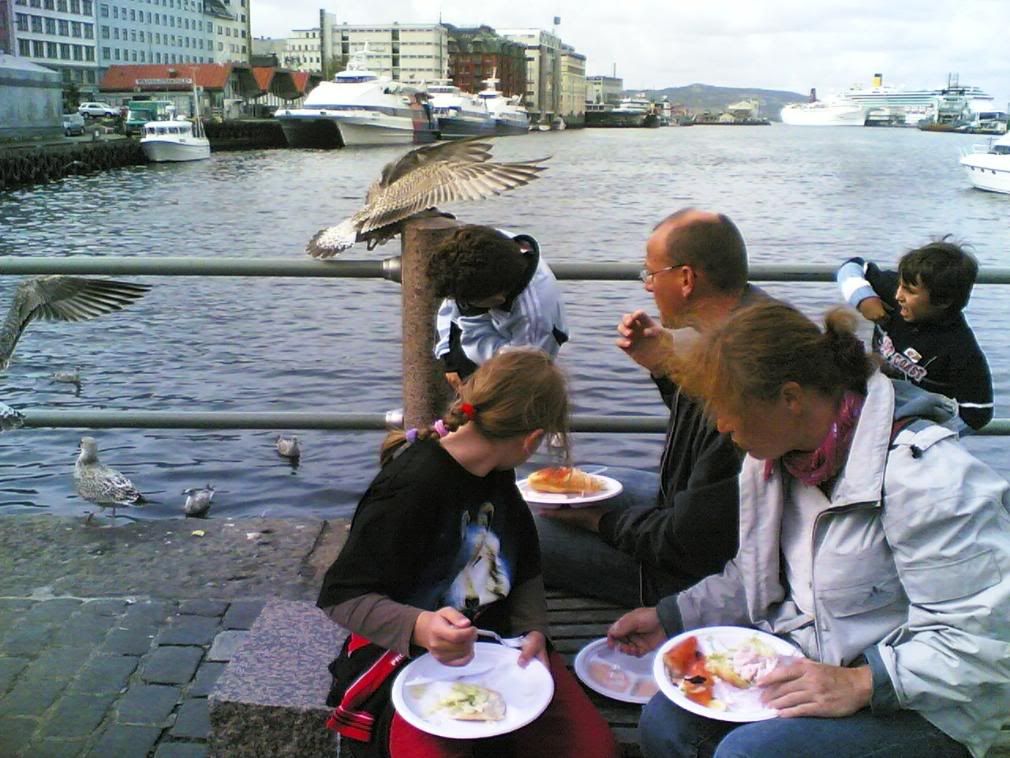 But Bergen is famous for more – The composer:
Edvard Grieg
(1843-1907):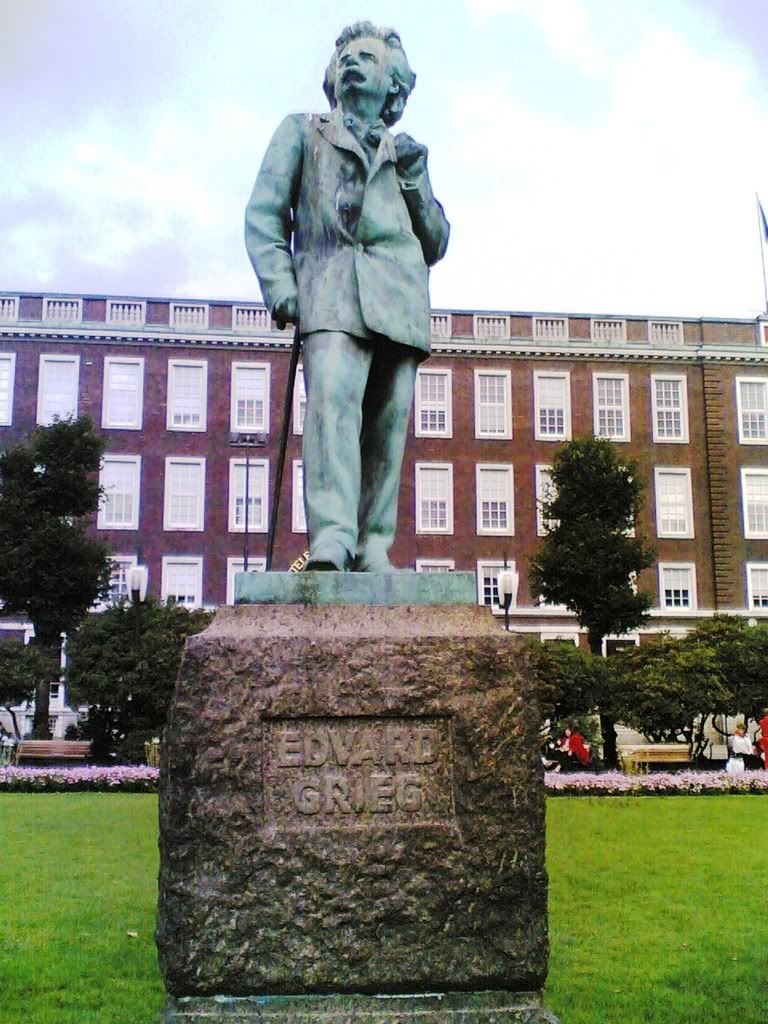 He is Norway's greatest composer. His style was based on the German romantic tradition of music but bit by bit national awareness developed, coupled with a growing need to create a typical Norwegian style of music. Grieg's dramatic talents were put to a new test when Henrik Ibsen asked him to write the incidental music to "Peer Gynt". My favourite is The Hall of the Mountain King.
Another composer and violinist with a very different, but still Norwegian style is
Ole Bull
(1810-1880):

He was a violin soloist of international repute. Born in Bergen, he travelled all over Europe and North America to give concerts. He sought to make the folk music and culture of Norway more widely known. As a violin virtuoso, he was widely acclaimed for his brilliant improvisations, and for the rich tone of his play.
A lot more could be told about Bergen, but let me end in a personal style with a curiosity: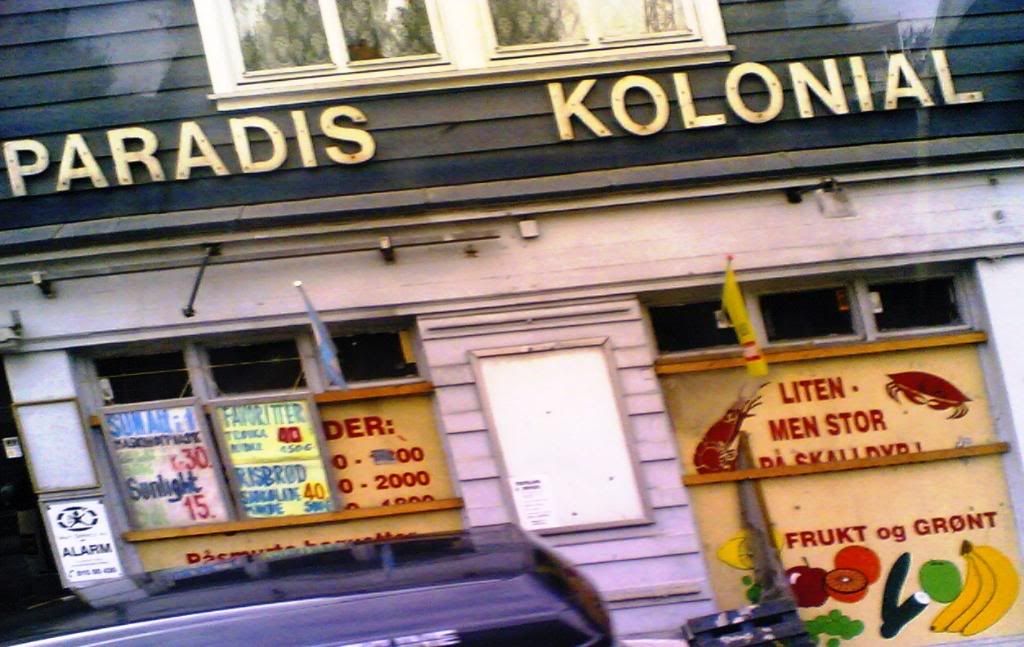 They even have a district called Paradise for those who love shopping and want some heavenly good stuff from a small colonial shop ;-)
So now you know Bergen a bit better. I would say a must see if you go to Norway – what do you think?