This might not be a typical post for this blog, but after all RennyBA's Terella is about my daily life and since I had a blast this week, of course I'll share it with you – with a personal touch as well. Some might say it's an odd way to describe it as a blast, but for an network evangelist working within the field of IT skills and professionalism, it was a thrill to attend WCC2008 for four days in Milan together with almost 2000 participants from all over the world. A short description: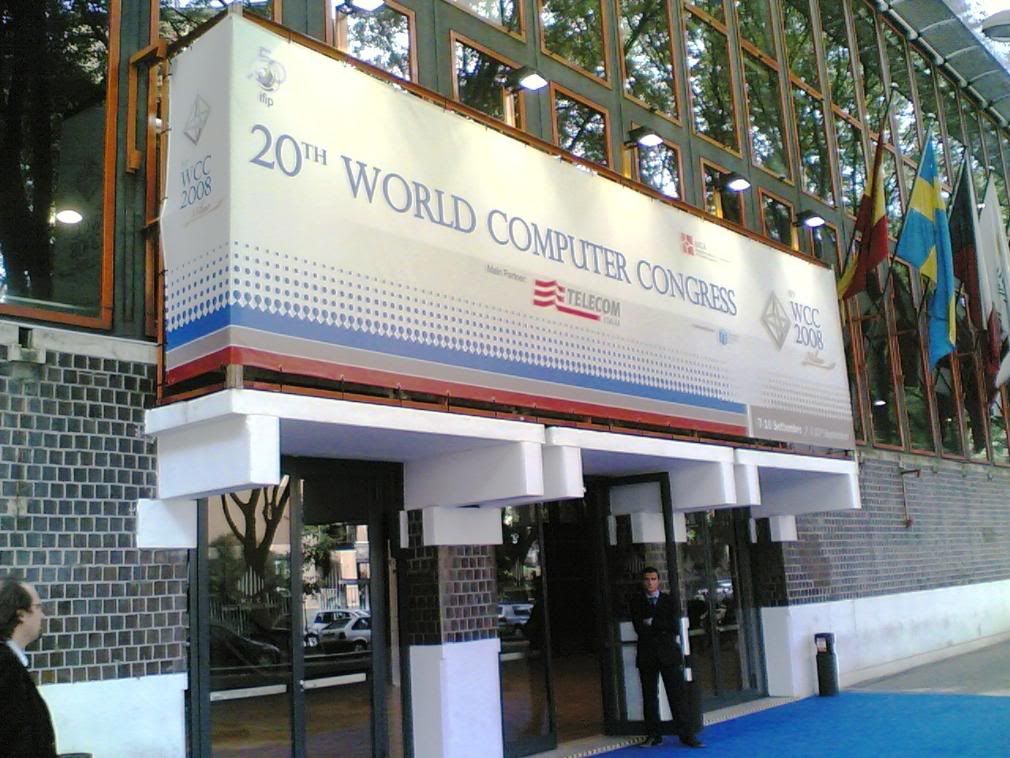 This was IFIP's – International Federation for Information Processing – 20th congress, excellent hosted by The Italian Computer Society AICA at MIC (Milano Convention Centre – the picture). The subject for the opening session was 'Globalization on the Digital Scenario' and the closing session: 'Towards an inclusive information society'. There was even interesting Hosted Conference on 'Woman & Technology' as well as 'e-Inclusion'
IFIP of course had their own Technical Conferences and there was Cross Sessions as well as Industry Oriented Conference. I was one of the last on the agenda, titled: ICT Professionalism & Competences where I gave a presentation:


If anyone wants to know how EUCIP (European Certification of Informatics Professionals ) Norway (where I am the CEO) is driving competence, let me me know in your comment and I'll send you my presentation.
Enough of these technical things (hope I haven't lost your attention!) and back to my personal twist and the phrase, A Blast: You see at the Gala Dinner on Sunday, AICA provided us with the most wonderful concert that went straight to my heart:
The 'Eight' Season
. Let me explain (from their program): The roundness of the terrestrial globe implies two hemispheres, consequently the seasons duplicate so we have twice four seasons. This was demonstrated by two wonderful composer – at a distance of 300 years:
Vivaldi
(Italian) and
Piazzolla
(Brazilian), drawing their inspiration from the colours, sounds and sensations which the seasons are able to evoke in their own hemisphere, creating true and immortal masterpieces (click the pics to enlarge and enjoy):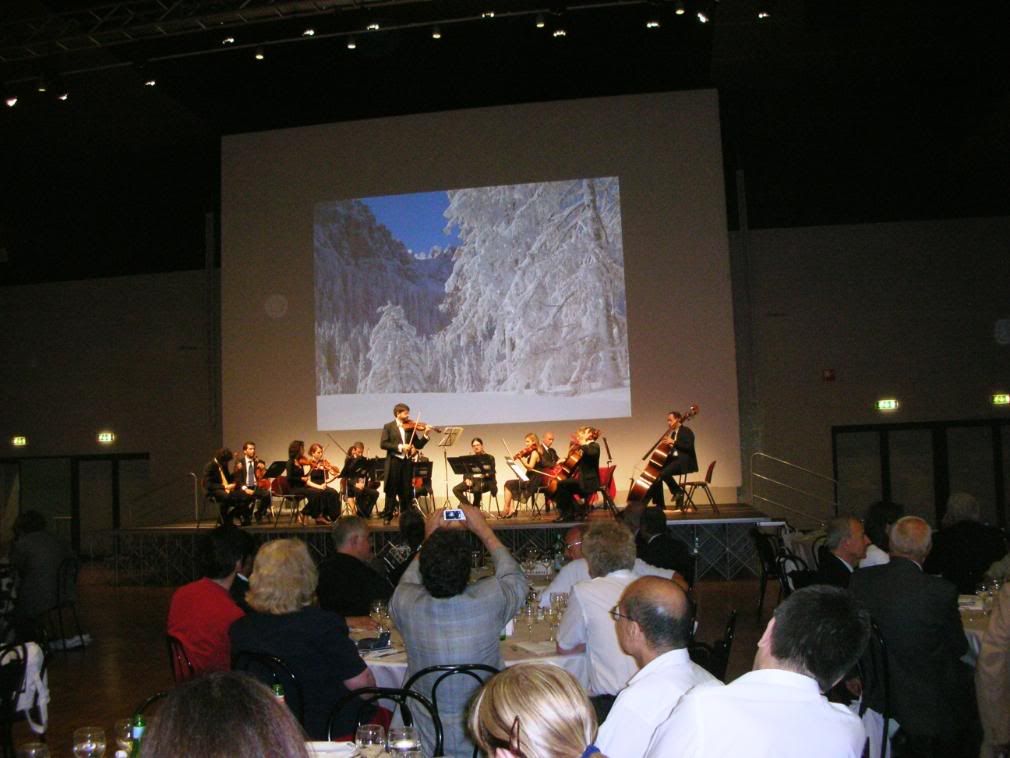 Milan State University Orchestra with the solo violin and conductor: Antonio Aiello
Since my blog is about Norway's significant four seasons and I can easily picture all four in my head, you must understand this was a thrill for me and of course it helped with some pics at the screen behind them:

Left: Vivaldi's 'La Primavera' (Spring). Right: 'L'Inverno' (Winter)
Oh yea: there was of course a most delicious dinner: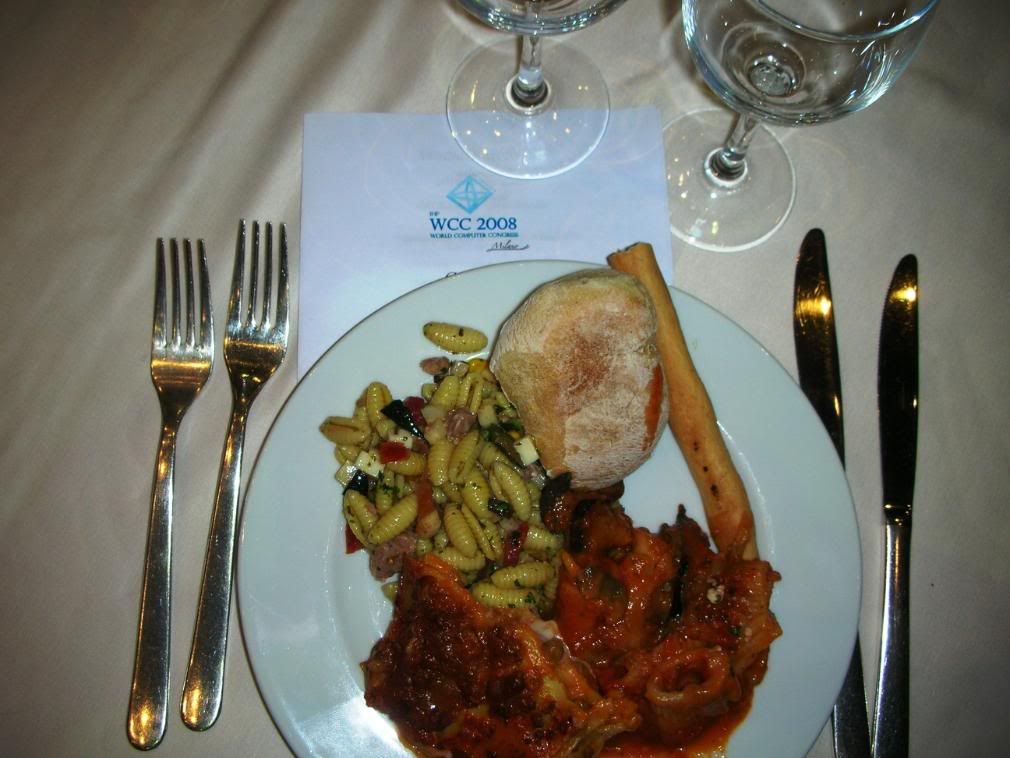 Italians makes the best pasta & lasagne as well as wonderful white and red wine
So this was a 'short' introduction to my week in Milan, but of course there is more. Its a wonderful city with great architecture, culture, fashion, food and a lot of other traditions. So stay tuned for more adventures experienced through a Norwegians enthusiasm for networking and tourist exploring!