This year there was 197 nominees and some of the hottest candidates was; former German Chancellor Helmut Kohl; Algerian president, Abdelaziz Bouteflika; Hu Jia, Chinese activist and dissident; another Chinese dissident Wei Jingsheng; Israel's Mordechai Vanunu; Vietnamese monk Thich Quang Do; The African Union and even Bob Geldof.
The Nobel Committee consists of 5 members appointed by The Norwegian parliament. The committees' composition shall reflect the relative strength of the political parties in the parliament. Members of the parliament have not been allowed to be member of the committee since 1977.
The Nobel Committee shall be entirely independent in its work. The discussions about the candidates are kept secret and the members avoid participating in the public debate after the name of the winner is announced.
The winner this year was very deserved and of course we Norwegians are proud of it too – his great grandfather came from Norway: Martti Ahtisaari from Finland: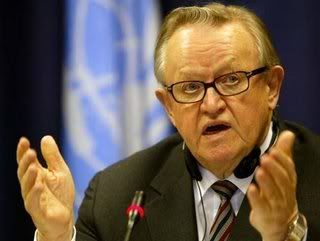 His most notable achievement was overseeing the 2005 reconciliation of the Indonesian government and Free Aceh Movement (GAM) rebels, bringing an end to a three-decade conflict that killed some 15,000 people.
Ahtisaari also helped lead Kosovo down the path toward independence, even though his intense mediation efforts failed to clinch a joint agreement between Serbia and Kosovo and Pristina earlier this year unilaterally declared independence.
Prior to his involvement in the Aceh talks, Ahtisaari was unfamiliar with Asian geopolitics, but widely respected as a gifted diplomat and outstanding negotiator.
He came to the negotiations after a Finnish businessman linked to the Jakarta elite was convinced the former Finnish president had what it took to bring new life to the apparently moribund peace process.
My regular readers might remember that my candidate from last year was the farther of the Internet: Vint Cerf. In your comment I would like to hear your suggestion for a candidate next year :-)