I have a visitor and am so excited to be able to show such a distinguished guest around Oslo. My regular readers know I call myself a network evangelist and are very active on social networks such as Facebook, LinkedIn and of course in the Blogsphere. You know my saying is 'Blogging Connecting People' and some months ago I met Olga. She is also a globetrotter, which fascinated me even more and when I invited her to come over for a guided tour around in Norway, she was thrilled. I was too and of course this will give me a chance to fulfil the aim of my blog: To share about Norway and the Nordic countries; our culture, traditions and habits. But first a short introduction: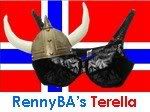 Olga The Travelling Bra likes to travel around and meet new people from all over the world. We show her our famous sites and our warm hospitality and she really has the opportunity to travel, to meet new people and see the best of interesting places. She sure meet a lot of people on photo shoots because everyone is so curious about this special guest!!! And what a great way to show the world this special place we travel too!
This first day of visit we took her to The Royal Castle in Oslo and Olga was eager to listen and learn (click all pics to enlarge and enjoy!):
The Norwegian monarchy dates back more than one thousand years. Harald Fairhair, regarded as the first Norwegian king, united the petty kingships of Norway into a single realm in about 885. From the time of Harald Fairhair until the present day, Norway has had more than 60 named sovereigns. The current King (now Harald the V) belongs to the House of Glücksburg, which has ruled Norway since 1905.

The Royal Palace is situated on a rise, the Bellevue, at one end of Oslo's main thoroughfare, Karl Johans gate. It is one of the country's most important buildings and a concrete symbol of the course of Norwegian history since 1814. Building activities commenced in 1824, and the foundation stone was laid by King Carl Johan (the statue in front) on 1 October 1825. The Palace was officially taken into use on 26 July 1849 by King Oscar I.
Olga was very lucky as the changing of the guard ceremony in front of The Palace took place right when we were there:
The King's guard in front of their barrack.
His Majesty the King's Guard (HMKG) was founded in 1856, when King Oscar I of Sweden and Norway expressed a wish to have a Norwegian guard to underline his position as monarch of both countries (until the dissolution of the union in 1905). A company of 100 men was recruited and trained during the summer of 1856, and arrived in Stockholm, the capital of Sweden, on November 1st – the date on which the regiment's formation is commemorated every year.
Olga was so excited and wanted to have a closer look at this handsome guards of course, so we had introduce her and let her have a closer look;

I have actually served in the Military at HMKG myself in the 70s. There was a lot to see through a 24 hour shift, but never was I as observed and got so close to a bra like this :lol:
Olga will stay with us for a while, and next place we'll take her is to Vigeland Park. I can assure you, she'll go nuts among all the naked sculptures. So stay tuned for more WonderBra adventures :-) You should also visit Olga's own blog and in comment tell you've seen her at RennyBA's Terella!