At the 11th of November, it might have been One small step for Blogsphere, but . . . A giant leap for me as a network evangelist; RennyBA's Terella was born. My regular readers might remember it started after I gave a lecture at the Norwegian School of Management for masters grade students in marketing. The subject was 'Technology, Business and the Society' and I lectured about web 2.0, Wikipedia and Blogging. Nothing is as practical as a good theory, so after studying the subject for the benefit of my students, I wanted to experiment myself. It has been a fantastic and interesting experience, now more like a habit – yes, you might even say I'm addicted.
The aim of my blog has been to share about Norway and the Nordic countries; our culture, traditions and habits: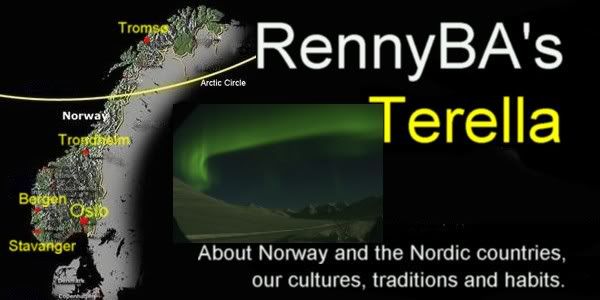 I will use this opportunity as a recap on some of my sayings:
Its a Givers Gain
:
Never have a learned so much from others as from sharing about my daily life. This is my post #320 with a total of 8,825 comments. I've also received a lot of
Awards
for which I feel honoured and humbled. I will thank you all for taking your time to read and share your reactions, views and opinions. It really has enriches the subjects in my posts.
Blogging connecting People
:
I've meet so many wonderful people out there (also in real life!), learned from them, got closer to them and made new and wonderful friends. The world to me has become smaller and respect and acceptance for the charm in the differences has increased.
Make Blogs not Wars
:
As Blogsphere brings people together; it break down cultural, religious and other barriers. Fears comes from uncertainty while as facts and knowledge gives trust and confidence. I would say: Blogging empowering people – what do you think?
So all BlogFriends out there in the world, from the good old once from three years back to the newest once from my last post: Lets keep up the good work, go on sharing and make friends – for a better world. My contribution on this occasion, would be some link love. Below you'll find a scroll box listing my blogroll. Pick out at least one you don't know, pay a visit and make a comment saying your from Renny to say hi :-)
The Queer Chef -My blog designer!
An American In Oslo -Kristie from LA, US
A Changing Life -A in Europe
Al's Time Out
A fish blog.com -Magnus Tangen in Norway
Backpacking Philippines Travel Guide -Tutubi Flight Chronicles
BackPackTourists -My son travailing the world
Blog -Blond -Kuanyin from Maui Hawaii, US
Blogging Sueblimely -English ex-pat, Australian webdesigner & blogger
Bloggin' Outloud
Brykmantra -Mark in US
Sandee (Comedy +) -in California, Us
Correr Es Mi Destino -Zhu, French/Canadian teacher in Ottawa
Confessions of an Expat's Wife
Dackel Princess -Maribeth in US
Dagboek -Thess; Her writings during stolen moments…
DianeCA's Metamorphoses -My beloved wife!
Diane's Place in US
Do It Myself Blog -Glenda's inspiring autobiography
EastcoastLife -a lively girl in Singapore
eGuiden-Backstage -Gunnar in Norway
eirikso.com -Media.HTPC.Mobile.Food.Travel
Excorcise my Devils -ShadowFalcon in Australia
ExpatTravels -From Switzerland to Canada
Espreson -Sarbarth, Expressing with words
Fleur de Lisa -From Indiana, US
Fruity from Fruit Spices
Gentle & Compassionate -Ghee in Japan + Ally And Allies
Genre Cookshop -Nancy Bea Miller in Philadelphia, US
Himalman's Weblog -An Everest climber
House of Lime -Michelle in US
Here in the Hills -Naomi: OldOldLadyOfTheHills in LA, US
Humanyms -Pearl in Canada
In Soul -Ginnie in Georgia, US and Amsterdam
In Nederland -Thess from the Philippines
Insanity Prevails -Melli in US
Interesting observations -Pearl with various aspects of blogging
Iternational Blog of Food -I'm a Team blogger her!
Fresh Mess -Mark from the Philippines living in Oslo
Italian's Insight to Travel Italy
It's all about luck -Morten Lund from Denmark
It's all about me -Teena in Toronto, Canada
Kladdeboka by Paal (Norwegian)
Ladybug's Leaf
Laza83 -Claudie in France
Letters to the Universe
Life in the fast lane -Deborah Petersen in Alberta, Canada
Lifecruiser -in Sweden
Life, Humour and Recipes -Colin in UK
LikeTress -Kim, an award winning portrait artist
maremagnum -A Chilean expat in Barcelona, Spain
Max Coutinho -In Portugal
Miss Cellania -A funny single mom in Kentucky, US
Moderatlely Confused Pinay in Deutschland
Motivated Motion -Lynn Tucker in Canada
Much of a muchness -Diane, live in deepest, darkest Dorset
My insanity! -A Filipino living in Chicago, US
My life is murphy's law -Ev Nucci in US
My Sarisari Store
mökkikunta -A blog friend from Finland
Olga, the Traveling Bra -A Globetrotter
Random thoughts on Norway -Kenneth from Norway in Prague
Speedcat Hollydale Page -Eric "Speedcat Hollydale" in Minnesota, US
Spilling Out -Mother of Invention in Canada
Sue's Daily Photography
Susies The Boss in US
Tin-tin: What Makes My Life Pretty?
The Queen's Rambles
~*~Tinkerbell~*~ -The magical journal of a Dutch
Through JoAnn's Digital Eyes'-NL
TorAa Mirror -in Norway
Tricia's Musings -A nurse, A wife living the Fun fun social life
Trails -Gisle in Norway
Traveler's Tales -Traveller, Foodie and Gearhead
Wanderlust Sha -Wanderlust in Greece
Will Pate – Hugs not thugs
Wish I was there -Hexe in Florida
Word Strumpet -Charlotte Rains Dixon in Portland, US
Yours-Truly.net -Caledonia in Scotland