Posting about Norway and the Nordic countries; our culture, traditions and history, I seldom write about celebrities. This time I'll make an exception and for an extraordinary Norwegian woman and film actor: Liv Ullman. Of course, as a gentleman, I never ask for a lady's age, but I think its quite official since today she turns 70: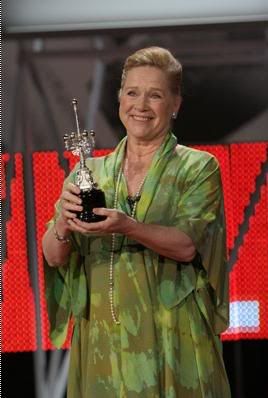 Outside Scandinavia she has constantly been mistaken for a Swede despite being 100% Norwegian. The reason for this is probably because non-Scandinavians don't realize how ordinary it is for Swedes and Norwegians to work across the borders in the film industry, and mainly because of her frequent collaboration with Swedish film-maker; Ingmar Bergman. One example of this mistake is even evident on the 'Internet Movie Database', where her nationality on the award page for the 2001 Cannes Film Festival (jury president) was listed as "Swedish."
Liv Ullmann's father was a Norwegian engineer who used to work abroad, so as a child she lived in Tokyo, Canada, New York and Oslo. In the mid-'50s she made her stage début and in 1957 made her film début. She really became successful, however, when she began to work for Swedish director Ingmar Bergman in such films as Persona (1966), Passion, En (1969) and Ansikte mot ansikte (Face to Face) (1976). She also had a successful film career away from Bergman; The Abdication (1974), Diagonale du fou, La (1984).
Among others; She was twice nominated for Brodway's Tony Awards: in 1975, as Best Actress (Dramatic) for a revival of Henrik Ibsen's A Doll's House, and in 1977, as Best Actress (Play) for a revival of Eugene O'Neill's Anna Christie. In the picture you see her receiving The Donostia Award in the San Sebastian International Film Festival in 2007.
Revealed on a Norwegien talk-show November 2003 that the only TV shows she watches regularly are "Sex and the City" and "Everybody Loves Raymond". And would you believe it: She was offered guest-starring role in the last episodes of the TV series "Sex and the City" that took place in Paris, France. At first she was delighted at the idea since she and her husband were both fans of the show, but when she received the script for the episodes she felt she wasn't right for the part, and backed out.
So therefore this exceptional celebrity post devoted to a lively woman (no wonder as her first-name means Life in Norwegian). Happy Birthday and many more to come!