I have been sitting on a shocking secret for several months now. On my way to work in April I saw a most disturbing scene! I was shocked and amazed to see the Nazi flag waving over our very own parliament!! As always I had my Nokia mobile phone on hand and knew this was an important scoop! This is just something which has to be shared with the blogsphere (click all pics to enjoy and enlarge!):

You see in Oslo they were shooting a major motion picture about one of our greatest national heros from the Second World War.
Max Manus
(Maximo Guillermo Manus 1914 – 1996) was a patriot who could not accept the occupation and a key member of the Norwegian resistance.
The Resistance movement
You see Norway was occupied by the German army from the 9th of April, 1940 until the 8th of May, 1945. Max Manus became engaged in the war in Kongsvinger when he began to work with illegal newspapers for the resistance under Nazi occupation. In January 1941 he was nearly arrested in his apartment in Vidars gate, and had to escape by jumping out of the window.
He ended up at Ullevål hospital, but managed to flee and made his way through Sweden, Russia and Africa. On board a transport ship he sailed around the Cape of Good Hope, to Canada, where he travelled with a convoy to England.
British Company Linge
He volunteered in England and enrolled in Company Linge which in March 1943 was released by parachute over Norway with Gregers Gram for conducting the sabotage "operations Mardonius". He was a member of the group later known as the Oslo Gang, which the British army regarded as Europe's best sabotage group. Together with, among others, Gunnar Sønsteby and Gregers Gram he participated in operations "Derby" and "Bundle", which sabotaged Nazi ships and produced illegal resistance propaganda.
Among other actions he was involved in Operations Mardonius (1943) exploding several ships in Oslo harbour; bombing of the troop ship "Monte Rosa" (1944); sinking of troop transport ship "Donau" (1945); and bombing and the destruction of the German work offices and archives that could have caused tens of thousands of young boys to be recruited to the war duty through the notorious Work Service program ran by the Nazi army occupying Norway.
Movie premier
The film has now been released in Norway, and even King Harald V and Queen Sonja were among the honoured guests at the cinema to see the premier! They were thrilled of course (because they don't go to the cinema that often) and both the King and Queen were actually moved to tears.
Continuing Peace efforts
This is an important part of Norwegian history and has shaped our political standpoints even today. Norwegians are peace loving and believe in solving the worlds problems through dialogue and not with weapons, for example the Oslo Agreement which was the first direct, face-to-face agreement between Israel and political representatives of Palestinians in 1993. Today's peace march in support of the victims of the war in the Gaza strip shows our continued commitment to peace. Police estimate that 40,000 people came to the torch lit event at 7 pm in Oslo.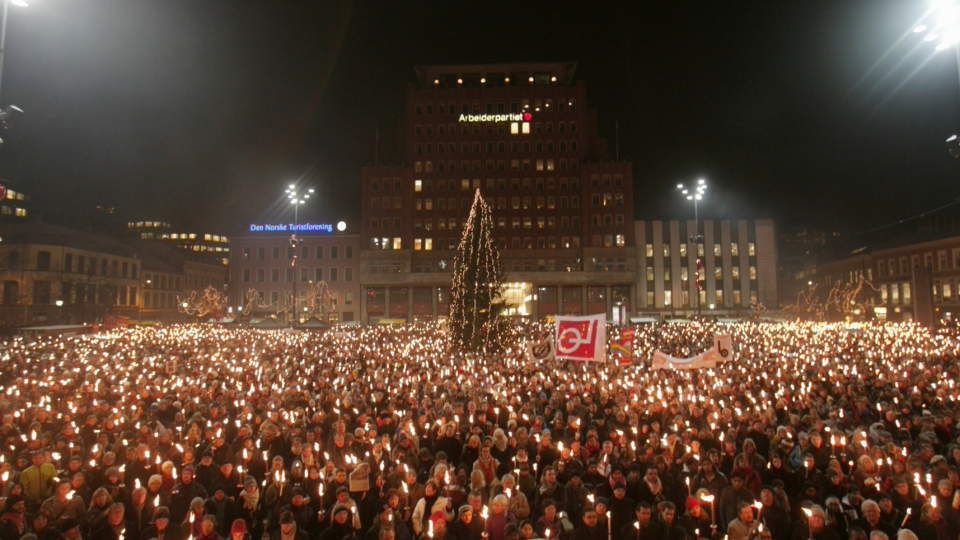 (Picture: Stian Lysberg Solum / SCANPIX)
Similar marches were also held in Bergen, Trondheim, Tromsø and Stavanger. A broad alliance of all the major humanitarian organizations, Athletic Norway, churches, trade unions, and all our political parties supported the event. Let us all be united in Peace this day.


Click the banner to see the result!