This post is first of all dedicated to my readers, faithful visitors and friends out there in the Blogsphere who supported me and voted for me, and who are always touching my everyday life with their visits, comments and emails.
The Weblog Awards are the world's largest blog competition with over 545,000 votes cast in 2007 edition, also the Blogworld's Oscar! This year the competition grew to 933,022 votes cast in 48 categories and nearly two million votes cast in all editions since 2003.
RennyBA's Terella was a finalist in the Best European Blog category. This is a geographical category which includes the nations of the EU, Iceland/Greenland, Norway, Russia and its former republics. Voting for the 2008 Weblog Awards is now over and this year's turnout was simply amazing; 3.2 million page views, 2 million visitors. Thanks to all of you who came in and voted and made this years competition a smashing success!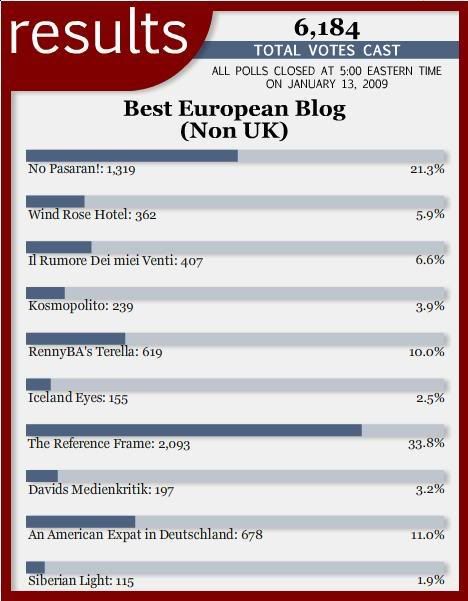 Here you can see the final results for yourself. I am proud to announce that my Terella came in 4th place, and was very happy with the turn out. I could follow along with my activity tracking tools and see that my friends, and their friends, were visiting me and voting. I really appreciate all the support I have received.
Your comments and feedback is the most important part for me. It was an honour to be among the finalists in such a great competition and it was great fun campaigning and checking the results from day to day, or okay I admit it, even from hour to hour!! (minute to minute…) It was close right up to the end between us and "An American Expat in Deutschland". I do hope to compete again next year! I offer my congratulations to all the other finalists and do hope that you had as much fun as I did participating in the contest.
Since I still am having problems with my back I have been less active then usual, and it is especially difficult for me to write at the computer. It is great to see that you are all still coming in and visiting and I am keeping up with your blogs as often as possible. This year again, despite being a bit incapacitated, I still managed to get some press coverage for the competition. Here you can see the article in ComputerWorld's online edition.

As the good old saying goes; '
All press is good press
' and it's always fun to get some attention. If you like, you may read about the outcome from last year by
clicking here
.
I also created an event on Facebook, which was a very fun tool to use and it was great to see many of my friends there too! I experimented on my Twitter as well of course!
I will be home this weekend getting better so that I can come out and play with you all some more in the near future. Have a lovely weekend and thank you again for your support.