Norway's biathlon legend Ole Einar Bjørndalen made winter sports history today as he won World Championship in 12.5 KM Pursuit. This was his 12th world title of his career, besides five Olympic golds, three silver and one bronze and even more; This was his 86th World Cup race. Only the Swedish alpine skier, Ingemar Stenmark has won the same amount of Cup races. However Stenmark retired in the 80s and Bjørndalen has just started his career. Here you see him edging out his Norwegian compatriot Lars Berger yesterday in 10 KM Sprint: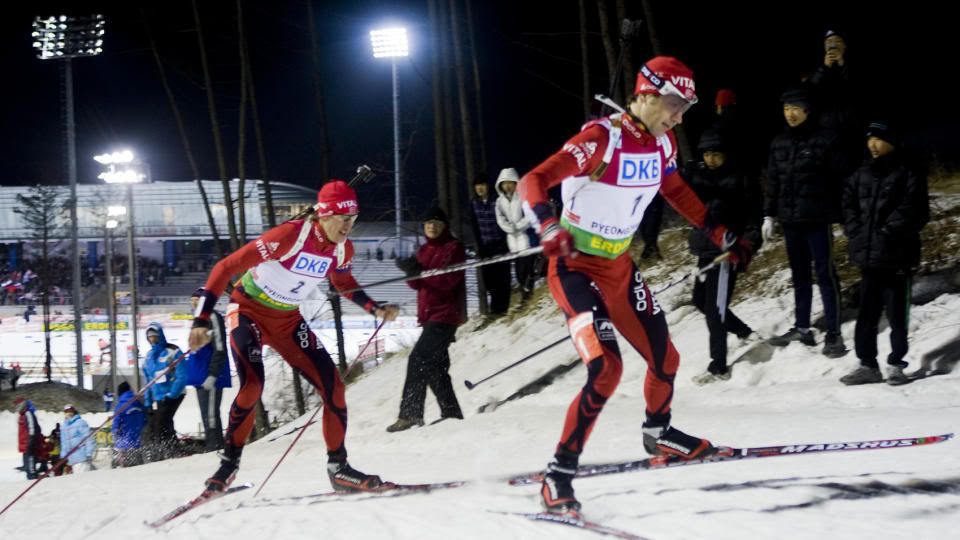 Photo: Heiko Junge / SCANPIX
I know some of my readers aren't that familiar with Biathlon, and that this might sound a bit like bragging, however in keeping with my theme of Norwegian culture, I can assure you that biathlon, or
Ski Shooting
as it is called here is a National interest. Besides, it's my blog and of course I'll give it to you with a personal twist:
My regular readers know I met my American wife on the net more than 10 years ago. Of course we exchanged mail before she came over and sometimes I had to tell her about important sports events. At that time I didn't know it was called biathlon in English, and I described it as ski shooting. Some years later
Diane
told me that when I described it to her she had a sort of image of James Bond in one of his films skiing down the alps shooting at the bad guys with an automatic weapon hehehe!! Well just to set the record straight, they do shoot at targets, not at each other!!
Since I write about scandinavia and the nordic countries, I would like to congratulate the Swedish women's team for their win in the Ski Shooting World Championship today too: Helena Jonsson won the 10 km Pursuit!