I love winter and snow because of the fresh & crisp air, the way the sun and the moon gives a reflection & special lightening and the scenery you get just after a snow storm in Norway:

This picture was taken outside my living room window some weeks ago, but could have been from today as we had another big snowfall yesterday. I live in an Oslo suburb, 100M (328F) above sea level, so we normally get a bit more here than in the city and we get the spring flowers a couple of weeks later too.
I'm not a masochist, so it's not the cold in the winter time that engages me – besides, you know my saying; 'There is no such as bad weather, only bad clothes' – and I've learned how to dress for being outdoors to play for a whole day, so the scenery brings me wonderful memories from my childhood. However, with spring soon knocking on our door, it's the change in the season and the fact that the nature will break out of hibernation with warm, sunny weather and longer days that fascinates me. I think living with thesa significant changes, makes you appreciate the first flowers peeking up from the snow (snowbells and crocus) and the leaves on the trees and like magic, the scenery has changed: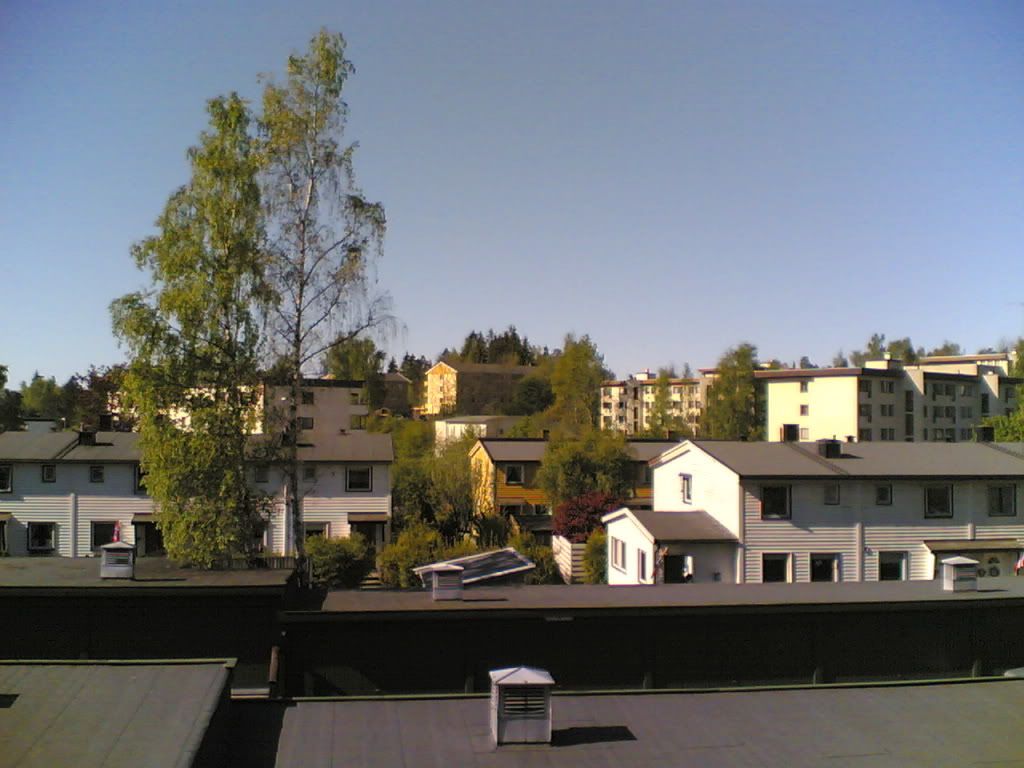 This picture is taken out of the same window in 2007 the 17th of May (Norway's constitution day), only two months from now, so it's not even full summer yet. That's what makes us 'survive' and manage through the winter, even when we have to shovel snow from the roof (click all pics to bigify and admire the shovel work in details):
While I'm at it, I'd like to show you another example of the significant change in the nature and how we've learned to love the beauty in both of them.
Diane
(my wife) and I had another quality time at our vacation home in Mariestad, Sweden, some weeks ago. It's close to the lake Vänern (north Europe's largest lake) with wonderful beaches and great scenery too:
Left: Skiing with your dog on the lake. Right: Picnic by the shore.
Left: Sun bathing and swimming at the same lake. Right: Kite surfing in fall at the beach.
I hope I won't lose your interest if showing examples from the same spot in Mariestad city:
By the town square alley in February and in September.
So now you know Renny is back on track again; proud of Norway and the Nordic country and the appreciation of each of our four seasons. Thanks to all you regular visitors and commenter's on my last post where I reviled more of my professional life. I'm glad you didn't give up after the first paragraph, but read through and got it in the end. I loved all of them, e.g.
EastCoastLife
, who said: '
My eyelids were getting heavy when I was reading the first two paragraphs.
' :lol:
I'm also happy to report that I'm back on track again for another reason too: Some might remember my complaints of a sore back and problems with typing. I did not want my blog to turn into a sickness journal, but the main cause was tension in my muscles due to stomach pain. For months, I've been to many tests as the doctors thought it might be a tumour. Thankfully I am now able to tell you about it because this week my doctors have gone in with a camera and believe it is just an 'innocent' cyst from a strong infection. They took samples but the doctor expects them to be okay. Thank you for bearing with me.
As proof of the pudding that I am getting back in shape and happy to enjoy the snow; here is a picture of me and my wife breaking out the skis near our home some weeks ago:
Please notice my good old ski wear (click to bigify) which I have been using since the 70's. Skis and wool lasts a good while you know!