Earth Hour in 2009 is being taken to the next level, with the goal of 1 billion people switching off their lights as part of a world wide vote the 28th of March. Unlike any other election, it is not about what country you're from, but instead, what planet you're from. VOTE EARTH is a global call to action for every individual, every business, every community and organisations – even bloggers! A call to stand up and take control over the future of our planet!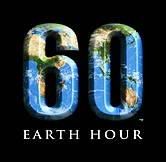 WWF are urging the world to VOTE EARTH and reach the target of 1 billion votes, which will be presented to world leaders at the Global Climate Change Conference in Copenhagen 2009. Earth Hour Executive Director, Mr Andy Ridley, said that Earth Hour signals the beginning of the journey to Copenhagen, where the future of the planet rests with world leaders.
It will focus global attention on addressing the issue of climate change and ask one billion people to take part in what is essentially the first global vote for action on climate change by turning off their lights for one hour and casting a vote for earth. Earth Hour hopes to provide a global mandate for action on climate change to the world's leaders at the UN Climate Change Conference in Copenhagen in December this year, where an agreement will be made to supersede the Kyoto Protocol.
Wave of participation – in Norway too:
All over the world; 2,848 cities, towns and municipalities in 84 countries have already committed to VOTE EARTH for Earth Hour, including 6,500 organisations and 21,000 businesses.
In Norway most every town and municipalities as well as our Parliament, all governmental buildings, our Royal Castle and other public building are involved. Even more; all significant organisations, political parties, some hotel chains and most sports arenas etc. take part too. There is a group for Norwegians on Facebook too of course, with almost 30,000 members. Notice also that all this figures increases every minute around the globe!
Blogging empowering people:
This all my dear friends in Blogsphere, presents an opportunity for every person in the world to have a say in that agreement's outcome and ensure it isn't merely an insubstantial token effort by our world's leaders! Let's use our power to spread the word and urge each other and all our readers to turn off the lights an hour from 8:30PM the 28th of March. You may also click the banner to cast your vote here:

For those of you who make a post about this, I ask you please to let me know in comments and I'll update this post with a link to yours. Let's make a Link Love Chain to show the world
Bloggers Care for The Earth
too!
Blogger's Earth Hour Link Love Chain
:
Norway
:
RennyBA's Terella
– The host of
this list
.
Philippines
: Heart of Rachel:
Vote Earth!
and
Fun Heart Hour 2009
.
Singapore
:
EastCoastLife
put up the banner and a
separate post
!
Norway
: CultureSchock –
Vote Earth
!
France
: A. at A Changing Life –
Earth Hour 2009
.
USA
: Scarty at My Daily Life Experience –
Earth Hour 2009 in Chicago
.
Sweden
: Lifecruiser –
Earth Hour Stockholm City 2009
.
Malaysia
: Life Ramblings –
Earth Hour 2009
.
Philippines
: FiliPina Jade –
Do you think our planet is worth saving
?
Philippines
: MArites at Me, the islands and the world –
Yes For Earth Hour
.
Globetrotter
: JH at Photojournalist –
Please Continue the Movement of Earth Hour
Filipina
: Teacher Julie –
Earth Hour in our Home
Globetrotter
: iWalk,,U2 –
To See How The Earth Changed