Opening of the golf season in Norway and Sweden is another of our spring rituals. From my last posts, you've seen spring is in the air in Oslo city as well as on the countryside. Since its the Easter season, we are at our vacation home in Sweden and here spring is a couple of weeks ahead of Oslo. The snow has gone, snow bells, crocus and daffodils have start blooming and today we've had 18C (65F) and sunshine. It was a perfect day to add a milestone to this years calendar; the opening of the golf season – so when a friend asked if I would play, I was thrilled. To me the weather condition was perfect and no problem playing, as long as you know how to dress right (click all pics – taken with my Nokia mob phone – to bigify and enjoy):

You may notice that the tee, fairway or even green, isn't exactly green yet and the trees have only a few buds. Still, after months of winter, snow and ice, not even wild horses could keep us away. To me it's another proof of the beauty in the significant four seasons and makes you enjoy each and one of them even more – like being able to start playing golf again.
Another reason for wanting to play again is that it is very social and recreational. To go out in the nature – so beautiful – fresh, quiet and far from urban stress is a perfect way to charge your batteries. If I told you we also saw some foxes in the woods, you probably get the idea. Adding to that, we had a nice chat about all and nothing – about how much we enjoy life and family and our loved ones – about our summer and vacation plans – and a lot more. So let me introduce you to my friend and his perfect swing: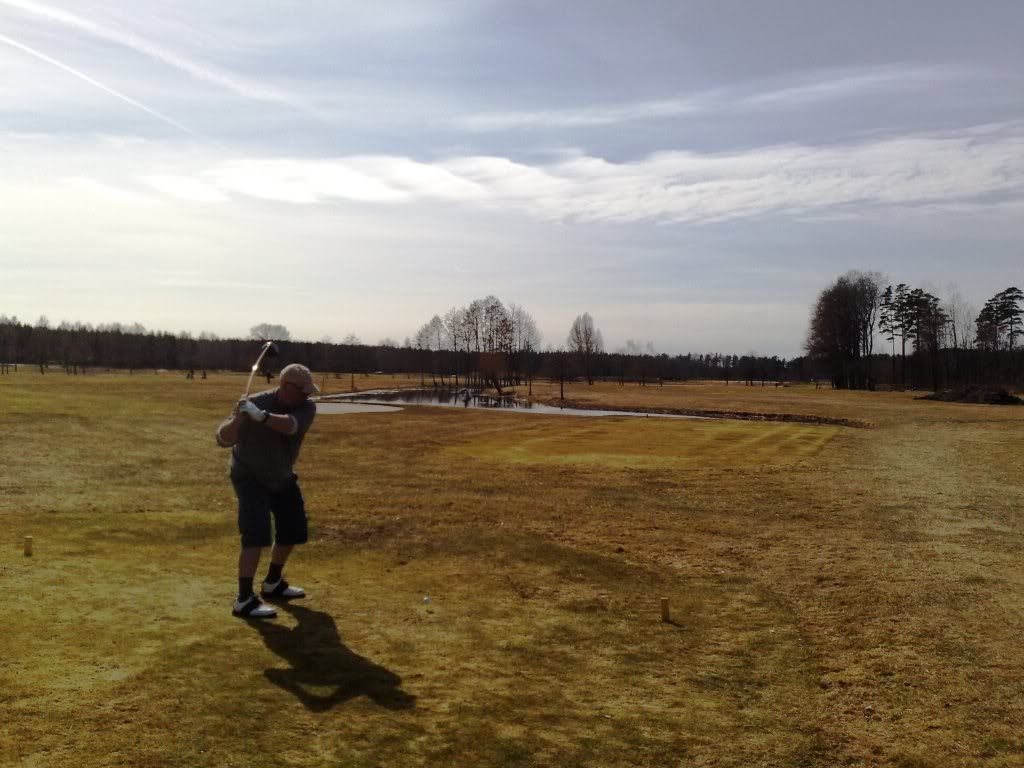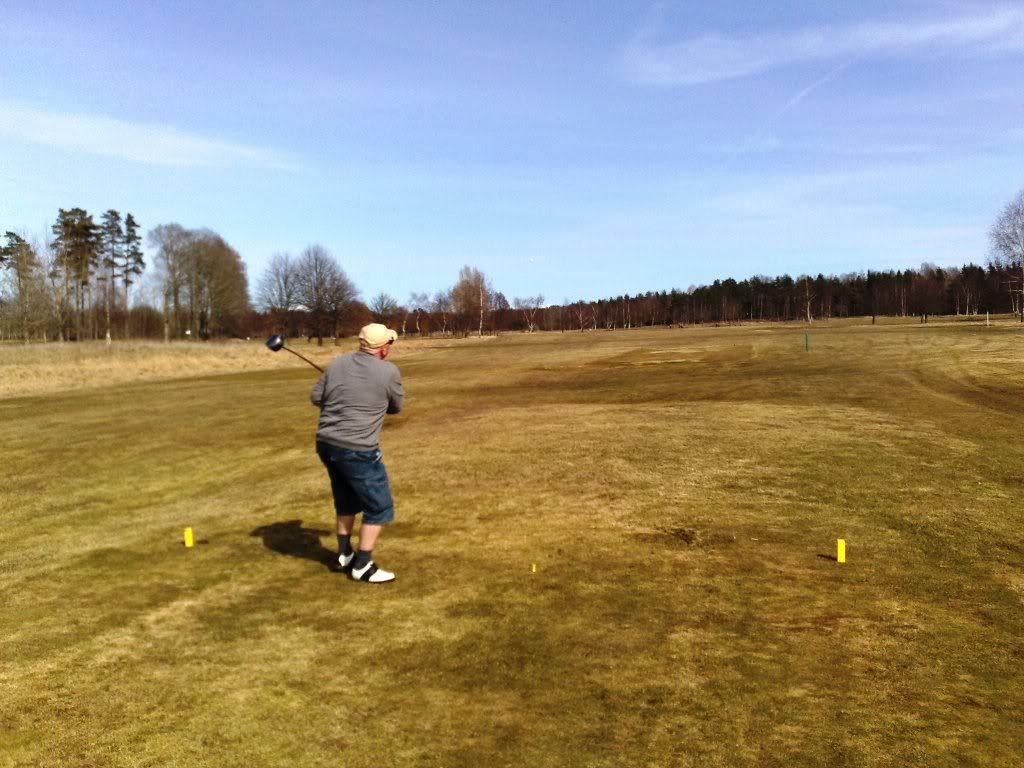 My friend even wore shorts – but then again he is even more of a Viking than me :-)
Some think golf is all about clubs, strokes, score cards and the competition. If so, you have to think again, or at least to me it's much more. It's all about relaxation, about enjoying nature and life – about making friends and developing friendships – or to make it short;
A thrill money can't buy
. So if you ask who won, I can't tell you. I made a couple of holes on par and some on a new record of amount of strokes and my partner put up a big smile each time he hit the ball. Other than that, we both won – We won the opening of this years golf season in Sweden – and that's not bad, since we both are Norwegians :lol:
Btw: My regular visitors know I've been to Brussels together with my wife and she even met our blog friend Gattina in Waterloo. Don't worry; I will post about this wonderful weekend in the days to come and you can already read some about it at
Diane
's and
Gattina
's.