Marieholm an islet in Mariestad, was the residence of Duke Charles who in 1583 founded the city and later became King Karl IX of Sweden. The city Mariestad and this islet, is named after his wife Marie of Pfalz. Since Marieholm has been the home of the County Governor up until 1935 when owned by the state. The recent residence building is from 1733 build of wood and later (1853) got a second floor and a stone face was added:

It was in this beautiful building we had our
10 year Anniversary
for the
Homeowners' Association
(abbrev. HOA) which is formed and governed by our Norwegian homeowners. HOA is a legal entity created for the purpose of developing, managing and selling a development of homes. Most homeowners' associations, like ours – and quite common in Scandinavia – are non-profit corporations and ours is named '
Insekten
' (eng. The Insect). So when in posts, I often refer to our '
vacation home
', it's an apartment-condominium in this little Norwegian settlement in the middle of Sweden :-)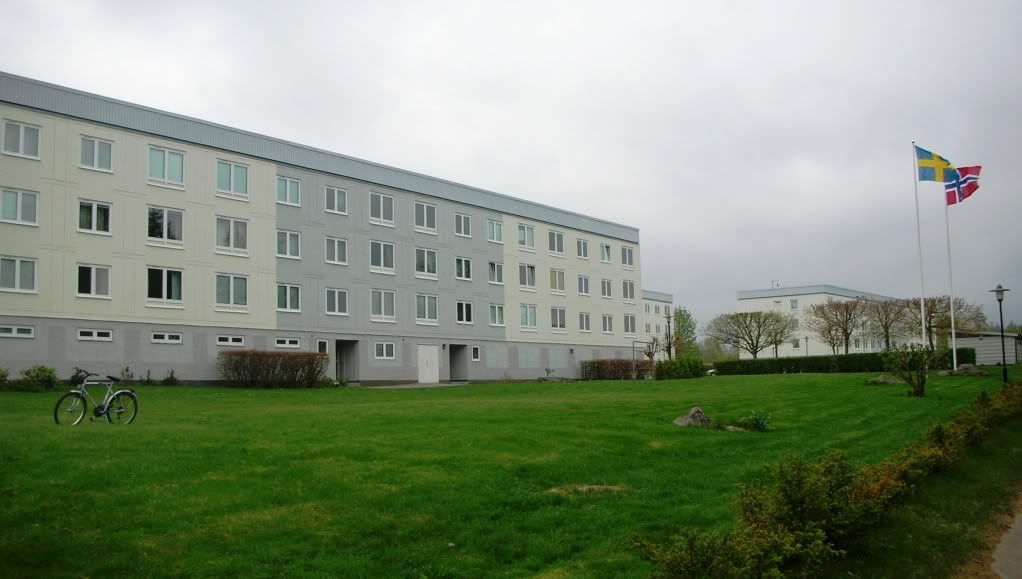 Marieholm Residence
:
Then back to this Manor and the party. I went crazy with my Nikon camera before the dinner and can't resist giving you a round trip inside:
Insekten's 10 year Anniversary party
:
Of course it is a bit unusual to have a Norwegian HOA in the middle of Sweden, but that is a much longer story to take at another time! It's all part of the fun. Our association is very well recognised by the city's locals and representatives from the Municipality as well as the Manager of Tourism who were among our honoured guests. A three course dinner for 85 was served in the second floor ball room:
The local culinary school was responsible for the dinner menu, and we had the honour of a whole crew of fine young Swedish ladies and gentlemen preparing and serving our meal. They did an excellent job I must say! So with the table set, let the party begin and the dinner be served:
Starter: sea food sampler. Notice the royal emblem on the china and silver.
Main course: calf medallions with Potatoes William
Dessert: Chocolate mousse with raspberry sauce.
Happy Norwegians partying with fellow Swedish
A lot of speeches – one from RennyBA too of course :-)
Then we had a blast of a party downstairs and where dancing the whole night through. Those who would like to see all of the party pics,
click here
– at your own risk :lol:
The accommodations were of royal standard to be sure, complete with antique furniture, crystal chandeliers and hand painted decorations on the ceilings. We felt truly blessed to be allowed to borrow this special building, as not everyone is given access – it is only loaned out on very special occasions. This is an example of the good relationship our community has with its Swedish hosts and that they appreciate this Scandinavian brotherhood as much as we do. So let me offer a toast to our home away from home, Mariestad. You will always have a special place in our hearts. Hope my regular readers also enjoy the royal treatment!
Here are some of my previous posts from this charming city Mariestad, called "
The Pearl of Lake Vänern
":
-> Wandering through time in old Mariestad
-> Harvest festival in Mariestad
-> Mariestad's Cathedral and Cultural pearls in medieval surroundings
-> Accordion festival with a Key Harp in Sweden