Jesus Christ Superstar on the Norwegian scene is of little doubt a successful mix of rock music, religion and opera. It's a breath taking modern rock opera, with Hans-Erik Dyvik Husby or 'Hank von Helvete' (eng: Helvete = Hell) as Jesus. The Bible story is reinterpreted into modern Oslo in 2009, with junkies, gangsters and prostitutes in the cityscape and Jesus as a rather ordinary man with tattoos and a fur coat.
I had the pleasure of enjoying this sparkling show with my wife some weeks ago and gladly share it with you. I shot some photos with my Nokia mobile N82 – not the best lightening, so bare with me on the quality (click all pick to bigify & enjoy!):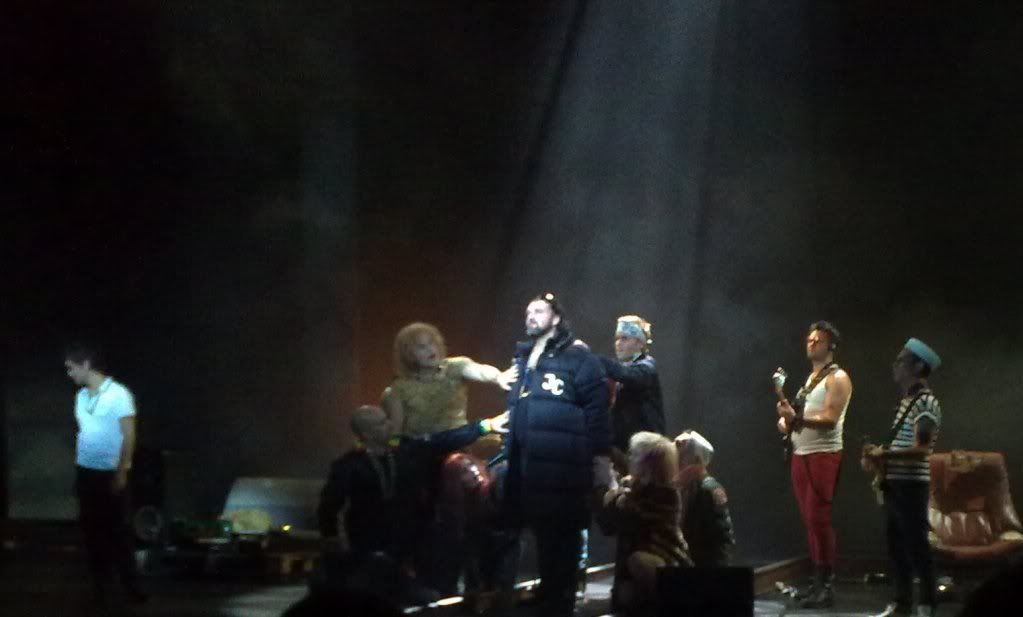 Jesus has resurrected for the second time – this time at The Norwegian Theatre in Hank von Helvete's figure, accompanied by intense rock music, contemporary references and tight leather pants. It can not be anything but magical, religious and a bit controversial when the biblical story is re-enacted on stage this fall.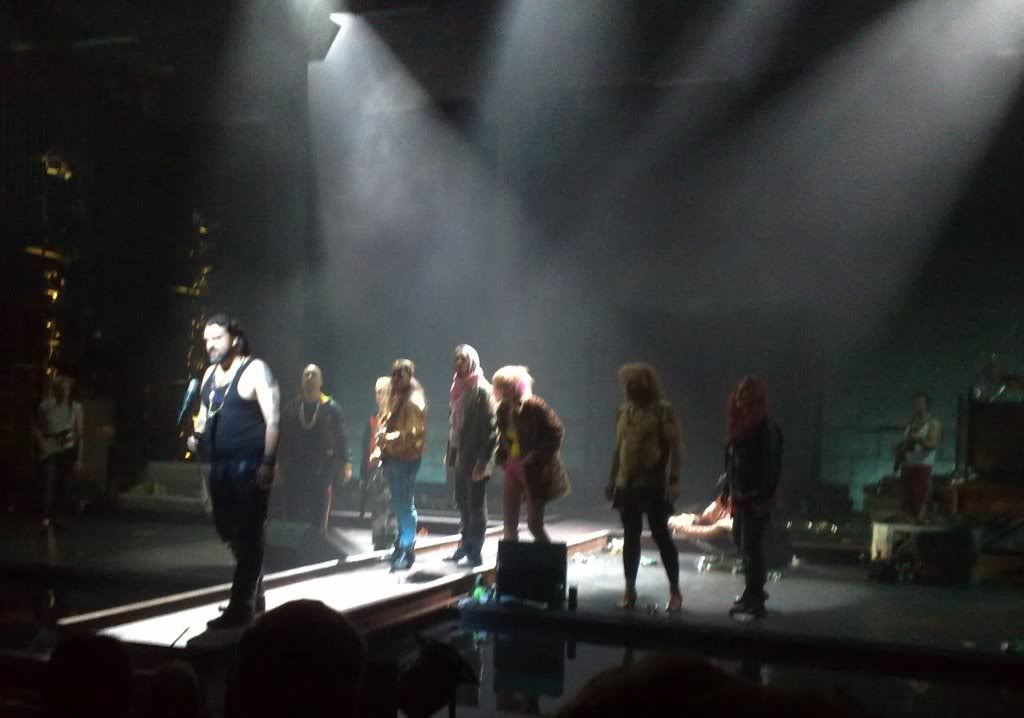 We meet people in the city's abyss; addicts, beggars, criminals, prostitutes and the lepers, are all in Jesus' inner circle. We follow Jesus, Mary Magdalene and a small but talented voice of Judah through the last week in the life of Jesus: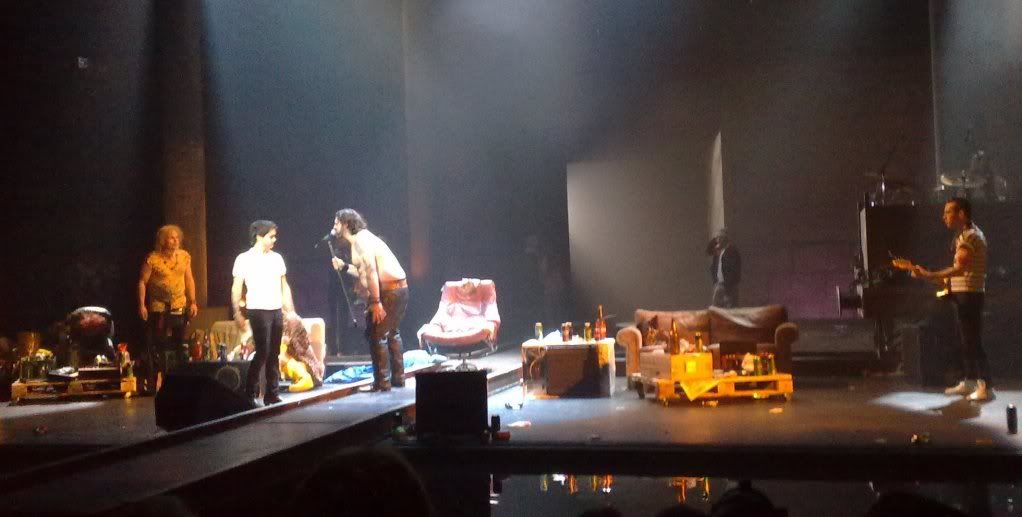 From the arrival in Jerusalem until his crucifixion:
In Israel, where palm leaves are replaced with demonstration posters: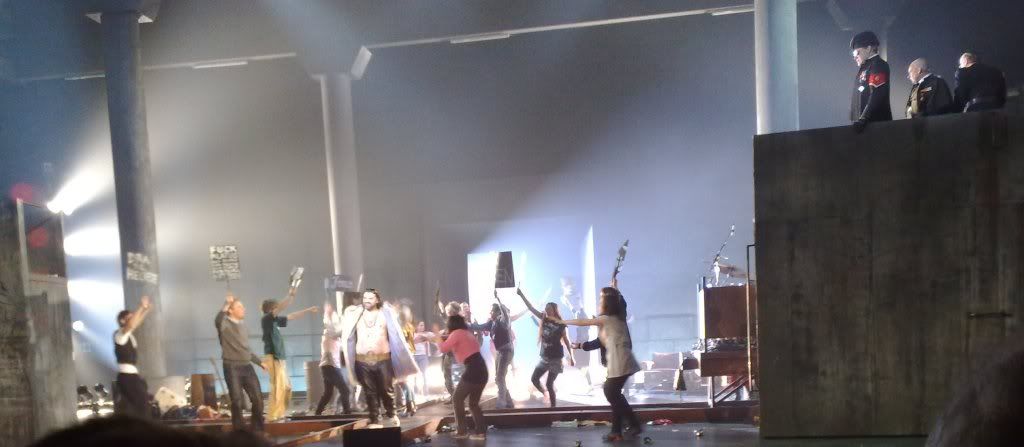 Peter deniers is a wannabe gangster in a jogging suit and King Herod reminds suspiciously of Hugh Hefner as he splashes in a swimming pool full of blonde bimbo-luscious lady friends. Both Jesus himself and his gang have gone through a grand reform of 2009:
A modern rock prophet
:
I have of course seen the movie in the 70s. However here we saw Jesus as a modern rock prophet – it was actually much paradoxical behind Hank von Helvete's performance in the Jesus figure. But that is precisely what makes the performance so believable and explosive. Jesus appears no longer as a poor guy in sandals, but rather a rebellious rocker in Baris with tattoos, leather pants and bling bling. He is fearless, rock and tough. We love him, and cheer for him!
Judas – a repentant sinner
:
Also, Judas Iscariot, the traitor, has gone through various extreme transformations in this version. He appears bearing a striking reference in appearance and posture of musician and nark addict Pete Doherty. As a repentant sinner Judas receives champagne and a tremendous check as he betrays Jesus to the Pharisees. In contrast to the biblical story, Judas here shows clear signs of remorse and guilt, in light of the fact that his actions are morally unjustified, and in his own best intentions. A small man with an amazingly powerful voice, he is the real star in this musical according to many critics.
A successful mix
:
There is little doubt that rock music, religion and the opera is a successful mixture on the Norwegian scene. I guess most of you know the musical was first written in 1970 by Andrew Lloyd Webber and Tim Rice, and it has been presented several places in Norway since 1990. For sure it was about time to bring it back to the Norwegian stage and just to enjoy an amazing performance where old meets new, conservative meetings controversies, and political disagreements and ideologies are put on the agenda again, in the light of day.
Actually it was my wife DianeCA's second time seeing this show and she made a post about it too, saying: "I don't think Jesus Christ Superstar will ever be presented in this way anyplace else in the world at any time…it was really a once in a lifetime experience. Unless of course I drag along Renny and see it one more time before it closes!!" – She did and now I suggest you hop over and
read her report
(including a press video from the show!).