Alexander Rybak with Fairytale won Eurovision Song Contest in 2009 so Norway hosts the arrangement this year. Oslo, our capital, is the arena and it has been hard not to notice what's going on this week. As an example; When I came back from a trip to Brussels on Wednesday, there where posters and decorations everywhere:


Poster at the gate.


Decorations at the baggage collection.


Airport information desk.
The World's biggest event:
The Eurovision Song Contest, the world's biggest non-sporting live TV event, has a strong household name amongst hundreds of millions of people in Europe. Every year, more than 100 million in over 45 countries watch the program. Famous former participants includes Julio Iglesias, Olivia Newton-John, Céline Dion, ABBA, Johnny Logan, Alla Pugacheva, Secret Garden, Philip Kirkorov, t.A.T.u., Lordi as well as Patricia Kaas. This contest also saw the birth of Riverdance, which started as an interval act at the 1994 Eurovision Song Contest, then took the world by storm, and became one of the most successful dance shows in history.
The show has of course been broadcast throughout Europe, but also in Australia, Canada, Egypt, Hong Kong, India, Jordan, Korea, New Zealand and the United States, even though these countries do not participate. In 2010, the format will be launched outside of Europe so that various other parts of the world will be introduced to the concept behind the show.
55 Years of Hits: From Volare to Fairytale:
I've searched for the biggest hits resulting from Europe's favourite TV-show since 1956. Here are a few:
1958: The first song was surprisingly not a winner, but a song that only came 3rd: Volare
1967: Sandie Shaw proved to be victorious in Vienna with Puppet On A String, securing the first win for the United Kingdom.
1970; Dana achieved the first of seven victories for Ireland with All Kinds Of Everything, also becoming a hit in countries such as Malaysia, South Africa and Australia.
ABBA: Arguably the biggest hit ever resulting from a Eurovision Song Contest is of course Abba's Waterloo in 1974 in Brighton. There is hardly anyone these days who doesn't remember Abba's spectacular performance that year!
Johnny Logan: His first of three victories came in 1980: What's Another Year, followed by Hold Me Now, in 1987 and as a composer in 1992. He is the only person who won as a performer more than once.
Norway: Three times; 1985: Let it Swing – 1995: Nocturne and of course (the reason why Norway is hosting this year): 2009: Alexander Rybak singing Fairytale
2010 Slogan -> "Share the Moment":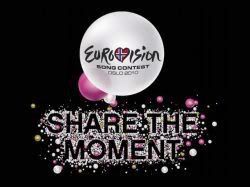 When I met Hans-Tore Bjerkaas, General Manager of NRK (Norwegian Broadcast Cooperation who is producing this year's show), at VisitOslo's Conference in March, he presented their concept for the show and the slogan: Share the Moment:
We want to share the Eurovision Song Contest, rather than just broadcast it, One particular thing that makes this such a unique event is the fact that it's the only time of the year in Europe that almost 200 million people are doing exactly the same thing, at exactly the same time.
Every year, hundreds of television professionals, artists, song writers and composers Share the Moment at this event to jointly deliver state-of-the-art entertainment television. Thousands of journalists and fans do the same to report on the event and to enjoy the international atmosphere, in watching the biggest entertainment event of the year in Europe, together with their friends and family. Who gives the best performance…. Who wins….. How will "our" song do this year?
It is quite fun to be living in the country arranging the event this year. I have to applaud the planning of the event. It has gone very smoothly and not caused traffic chaos or disturbed the local society. At the same time there have been a lot of public events to get us all in the spirit (see my wife's adventure at the semi final). It also makes me happy of course to know that on Saturday night 200 million people will have their eyes focused on Norway! Make sure you tune in and share the moment with us! Please comment and tell you're experience with this event too!