The historical, cultural and Royal event when Crown Princess Victoria of Sweden will marry Daniel Westling in Stockholm Cathedral (Storkyrkan), is of course to be mentioned since my blog is about Norway and the Nordic countries. I mean after all; Norway is Sweden's closest neighbour and friend and so are our Royal families too.
A non Royal husband or wife?
When Crown Prince Haakon of Norway and Mette-Marit became engaged there was much discussion; was it appropriate for an heir to the throne to marry a person who was not royalty. Now you have the same debate in Sweden and some wonder if Daniel Westling is appropriate for Victoria. To me it actually seams like it strengthens the Royal's position and the fact that we both have a Kingdom in our countries.
When The Norwegian government invited to dinner before Crown Prince Haakon's wedding in 2001, the Crown Prince held a direct and humble speech:
"Few things in life happens by chance, at least not that Mette-Marit came into my life. The more I got to know her, the more I realised that and therefore we wanted to live a life together. I do know that our choices have not been as easy for everyone else. A fact I just have to respect", he said, and also was thankful for all the support they'd got.
Bridesmaid Princess Ingrid Alexandra of Norway: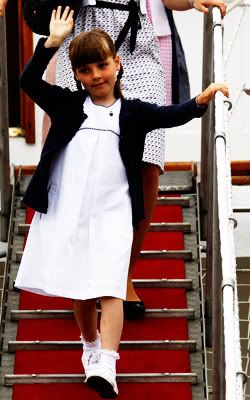 Ten young bridesmaids and page boys are taking part and three of them are the Crown Princess' godchildren.
Further more, as future monarchs themselves; Norway's Princess Ingrid Alexandra and Princess Catharina-Amalia of the Netherlands, both 6 years old, are to be bridesmaids, while Danish Prince Christian, age 4 1/2, will be a page boy. So, there will be a lot of young children playing a part in this wedding. It certainly should be a sight to see!
This is Princess Ingrid Alexandra (see photo to the left – borrowed from ScanPix) biggest public appearance so far in life and a special reason for Norwegians to closely follow the ceremony of course :-)
The biggest Royal event?
500 million TV viewers across Europe are expected to watch the 2 million € spectacle in Stockholm's specially renovated cathedral. Stockholm's airport has been renamed for the occasion, as Official Love Airport 2010. The wedding comes after a lengthy struggle by Princess Victoria to persuade the royal family to recognise her relationship with a commoner.
You should also read about this from a local's point of view; My friend, the one and only; Mrs. Lifecruiser: Swedish Crown Princess Wedding Pre-Report!
How about you; Did you see any of this Royal Wedding? – and what do you think?