VisitNorway use Social Media to attract visitors in an exiting and exemplary way. You are free to choose any online media and send entries for a chance to see Norway.Your Way. It's a competition which will show Norway's true spirit. Whether you use you're blog, video, sing or photograph, your creation will hopefully inspire future explorers! So the question was: Are you a creative wiz? Can you reflect Norway's great nature or urban buzz? The winner will explore Norway; take paths set by locals, find hidden gems and share stories.
There are almost 1500 entries so far and still a week to go, so now it's up to you to decide who should win an experience of a lifetime in Norway. Go visit the competition website and vote for the entries YOU like the most to help them win (click photo and vote!)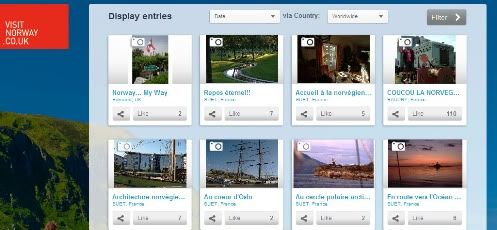 A Troll's journey in Nor Way:

When I was there to vote myself, I found a blog entry that caught my eye – something quite exclusively Norwegian (see the photo to the left!); A Troll's journey! It's Matt Jones from Bristol, UK, who explains his ultimate dream this way: "In Nordic Folklore the Troll has long been a legendary figure. Here I imagine a troll journey from the north through landscape inspire by the Nordic myth – back to his family in the south".
Even I, who are brought up with Trolls and have learned how to deal with them, could not resist identifying with Matt's dream. If you like to support him or at least are curious about this; click to read his post: "Send me to Norway!".
While at it, I also recommend you to check out VisitNorway: On Twitter – On Facebook – and their Home Page!
Please don't confuse this event with our Oslo Blog Gathering 2010, where my blog friends from all over the world will meet for a special gathering. There you will meet VisitOSLO at our information stand which will give the participants good advice on the local area and activities. Be sure to register if you haven't already and join the fun!