The Peace prize 2011 awarded by the Nobel Committee in Norway was to be divided in three equal parts between Ellen Johnson Sirleaf, Leymah Gbowee and Tawakkul Karman. This important yearly event is of course to be mentioned here since my blog is about Norway: our history, culture and traditions and also since I often talk about how Social Media empowering people. This time we're talking about empowering women – to get a better world – and I gladly support that. This year I really liked the Nobel Committee's reason: "For their non-violent struggle for the safety of women and for women's rights to full participation in peace-building work. We cannot achieve democracy and lasting peace in the world unless women obtain the same opportunities as men to influence developments at all levels of society". Let's hope it will help to bring an end to the suppression of women that still occurs in many countries, and to realize the great potential for democracy and peace that women can represent.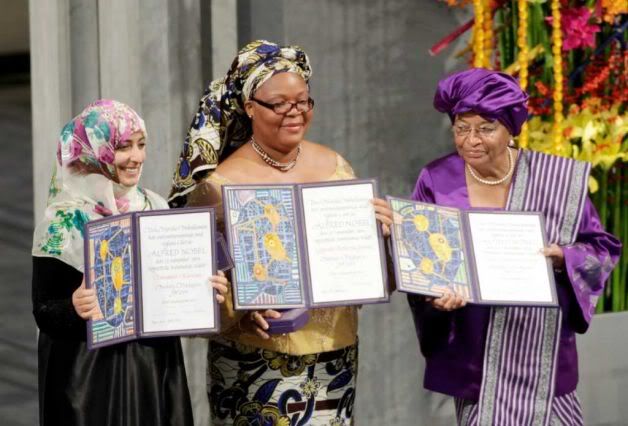 Karman of Yemen, Leymah Gbowee and Liberian president Ellen Johnson-Sirleaf (Photo: John McConnico/AP)
To recognize women rights activistsa:
Karman – at 32, the first Arab woman and the youngest peace laureate ever – is a journalist and member of the Islamic party Islah. She also heads the human rights group Women Journalists without Chains. The prize is also recognized the Arab Spring movement championed by often anonymous activists from Tunisia to Syria.
Sirleaf is widely credited with helping her country emerge from an especially brutal civil war. She was elected president of Liberia in 2005 and won re-election in October this year.
Gbowee challenging Liberia's warlords, long campaigned for the rights of women and against rape. In 2003, she led hundreds of female protesters through Monrovia to demand swift disarmament of fighters, who continued to prey on women, despite a peace deal that should have ended the 14-year civil war.