From the elation of the Oslo World Ski Championships to the tragedy of the Terrorist Attacks, 2011 was an dramatic year in Norway including celebrations of the explorer Amundsen's South Pole expedition and a popular Nobel Peace Prize for woman. Of course there was a lot more happening last year, but I've decided to focus on that and chronologically, let's start with the World Ski Championships and other sports achievements in 2011:


For two weeks in February the nation was in what Norwegians call a "lykkerus" (literally, a state of intoxicating happiness). Norwegian skiers, both men and women, brought home a phenomenal number of gold medals at the Holmenkollen sports arena, on the home turf in Oslo. Day after day there were new victories in cross-country skiing, ski jumping, relays and other events that really solidified Oslo's claim to be the winter sports capital of the world. It didn't take long before calls started rising for Oslo to bid for another Winter Olympics – about time since the last was in 1952. To refresh your memories, you are welcome to read my posts about the event: World Ski Championships Oslo2011 at Holmenkollen in Norway — Cultural celebration at Oslo2011 World Ski Championships and Petter Northug and Marit Bjorgen in Oslo2011 WSC
Other sport achievements in 2011:
It was been another successful year in Norwegian sport – here are a few highlights:
The Women's Handball team defeated France 32-24 just under one week before Christmas to gain the world title. It was Norway's first World Cup win since 1999, making it a hat-trick with the European Championships last year, and the 2008 Beijing Olympics.
Swimmer Alexander Dale Oen beat seven others at the recent European Championships in Szczecin, Poland, winning a gold medal in the 100-metre breaststroke. He is now tipped as a favourite for next year's London Olympics.
Thor Hushovd did not win the Tour de France this year like in 2010 but he and Edvald Boassen Hagen did Norway proud, winning a series of difficult stages across France and piling the pressure on those ranked higher. At one stage, three Norwegian competitors dominated the podium.
Norway shocked after youths slaughtered and bombing in Oslo
King Harald sent his condolences to the victims and their families, and urged unity once again in his New Years Speech for the 79 youths killed at Utøya, and the 8 killed in the bombing of the capital buildings. At a press conference on the morning after the killings Prime Minister Jens Stoltenberg called the attack a "national tragedy" and the worst atrocity in Norway since World War II. Stoltenberg further vowed that the attack would not hurt Norwegian democracy, and said the proper answer to the violence was "more democracy, more openness, but not naivety". You are welcome to read my first post about this tragedy here!
In Stoltenberg's speech at the memorial service on 24 July 2011, he opened what would be Norways reaction to the atrocity: "No one has said it better than the AUF girl who was interviewed by CNN: "If one man can show so much hate, think how much love we could show, standing together."


Photo of Oslo City Hall square – borrowed from Morten Stokstad
I have a feeling that what was amazing the world the most after this tragedy, was the way Norwegian dealt with and handled the whole thing. Instead of showing anger and talking about revenge, we showed solidarity, love, and care for our fellow man. You are welcome to read all about it in my post: With torches and roses Oslo Norway shows its solidarity
Nobel Peace Prize from Norway to women rights activists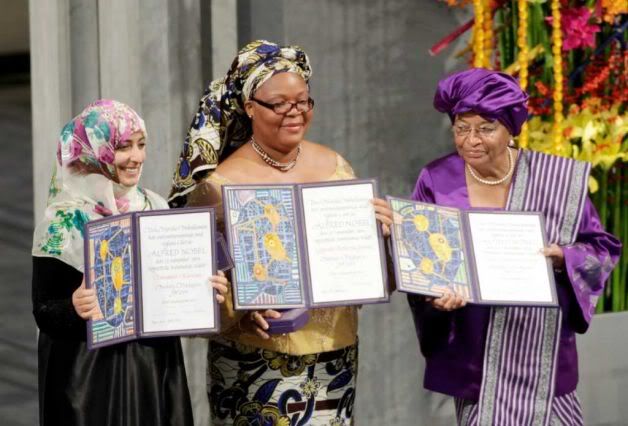 Karman of Yemen, Leymah Gbowee and Liberian president Ellen Johnson-Sirleaf (Photo: John McConnico/AP)The Norwegian Nobel Committee moved away from highly controversial choices to award this year's Nobel Peace Prize to three women in Liberia and Yemen who the committee believes have played important roles in creating peace, reconciliation and democracy.
Ellen Johnson Sirleaf and Leymah Gbowee of Liberia and Tawakkul Karman of Yemen were awarded the prize in three equal parts for what the committee called their "non-violent struggle for the safety of women and for women's rights for full participation in peace-building work."
I really liked the Nobel Committee's reason: "For their non-violent struggle for the safety of women and for women's rights to full participation in peace-building work. We cannot achieve democracy and lasting peace in the world unless women obtain the same opportunities as men to influence developments at all levels of society". Here is the link to my post about this.
Roald Amundsen Norway first to reach the South Pole

When the ship Fram left Norway on Aug. 9, 1910, it carried, according to Amundsen himself, "nineteen men, ninety-seven dogs, four pigs, six carrier pigeons, and one canary." The ship was nearly 20 years old and the expedition leader, Amundsen, was 38. He was already a formidable polar explorer, but this voyage to Antarctica and the South Pole made him one of the greatest explorers in history.
Amundsen actually started preparing for an expedition to the North Pole, but when Frederick A. Cook and Robert E. Peary claimed to have reached the Pole, in 1908 and 1909, respectively, Amundsen secretly changed his plans. In Madeira he revealed that the expedition to the North Pole would go by way of the South Pole. The race was on with Robert F. Scott to see which of them would be the first man on the southernmost point on earth. Feel free to read my post about this anniversary!